Medical Bills for Brenda Rainey & Family
$500
of $20k goal
Raised by
13
people in 35 months
We are trying to raise Money to help pay for my Mom's Medical Bills that she is accruing from being in the hospital.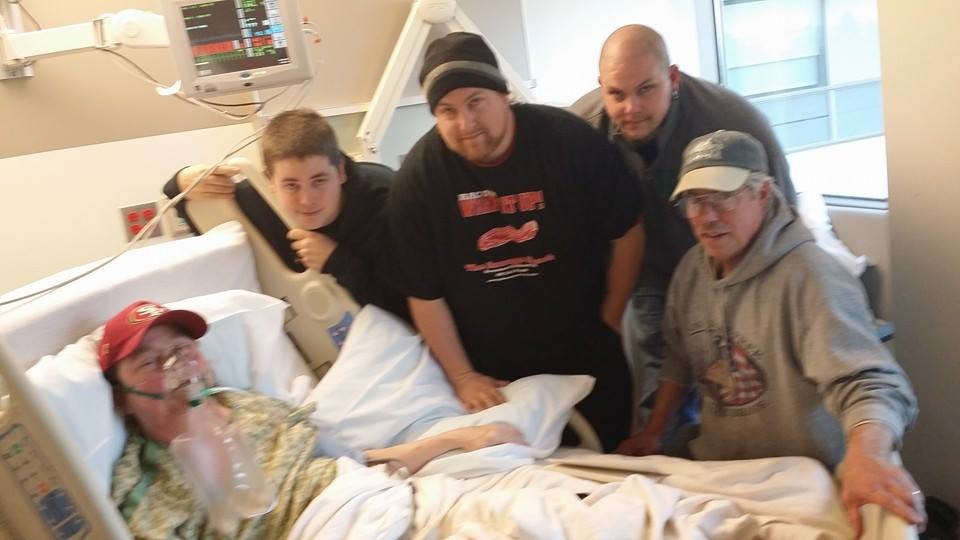 For about the past 3 years my mom has slowly gotten worse from a condiction called Rheumatoid arthritis. Most people this disease goes to the joints 1st and many years later it goes to the organs. In a very very small percentage of people this disease goes to the organs 1st. My mom was one of the very unlucky few that this happend  too. She got it in her lungs 1st. An autoimmune disorder, rheumatoid arthritis occurs when your immune system mistakenly attacks your own body's tissues. So the best way I can discribe this is almost like slowly drowning over the course of years because it become harder and harder to breath and get oxygen.

She has for the last almost 2 years has been trying to get on the lung transplant list. She was very close and had just one more class to goto. She was scheduled to have that done and just a few days before that she got very sick. I took her to the doctors and after a few tests they sent us to the ER. After a few tests at the ER they found part of her intestines had ruptured and needed emergency surgery. While in surgery they found a very large growth with massive amounts of infection in her body. While this surgery did save her life it also damaged her lungs even more and her body as a whole. All the medications she is on has helped with some things but made many things much worse.

She has had to be on a breathing tube so she can breath. Recently she has taken the breathing tube out as she does not want to be living by machines. Today the doctors have given her a 3 day to 2 or 3 weeks. Right now she is only using a mask to breath out of.

She cant talk very well and has had to use her very limited amout of knowledge of sign language to comunicate with us with the help of my brother to relay the information to the family. 

Watching my mom tell my 12 year old daughter (her grand daughter) that she was sorry in sign language to have my daughter tell her "No Grandma, you don't have to be sorry. Its not your fault. and its ok..." My other brother and myself and to leave the room because we just lost it. Im crying just typing this thinking about it. It was the most difficult thing I have ever had to see or hear in my life. 



My father has pretty good insurance, but this is going to far exceed the limits of the insurance and will more than likely go into the hundreds of thousands of dollars. So we are asking for a little help if you can. Whatever you can afford would be greatly appreciated. And I will do my absolute best to keep everyone updated on her and my families status as this takes place. 

I will probly add more to this as I think of it. 

(note im not a doctor so I tried to do my best to exsplain things to the best of my abilities)





This is my Parents on their wedding day in 1976



"I love you Mom. You put up an amazing fight, You are my hero and my strength. I will always miss you but I will never forget you. No matter how much of a pain in the ass I was growing up you always stuck by my side. You were my families rock. There is no words that I can use to describe how wonderful of a mother and grandmother you were. My Daughter will miss you soooo much. But don't worry she is strong and I am here for her to cry on if she needs it. We love you Mom and I will talk to you everyday! Breath Easy now mom and take in full breaths cause now you can in heaven. I love you."

Your Son
Shawn Rainey


+ Read More
Be the first to leave a comment on this campaign.