Make UFO HUB Conference Possible
$10,675
of $30,000 goal
Raised by
8
people in 18 months
The UFO HUB Project 

UFOHUB.net was started by Adnan Ademovic in late 2013. After years of involvement in the UFO subject, he wanted to provide a platform for people interested in either learning more about the subject or getting involved locally with like-minded individuals.  
My Story 


My name is Adnan Ademovic and I am the founder of UFO HUB. I never intended to go as far as I did with the subject of Aliens and the Supernatural. I had an interest, a desire to know and understand all the available information out there. What I did not expect, is that it would change my life forever. 
I came to the United States in 1998 in the hopes that my family and I would finally find a place that we could call home. I was originally born in Bosnia and when the war broke out in 1992 my family, like many others, were scattered all over the world looking for refuge, somewhere safe, somewhere where we could start new. Being a refugee is not easy; seeing the refugee crisis all over the world right now reminds me of my own path trying to find a country that would accept us. For us, thankfully, that was Germany. 
It was there that I began at the age of 11 to have a series of what I know now are called "Out of body experiences," witnessing strange beings observing a body lying on a table. At the time, I thought that they were very vivid dreams, and that unless I wanted to be ridiculed and made fun of, I should not mention it to my friends and family. When I turned 15 I began my journey for the truth and I have not looked back ever since. 
In late 2013 I realized that there are many people out there that have had an experience but unlike any other field of study it did not have a platform that it deserved. Experiencers are often ridiculed and hardly given a chance to tell their story without it being exaggerated
and over hyped to make for an interesting television program.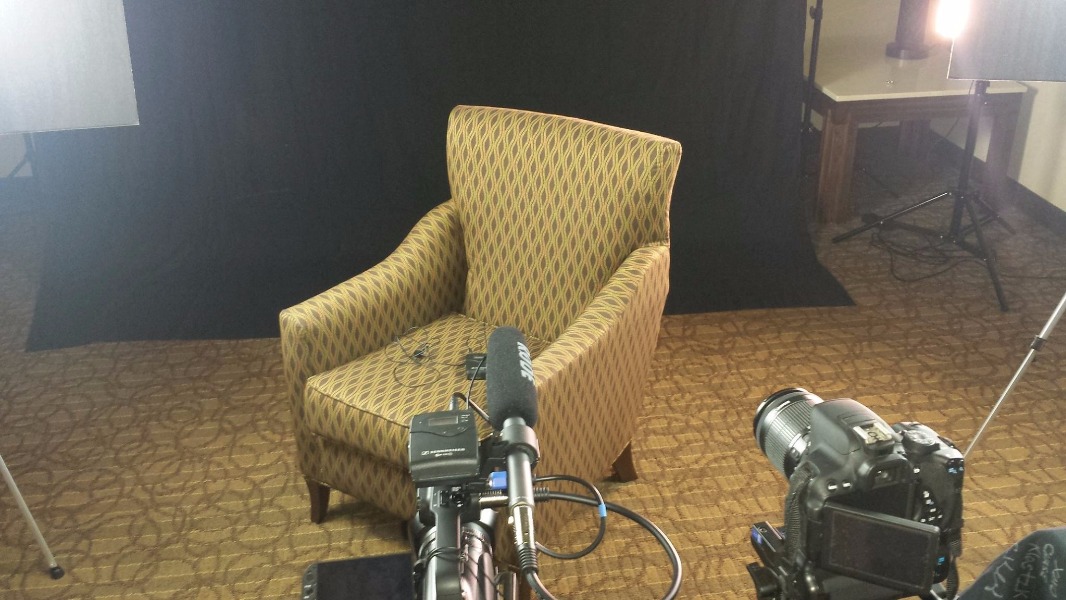 So I began to do interviews with speakers at certain conferences because I realized that it is more cost effective to go to conferences where the majority of speakers I wanted to interview would be. That's when I realized that having a conference of my own would not only provide a platform for them to speak, but an opportunity to look at the supernatural subjects from an educational point of view. In addition, unlike a yearly conference, there would be many lectures throughout the year that would be streaming live online for a low cost with only a small group of people in attendance.  
The Impact 

The UFO and ET phenomena encompasses a wide variety of subjects. At its core, it questions everything we hold to be truth, from our day-to-day beliefs to deeply rooted societal and religious systems. It is not the nature or intention of those visiting us to cause disruptions in our day-to-day lives, but unless we start looking within to figure out who and what we are, and why we are here, we will not be any closer to understanding these visitors than we were fifty years ago.  
That's why you will see videos produced by UFO HUB about Aliens, Spirituality, Government, Religion and our earthly system in general. We need information not provided by the mainstream to give us the whole picture and to look at all the factors to be able to make any kind of productive decisions in our lives and for our society.  

What I Need & What You Get 
Through your contributions, UFO HUB can finally get the necessary equipment to get the stories out from experiencers of all supernatural. We would do this by inviting three speakers of different subjects for one day to present in succession with breaks in between, followed by a speaker panel at the end of the day. The online streaming, once everything is setup, can be done for as little as the cost of lunch.  
For every $20 donation, you will receive a conferencestream link (so a $60 donation will get you three conference stream links). There is also a UFO HUB store:  https://goo.gl/BAsXTz
(All proceeds go towards the UFO HUB Conference.) 

Other Ways to Help 

It's great when people can help by donating. But if you can't donate at this time, it doesn't mean that you can't help. Please share my story via social media, email and word of mouth to tell your friends about my campaign.  Thank you in advance!  
Estimated Costs:
Venue: ~$1000
Cameras (3): ~$12000
Media Station: ~$5000
Staff (5): ~ $1225
Accommodations and food for staff (5): ~$1000
Speaker accommodations and food (3): ~$1000
Speaker flight (3): ~$3000
Audio System: ~$3000
Lighting: ~$1500
Computer(s) & Cables: ~$4000
Visit www.ufohub.net to watch FREE full interviews.

SUBSCRIBE!

YOUTUBE: https://goo.gl/O4IPJ5
FACEBOOK: https://goo.gl/fVEsF8
GOOGLE+: https://goo.gl/MpWn1r
TWITTER: https://goo.gl/n4ko0B
INSTAGRAM: https://goo.gl/LQTeWD


Here are just a few...

Erich von Däniken

Erich Anton Paul von Däniken is a Swiss author of several books which make claims about extraterrestrial influences on early human culture, including the best-selling Chariots of the Gods?, published in 1968.

Richard M. Dolan
Richard M. Dolan, one of the world's leading researchers and writers on the subject of UFOs. Author of: UFOs for the 21st Century Mind, The Secret Space Program and Breakaway Civilization, UFOs and Disclosure in the Trump Era and many more.
Nick Pope
Nick Pope is a freelance British journalist and media commentator. He was an employee at the British Government's Ministry of Defence (MoD) from 1985 to 2006 and is best known for a role he undertook for the British Government from 1991 to 1994 which involved investigating reports of UFO sightings to determine their defence significance.
Stanton T. Friedman
Stanton Terry Friedman is a retired nuclear physicist and professional ufologist who resides in Fredericton, New Brunswick, Canada. He is the original civilian investigator of the Roswell incident.
Whitley Strieber
Louis Whitley Strieber is an American writer best known for his horror novels The Wolfen and The Hunger and for Communion, a non-fiction account of his experiences with non-human entities.
Sherry E. Wilde
Sherry Wilde was living an idyllic life as a wife, mother and business owner until 1987 when her community experienced a UFO flap that was considered one of the most active in the world.
+ Read More
Be the first to leave a comment on this campaign.