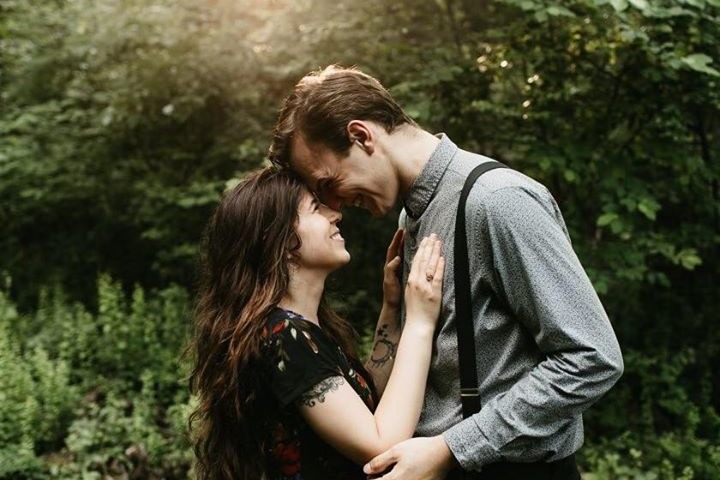 196
6
Help Save Trevor's Life
$19,220
of $54,400 goal
Raised by
187
people in 16 days
My name is
Trevor David Heinrich
.
I am outgoing, determined, love nature, art, music, and have a relationship with Jesus. I am 25 years of age and currently battling
stage four non-small cell magnocarcinoma  lung cancer.
I have been married to my very beautiful wife, Stella, for for some of the best and most challenging six months of our lives. She is extremely supportive and has played a huge part of my healing process.
The doctors unfortunately don't have anything else for me
as far as chemotherapy treatments go, and they recommend focusing now on whole brain radiation for 10 days. I have undergone a variety of different and new chemotherapy treatments for over nine months which has brought us to this point.
I'm not giving up. I believe that my God is bigger than our circumstances and that he will make a way when all other options seems hopeless.
I want to live a long life with my wife and believe that Jesus has more in store for my life than death.My goal is to go to Hope 4 Cancer
once I am finished with the radiation treatments. Hope 4 Cancer provides natural and non-toxic therapies. I will be undergoing a variety of
specific treatments that you can see by clicking HERE.
   When returning, we plan to follow up with the Lancaster Ann Barshinger Cancer Center.
Hope 4 Cancer is the world's leading alternative cancer treatment facility
in Tijuana, Mexico and in Cancun, Mexico. These are resort style facilities on the beach with a Cancer Treatment Center attached. They have a
large track record of safely curing multiple forms of cancer.
Their purpose is to provide natural methods, including some methods not offered in the United States, and to give patients the best chance of recovery. The center offers more than 20 treatments that are administered by a highly competent staff of trained doctors and nurses. Along with the treatments that impact the cancer cells directly, their key principles include non-toxic cancer therapies, immunomodulation, nutrition, detoxification, oxygenation, restoring the microbiome, and emotional and spiritual healing. They are also a Christian organization and we are extremely grateful for that.
We are grateful for the generosity of so many families over the last year. Please consider to support my healing of cancer! We are excited to see what God will do.
The cost will include:● 3 week Clinic Stay
: $22,500.00 USD
(Includes lodging, transportation, meal allowance, assessments, supportive therapies, follow up & Core HP Supplements)
● SPDT:
$7,500.00 USD
(SDT: 1 year Sensitizer & Device to go home, 3 months Home program Supplements)
● Sunivera Immunotherapy:
$12,900.00 USD
(3 month protocol to continue at home)
● Plane tickets: 
$1,500.00 USD at the moment
(we plan to fly as soon as funds are raised and the price could change)
●
Out of country hospital fee in event of emergency:
$10,000.00 USD


This is a very critical time for Trevor. So we plan to book our tickets as soon as we are funded to leave that day. Please pray with us and deeply consider supporting his life and sharing this GoFundMe with as many people as you know.
Here's a short video about one of Trevor's adventures and heart for people as
a way to get to know him.
We are hoping to have another video of our love story and life together, but with time being of the essence, you can be on the lookout on our
Facebook Page
  as it is on hold along with many more
current updates.
Thank you from the bottom of our hearts for giving your time to reading and sharing this. God bless.
+ Read More
Update 2
9 days ago
Share
WE ARE FULLY FUNDED!!!!!!!!!!!!!!!!!
An anonymous donor decided to fully fund the rest of the expense today beyond what was raised on the gofundme!!!! WE'RE GOING TO MEXICO!!!!!!!!!!!! We are so grateful for all the love and support. We thank God for you so much for making this possible. We're leaving for Mexico on Thursday and at this point everything is fully covered. We did not include the expenses for food for Stella in Mexico or rent while we're away for 3 weeks. If anyone feels the desired give beyond today it would go towards our normal life together. Some really cool praises on top of this are that I didn't loose my hair (I even got a wig), my last radiation is on Monday and I'm feeling significantly better than I was. We're still speechless and give God all the glory for you.
+ Read More
Update 1
12 days ago
Share
Trevor and I wanted to reach out and say how grateful we are for everything that everyone has done for us! If that is praying, sending an encouraging text, helping with groceries, rent money, and the GoFundMe - thank you!! All the blessings have honestly brought us to tears many of times! We are blown away by it all! It is giving us hope!

We have both originally taken off work for our previous plans to go to Mexico. Trevor is unable to work while doing the full brain radiation treatments. I have also been taking this time to care for him full time. It's something I want to do, and I am not feeling overwhelmed. I love Trevor and know this is only for a season. Our families have also been helping out a lot and we are so thankful for them. Taking this time off has also been really encouraging for me. I've been growing a lot in the Lord and learning a lot about natural healing. It honestly makes me want to be a nutritionist someday.

Trevor has been doing well with the radiation treatments. Last week was a crazy week for us. He was really struggling physically, but this week he has been recovering well and also is himself again, which is really exciting! Our goal is still to go to Mexico since the cancer center doesn't have anything else for us after Trevor's last radiation treatment on Monday, 3/11/19. Thank you for sharing and investing in Trevor's healing! WE ARE SO GRATEFUL AND AMAZED how God is using it and growing the GoFundMe! We believe that God is using our current situation to speak to a lot of people and share how that there is hope even in situations that may seem hopeless.

God is doing ALOT in Trevor's life. On Thursday of last week, 2/28/19, Trevor threw out his back in the middle of the night. God was there with him through it and taught him a lot in the midst of it. He felt like since then it was like "waking him up from a dream". Trevor said before battling cancer, he believes he was daydreaming. That meaning that he had all these dreams and things he wanted to do and lost some perspective on what really matters. He feels that God has transformed his thinking, what he wants in life, realizing how important it is to appreciate life, and forgiving others. He realized what matters most and that he was carrying too many burdens. He would carry other people's burdens and felt like He needed to play God's rule in their life. He even had such a desire to do more for God.

Trevor said, "God doesn't need me to do his job. He already finished the work on the cross." He says to cast your anxiety and burdens on Him. It comes down to the root of it, and everything is so simple. It's to love God and to love people. That's the purpose of life. Jesus was the example of that."

Trevor had big dreams and still has big dreams, but at the end of the day, He loves God, his wife, and people. He still has things He wants to accomplish in life, but realizes now that they aren't his God.

"If all I accomplish is loving God, my wife, and people - that's enough. God gave me dreams to be a gift, not to be a slave to. God laid things on my heart for a reason, but I want to appreciate what I already have. Jesus is my dream now. I hope everyone can come to this perspective of life, not holding anything against anyone, and not having to realize it when your life is at risk. At the end of the day, it's the people I care about and not the grudges I had. Letting go of those grudges have brought so much healing, freedom, and joy. I feel like I'm a new person and completely alive. I hope that you don't have to go through sickness to realize these things. I'm sharing my perspective only to encourage you to live life the way we were intended to. KRemember how simple life is supposed to be. Love your neighbor as yourself and love God with all your heart. I believe that letting go of these burdens and things that I was holding onto are a part of my healing process. God didn't make me sick to come to this point, but He is using it to develop a better version of me. I can't wait to enjoy life with Jesus and my wife completely cancer free. God still has a lot in store for my life, but I'm taking it one step at a time; just like my walk across America. I know where my priorities are at now. Loving Jesus, my wife, and others is the best gifts I could receive. No one can take that away."

By faith, our goal is to go to Mexico next week. The last radiation treatment is this coming Monday, 3/11/19. Thank you for hearing our hearts, praying for us, and sharing our story. We really couldn't do it without you guys!
+ Read More
Read a Previous Update