86
5
Help Restore Ron Goodwyne's Sight!
$6,802
of $20,000 goal
Raised by
85
people in 3 months
I am so very pleased to introduce you to my friend Ron. 
I "met" Ron on Twitter in 2013, and when circumstance found me traveling to his hometown for an event, he graciously offered to host me and some other mutual twitter acquaintances for a tweetup.  A wonderful time was had by all and Ron and I decided to go out for a lunch later. 
He explained to me that I would need to give him a ride, because he couldn't see well enough to drive. The poor guy wound up not only having lunch with me, but stuck in a parking lot for more than an hour after my car wouldn't start.  That hour and the wonderful, easy conversation that filled it sealed Ron's place in my heart.  It was only the first of our visits and conversations. 
Part of those conversations included the story of how Ron lost enough of his sight to force him to leave a business and career and much of his independence. Beyond telling me the story, I have never heard Ron complain about his plight. Ron is a husband, father, and grandfather. He is one of the happiest,  most generous,  and genuinely sweet people I have ever met.  He reminds often of his standing offer for a place to stay, wonderful food, and the pleasure of his and his wonderful wife's company.  
When Ron first told me about the study that could help restore some of his sight, he only mentioned that he was considering trying to find ways to fund it. I told him I would do whatever I could to help. 
After a little sweet talk*, he allowed me to start this campaign for him.
 The cost is high: ". A minimum 3 night stay is required in the area to allow a preop day, procedure day and postop visit. Patients may return home the postop day and flying is perfectly fine. Cost is typically USD $19,600.oo but can be as much as USD $21,600 for the most complex procedure."
But the reward is higher and Ron deserves the reward, if it is at all a possibility. 
You can read about the Stem Cell Ophthalmology Treatment StudyII (SCOTS 2) and others who have been helped by the treatment at https://www.mdstemcells.com/stem-cell-ophthalmology-treatment-study-ii-scots-ii/
The goal for this study is the minimum cost of participation plus travel expenses for Ron and his wife.  Please help my friend!
*There was no sweet talk. I just insisted until he agreed :) 
+ Read More
Update 2
3 months ago
Share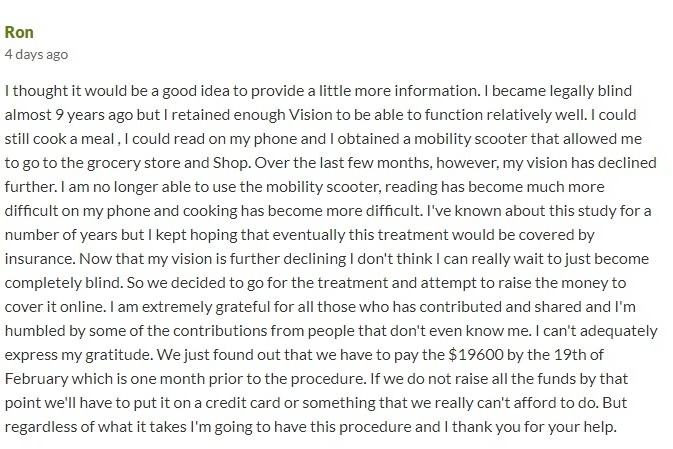 + Read More
Update 1
3 months ago
Share
Read a Previous Update