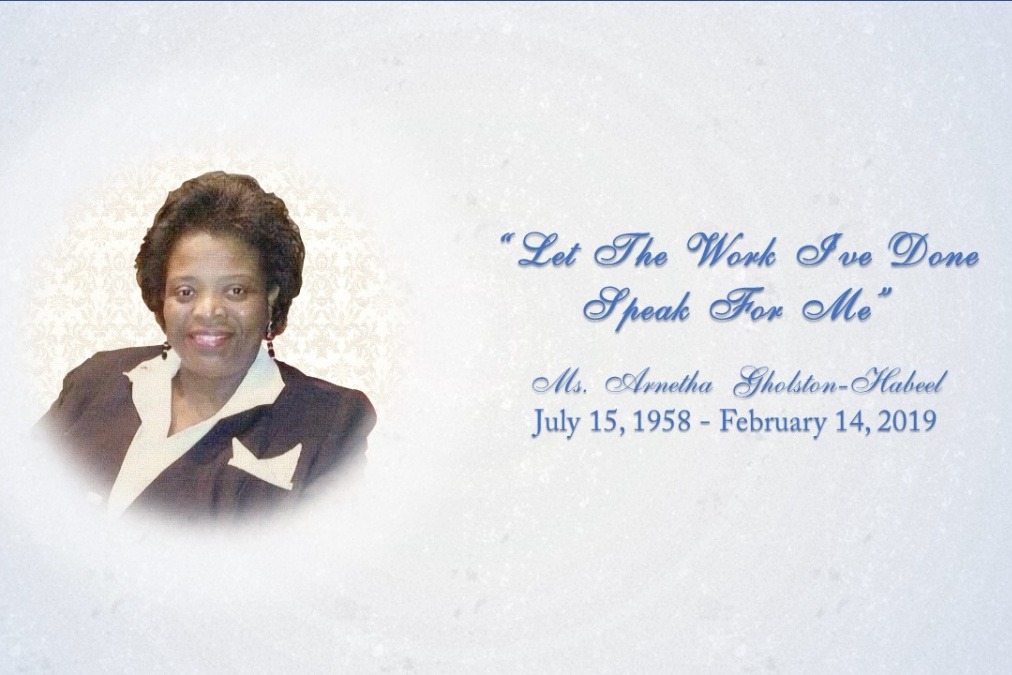 22
9
Fighting Cancer, Anything Helps
$1,165
of $50,000 goal
Raised by
23
people in 8 months

In early 2018, one of our founders, Ms. Arnetha, was diagnosed with an aggressive pancreatic cancer. Doctors initially expected her to live for six months, but with the bountiful support of family, friends, and her spiritual communities, Arnetha exceeded those expectations, putting up a strong fight for a full year.

Despite her effort, it is with great sadness that we inform you that Arnetha's post here in this life has come to an end with her passing at 10:55 AM on Valentine's Day at Northwestern Memorial Hospital with her family and friends at her side. A true soldier of God for the community and people in need. Arnetha leaves behind a legacy that has touched many. While her absence continues to be felt, the memory of her will persevere.

Please keep her family in your prayers as they go through this difficult time. Funeral details can be seen on the website created to honor her legacy at the link listed below. We'd like to thank everyone who has shown her support through her time of need. The love you've shown has truly made a difference.

Please visit her website at https://www.msarnetha.com/ 

________________________________________________________________________________________________________________________

FIGHTING CANCER, ANYTHING HELPS
At some point in our lives, all of us have been affected by cancer—either a personal battle or helping a loved one with the disease.
Here is a little about Ms Arnetha!
Her full name is Arnetha Gholston-Habeel
Also known as Ms A, age 59 from Chicago, Illinois by way of Ponola Alabama, youngest child of Ollion Gholston and Amanda Gholston who were married 65 years.  
As a child she accompanied her mother as she quietly went about feeding the homeless and encouraging the lost souls in the neighborhood where she grew up to accept God in their life. Her mother's spiritual devotion resulted in her being ordained as a minister under the Christian religion.
This inspired her work to serve homeless veterans and others who were suffering in the neighborhood. Her work is well recognized and acknowledged and she became known as the "Mother Teresa" of her community.  Before that she was known for supporting "at risk youth" who needed to be given a hand up to reach their God given excellence along with running a business incubator for the disadvantaged.
In 2007 she met and married her wonderful husband, a service disabled Vietnam era retired US Army veteran and I became his care giver.  This began her career as a veteran's wife and she experienced first-hand the trauma that our countries broken heroes have to endure.  After serving in the capacity of National Commander of the Auxiliary for a veteran's service organization along with her husband and some other Vietnam veterans they opened the Rtw veteran center, a private not for profit 501C3 volunteer organization, only funded by veterans and supporters donations, on the south side of Chicago to serve our nations wounded warriors who gave so much and have received so little.
After years of volunteering for long hours standing on her feet each day in the organization's kitchen preparing free meals to feed homeless veterans and others in the community, Monday thru Friday, Saturday, Sunday, and Holidays, Breakfast, Lunch, and Dinner, 360 days per year which resulted in the organization serving over 5,000 meals per month at their facility, in 2015 she began to have health problems.
 It started with a diagnosis of sciatic nerve issues that affected her back and ability to stand on her feet, then high blood pressure and eventually a diagnosis of type 2 diabetes. In 2017 her doctors begin to say that she had become insulin resistant as they tried all types of diabetic medicines and combination of medicines to control her blood sugar. This experimentation of medicines created a roller coaster ride for her body's vitals with her health steady on the decline.
Then came the bomb shell. 
On January 20th 2018, after complaining of a severe pain in her side her family rushed her to Northwestern hospital where they performed emergency and extensive examinations.
 After these examinations they announced that they had discovered a tumor on her pancreas. As the doctors worked to get her strong enough to undergo surgery while they continued to perform more examinations they discovered that the tumor was inoperable and cancerous and in fourth stage of a rare pancreatic cancer that attached the hormone producing area of the pancreas.
 Their recommended options for conventional treatment were chemotherapy for which they had to work to get her strong enough to undergo. In February of 2018 she had her first treatment of chemotherapy, which is design to kill the cancer cells through literally injecting poison into your system. This treatment proved unbearable as the side effects nearly proved fatal. This began a search for alternative healing options.
 In March of 2018 she began her holistic journey toward recovery which meant that this was a costly path that her insurance coverage refused to pay for. This journey included a combination of methodologies for her mind, body, and soul. It also included a lot of prayer as prayer teams have formed and are calling for a healing miracle across the country and across many different faiths. 
 It also included an out pouring of love and support from her family beginning with her two wonderful children who from the beginning never left her bedside during this time, often sleeping around the clock at her side in the hospital, to her devoted husband and grandchildren, brothers, nieces and nephews, cousins and other family members, friends and well-wishers.
 God has blessed her with a variety of healers who he has chosen to use as vehicles to channel his healing powers through.  Most notably is Doctor Lee Warren of Chicago who healed his self of eye cancer.  Right now she is using a combination of traditional medicine and holistic treatments.  As the success of the holistic treatments increase the need for the traditional medicine will decrease.
 Dr. Warren's daily support and guidance as a cancer survivor has been wonderful and his recommendations invaluable. These recommendations begin to create progress as her doctors were amazed in early April as her blood work showed progress toward a turnaround of her condition.  However her holistic program is a steady increasing cost as we employ different levels of treatment and as April progressed money issues affected her ability to keep up with the recommended treatments and the latest blood test taken by her doctors showed a decline in her results.
 Doctor Warren assures us that if she sticks to his treatment recommendations that she will see a complete reversal of her conditions and a return to full health. One of her goals in her recovery is to become an inspiration to others who have been stricken with illnesses and given a medical diagnosis such as she has that there is hope and another path to wellness.
Dr. Warren also guaranteed her that this is going to be a fight. He said that if she has a will to live and a belief in the healing powers of God and his guidance coming though his healing disciples coupled with her willingness to fight that she will win this battle. He said all of this has to be manifested in her discipline to stick to the healing routines that he is recommending.
 She is a fighter. She got her spiritual devotion from her mother and willingness to fight from her father. She got her mental toughness from both of them.
 At the end of April the family and friends decided to open up a go fund me campaign with the goal of raising fifty thousand dollars ($50,000) which will cover my treatments for the next six months which should be enough to get her to a stage of sustained recovery.
 As you can see it is an enormous amount of money as doing her community work had already exhausted her and her husband's retirement nest egg.
The family hopes to give Daily or weekly updates regarding her health, treatment and thoughts as she forges a path for others who have been diagnosed with this type of affliction. Which she hopes to be useful and inform you all of this journey that she is on. 
We observed her as she watched her children as they tenderly cared for her with hope and compassion in their eyes. Her grandchildren as they eagerly asked if she needed them to her anything. And her devoted husband as he lay holding her tightly in his arms telling her everything was going to be alright.  Family Bliss. Sometimes it is just too perfect.  
Her children need their mother.
Her grandchildren need their grandmother.
Her husband needs his wife.
Her Family & Friends need their beloved
And those in need in the community still need her continued love and helping hand 
Please donate what you can, this is a lifesaving treatment for her and her family.  Each donation will receive a down loadable love gift to you. Share stories, photos, and positive thoughts to our GoFundMe campaign.
 We realize that we are asking for help which maybe a sacrifice for you but the only alternative is for us to give up and this we refuse to do.
EVERY PENNY RAISIED FROM THIS CAMPAIGN GOES DIRECTLY TOWARDS MS ARNETHA's TREATMENT RELATED SUPPORTIVE COST.   THANK YOU SO MUCH TO EVERY ONE FOR YOUR AMAZING SUPPORT. LOVE MS ARNETHA XXX
WE NEED YOUR SUPPORT AND PARTICIPATION!
What Can You Do?
Read Latest Update
Help spread the word
You are invited and encouraged to form your own support prayer team.
Help raise donations
The idea is to create a sense of community and support during Ms Arnetha's fight against cancer. This way, you can help raise funds and raise spirits at the same time—not to mention keep everyone in the loop without having to pick up the phone or send countless texts.
 Encourage your family and friends to wear the color purple of pancreatic cancer that we are fighting. They can either wear a ribbon or match their outfit to the color. Then, have your personal supporters of this campaign to change their Facebook or other social network avatar photos and have them share a link to our campaign. This way, you they can boost donations for our campaign and raise cancer awareness at the same time.
 Make a gift to Ms Arnetha's Birthday
You know how great it feels to have all those birthday wishes come in on Facebook every year? Make it more meaningful by asking your friends to donate to this GoFundMe campaign that's raising money to help fight this cancer. Take advantage of all the birthday goodwill and cheer by encouraging donations and shares—it's sure to be a birthday wish you'll remember.
Host a Brunch
Invite people over for a really nice, fancy brunch. The price of admission? A donation to "Ms Arnetha's  Cancer Treatment Fund" GoFundMe campaign. Make it worth your donors' while by making it as glamorous as possible while keeping it under budget. Dress up in fancy clothes, put up some homemade decorations, and bond with your friends over eggs and maybe a little bubbly, if that's your thing. Don't forget to post pictures online with your own special campaign hashtag to keep the campaign momentum going even after the event. You could even share a video of the brunch and give special shout-outs to your donors.
DIY Walk-A-Thon
Walk-a-thons are tried and true in the cancer fundraising space, so why not take the idea and make it your own? You can do a custom walk-a-thon just for "Ms Arnetha's Cancer Treatment Fund" GoFundMe campaign by encouraging people to donate based on their FitBit or iPhone steps for a week. This means they can post about their steps daily on social media—nothing like some friendly competition to boost donations! Even giving at a ratio like $15 for 15,000 steps will make a huge difference if it's every day for a week. Think of something special to do for your top stepper to recognize their contributions.
"Thinking of You" E-Cards
Because we want "Ms Arnetha's Cancer Treatment Fund"  campaign to reach a wide range of people, design some pretty e-cards that donors and potential donors can send to each other? Get an arty friend to draw up a few e-card designs and encourage donors to select one to send alongside personal messages to friends and family. You can also provide some pre-written messages tailored to our campaign. By connecting the sentiment of "thinking of you" with our campaign, people will feel touched and encouraged to pass along the favor.
***Upon Donating, please download a
12 Disciplines of Good Health Checklist
 in the photographs section as a sign of solidarity in fighting and preventing cancer by improving our health.
+ Read More