Lernabit - Help charities while you learn
$10
of $1,000 goal
Raised by
1
person in 2 months
Hello everyone!
My name is Aaron Wright, and I have built a really cool digital notecard app called
Lernabit
that helps you remember the things you learn while helping charities. The app is already fully functional, but I need your help to get Lernabit going as a business.
To better understand what Lernabit does, here is a test for you. Think back to the last museum you visited, or the last book you read, or the last time you watched a documentary. How much of it do you actually remember? If you are like most people, you probably can't remember most of what you learned from the experience. That's where Lernabit comes in.
Lernabit is a digital notecard app that helps you remember all of that stuff. When you learn something new, you can use Lernabit to quickly write it down before you forget it. Then, Lernabit will automatically create a review schedule and let you know when it is time to review the information. When you are done reviewing, it schedules the next review for you and the information gradually works its way into your long term memory.
But it gets better. You can also attach images or audio to your notes to create a rich learning experience. Plus, you can make your notes public or private. If your notes are public, other people can add it to their own review list and as you browse through their public notes you can add them to your list with one click.
Lernabit is much more than an app. It is a mission to make education more accessible. To that end, I have pledged a portion of profits from Lernabit to support charities that make education available to everyone. So far I have made one donation to help buy science supplies for a school in northern Ohio.
Here are a few examples of how I have used Lernabit to remember things I have learned:
Art history:
I have used it to learn about art. I create notes and attach famous works of art with a bit of background about the work, and Lernabit helps me remember it.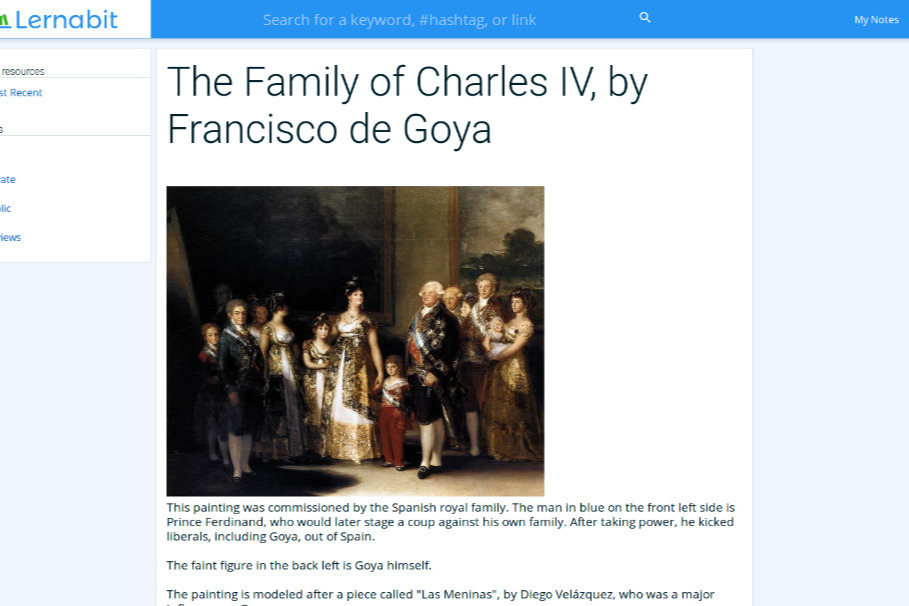 Italian:
I have been learning Italian, and Lernabit has helped with that too. I can attach audio to my notes to learn correct pronunciation, or write text in Italian and challenge myself to translate it every time I review that note. I have also used the image attachment feature to take pictures of objects and label it with the correct word in Italian to create word associations in my brain.
Museums:
Lernabit has been indispensable at museums. I still remember things I learned at museums I visited over a year ago.
The zoo
: I went on a family trip to the Cincinnati Zoo and took Lernabit with me to remember all of the interesting facts about each animal.
Lernabit is intentionally built to be flexible. While other education apps tend to focus on one topic like foreign language, Lernabit is designed to work with any topic you want to learn about.
I have been building, using, and testing the app for almost 2 years. That might seem like a long time, but an extensive period of testing was needed to really determine how well it helps you remember things. It has also given me a lot of opportunities to try it in a wide range of scenarios and topics. I have pushed it through the paces in just about any situation you can imagine, including museums, art museums, books, documentaries, traveling, zoos, and even things I learned from random conversations. After trying it in just about any use case you can imagine, I can say without a doubt that it works.
I haven't done much marketing yet because I have been focused on working out bugs, tweaking the algorithms, and just focusing on general product development. But now I need some money to help grow Lernabit.
I'm asking for $1,000 to help kick start the business. Here is how I plan to use it:
Business setup costs: $300
I need to file some legal documents to setup a formal business structure. I'm not doing anything fancy here, just a simple LLC business structure in my home state (Ohio). Based on my research, this should total about $300.
Operating costs: $350


This is enough to cover server costs, domain costs, and other assorted operating expenses, plus a bit extra because I'm expecting most of these costs to increase as traffic picks up.
Miscellaneous costs: $350

This will provide some breathing room to help grow. It includes a wide range of costs including marketing, outsourcing some work like graphic design, and other such things.
I will
not
be taking a salary from this money. My own living expenses are very small right now and I don't need it at the moment.
Also, this money will not be used for donations through Lernabit. That money will only come from normal income into the business.
With your help, I can grow Lernabit into a successful business and change lives through the power of education. If you have any questions, I'm happy to answer them!
+ Read More