Help Léandre's family beat cancer together
$32,577
of $40,000 goal
Raised by
249
people in 5 months
(Version française ci-après)
My nephew-in-love Léandre was diagnosed with a brain tumour on December 27, 2018. Four days later, on New Year's Eve, he underwent 10 hours of surgery to remove it. Although the surgery was a success and nearly all of the mass was removed, the tumour was malignant, so the next steps for Léandre's treatment are radiation therapy and chemotherapy.

The past weeks have been devastating. We are all reeling from the shock of his quick diagnosis: his mom Anne, his dad Denis, his little brother Audrick, his Oma Rosemarie and Opa Andreas, grand-maman Germaine, uncles Georg and Benoit, aunt Catherine (my sister) and cousin David (my son). Though we are not related by blood, I've known Léandre his whole life, and love him as a nephew.
Léandre is ten years old. He is an extremely gifted violinist, who has been playing since he was 3 1/2 and competing since he was 4. He has won two silver medals at the Canadian Music Competition and has performed twice at Carnegie Hall!
Here is a 
link
to hear him play at the CMC competition in 2017. And here is a
link
to his very first performance, at 4 years old.

Léandre also swims, dives, rides horses and loves to read. He particularly enjoys books on ancient mythology; he raced right through all of Rick Riordan' books, and read the Iliad and the Odyssey. He is bursting with life - kind, enthusiastic and passionate about everything he does.

The Schwab-Gaucher household is filled with warmth. Birthday parties are marked by Anne's incredible homemade cakes, in the shape of planets, or sea creatures, and by elaborate treasure hunts and activities for the kids, animated by Anne and Denis and decorated by Oma's beautiful artwork.

Léandre and his brother Audrick, 7, are very close. Audrick looks up to his big brother, and plays the violin as well. When they are at Oma and Opa's house, they practice violin at the same time. Léandre plays for Catherine, and Opa accompanies Audrick on the piano. At home, Toxo the cat listens - of their four cats, he has the best musical ear.
This past December, David and I went to Léandre's house to spend Christmas together with the family, as we do every year. Anne baked up a storm - I think she had 20 varieties of Christmas cookies this year. Léandre and Audrick had practiced some Christmas carols to play for the family, as duets on the violin. David had just started learning the flute, and had brought it with him. When Léandre learned this, he didn't skip a beat: he transposed his own harmony in his head, so David could play along in the key of C. It was one of those small but great moments that showed Léandre's generosity and irrepressibly positive energy. That was three days before his diagnosis.

It's hard to believe that was only five weeks ago. Though Léandre had been having some mild headaches and nausea for a few months, he was otherwise in perfect health. Today, he is struggling to talk, and his walking is unsteady as he recovers from the effects of the surgery. Every day is better, but there is a long road ahead.

Léandre's tumour was a medulloblastoma. Despite its near-total removal, six weeks of radiation therapy will be needed to target the remaining cancerous cells and keep the tumour from growing back. Since the treatment he needs (proton therapy) is not available in Canada, the Montreal Children's Hospital has helped arrange for the family to go to the Massachusetts General Hospital in Boston, where they have the specialized equipment and expertise required. After that, Léandre will go through four to six months of chemotherapy administered at the Children's Hospital in Montreal. He may also need other therapies, due to the strong side effects of the cancer treatments.
In order to be at Léandre's side during his battle, and to take care of little brother Audrick, his dad Denis has stopped working, and will not be able to return to work for the better part of this year. There is a government relief program for caregivers, but this will only cover about half of his salary, which they depend on. Without more help, their family will be in serious financial difficulty.

That's why this GoFundMe campaign was created. All the money raised will go straight to Léandre's family, to cover their loss of income and inevitable extra expenses, so they can focus their energy on what matters: Léandre's treatment and rehabilitation. They will be deeply grateful for any contributions.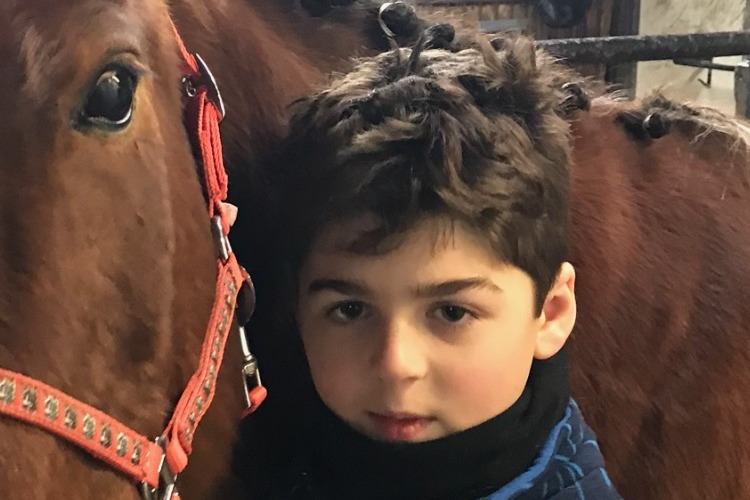 With love, luck and support, Léandre will be back on his violin playing concertos well before next Christmas!
Love,
Aunt-in-love Jenny
Aidez la famille de Léandre à combattre le cancer ensemble
Mon neveu Léandre a été diagnostiqué d'une tumeur cérébrale le 27 décembre 2018. Quelques jours plus tard, la veille du jour de l'an, il a subi 10 heures de chirurgie pour qu'on la lui enlève. Bien que la chirurgie fût un succès et que presque toute la tumeur ait été enlevée, elle s'est avérée cancéreuse. Les prochaines étapes pour Léandre sont donc la radiothérapie et la chimiothérapie.

Les dernières semaines ont été dévastatrices. Nous sommes tous sous le choc de son diagnostic : Anne, la mère de Léandre, son père Denis, son petit frère Audrick, sa Oma Rosemarie, son Opa Andreas, sa grand-maman Germaine, ses oncles Georg et Benoit, sa tante Catherine (ma sœur) et son cousin David (mon fils). Bien que Léandre et moi ne sommes pas liés par le sang, nous sommes liés par l'amour : Léandre est comme un neveu pour moi.
Léandre a dix ans. Il est un violoniste extrêmement doué : il joue depuis l'âge de 3 ans et demi, et fait des compétitions de musique depuis qu'il a 4 ans. Il a gagné deux médailles d'argent au Concours de musique du Canada. Il a même joué deux fois à Carnegie Hall à New York!
Voici un
lien
où vous pouvez écouter une de ses compétitions en 2017. Et voici un
lien
 vers sa première performance, à 4 ans.
Il fait de la natation, du plongeon et de l'équitation, et il adore lire. Il aime particulièrement les livres sur la mythologie antique, et il a lu l'œuvre complète de Rick Riordan, ainsi que l'Iliade et l'Odyssée. Il est aimable, enthousiaste et passionné dans tout ce qu'il entreprend.

La résidence Schwab-Gaucher est bien chaleureuse. À chaque fête d'enfant, Anne fait des gâteaux personnalisés incroyables, en forme des planètes ou de créatures marines. Il y a des chasses au trésor élaborées et d'autres activités divertissantes pour les enfants, animées par Anne et Denis et décorées par les œuvres d'art magnifiques d'Oma.

Léandre et son petit frère Audrick, 7 ans, sont très proches. Audrick admire beaucoup son frère ainé, et joue également le violon. Quand ils sont chez Oma et Opa, ils pratiquent le violon en même temps. Léandre joue pour Catherine, et Opa accompagne Audrick au piano. Chez eux, Toxo le chat écoute en ronronnant – de leurs quatre chats, c'est lui qui a l'oreille la plus musicale.
En décembre, David et moi sommes allés chez Léandre pour fêter Noël avec la famille, comme on le fait à chaque année. Comme d'habitude, Anne s'est surpassée dans la cuisine; je crois qu'elle a préparé 20 variétés de biscuits de Noël cette année. Léandre et Audrick avaient préparé des chansons de Noël au violon. David venait de commencer à apprendre la flûte traversière, et l'avait emmenée avec lui. Quand Léandre l'a su, il n'a pas hésité : il a transposé l'harmonie qu'il avait appris, dans sa tête, pour que David puisse jouer avec eux. C'était un petit moment, mais qui démontrait la générosité de Léandre et son énergie positive. C'était trois jours avant qu'on apprenne son diagnostic.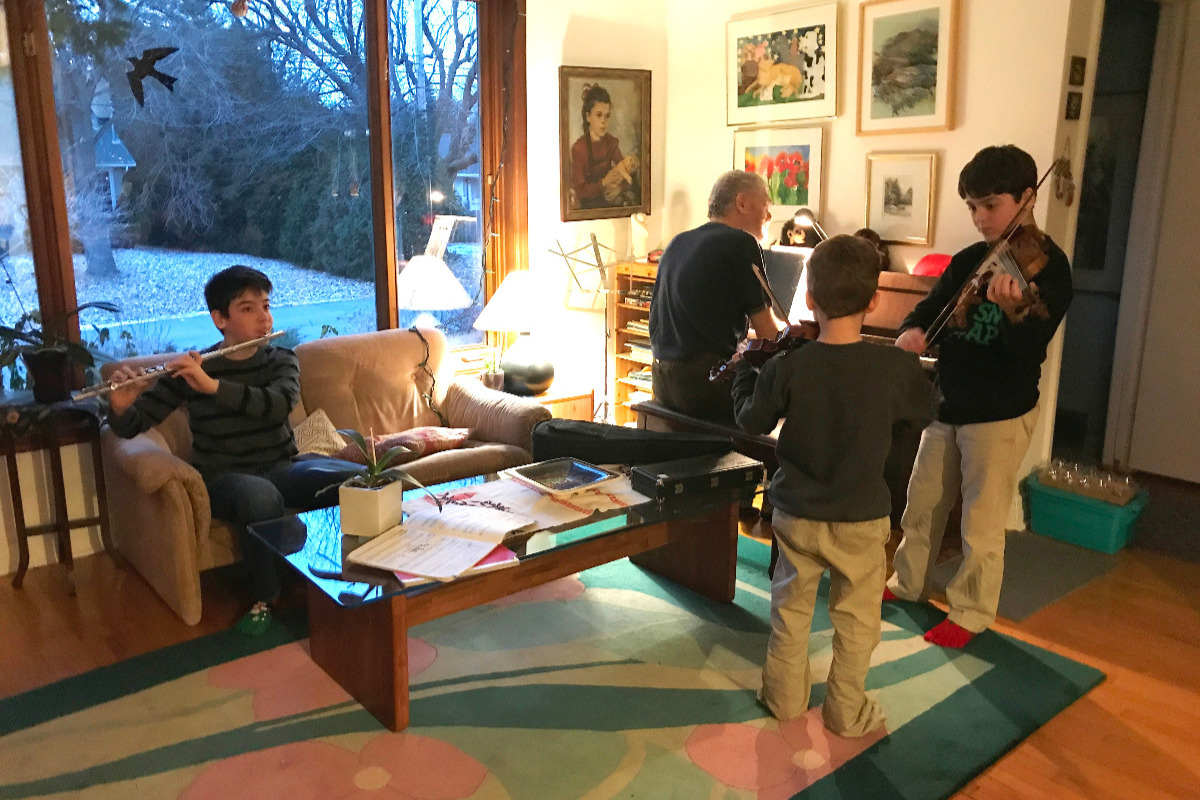 Il est difficile de croire que cela fait seulement cinq semaines. Bien que Léandre avait parfois des maux de tête légers ou un peu de nausée ces derniers mois, il était autrement en parfaite santé. Aujourd'hui, il a encore de la difficulté à parler, et sa démarche est incertaine, dû aux effets de la chirurgie. Il s'améliore à chaque jour, mais il y a encore un long chemin à parcourir.

La tumeur de Léandre était un médulloblastome. Bien qu'on l'ait presque complètement enlevée, Léandre devra subir six semaines de radiothérapie pour détruire les cellules cancéreuses restantes et pour empêcher la tumeur de revenir. Comme le traitement requis (la protonthérapie) n'est pas disponible au Canada, l'Hôpital de Montréal pour enfants a arrangé pour que Léandre puisse le suivre à l'Hôpital général du Massachusetts, à Boston, où ils ont les appareils et l'expertise requis. Léandre subira ensuite quatre à six mois de chimiothérapie, administrée par l'Hôpital de Montréal pour enfants. Il aura aussi probablement besoin d'autres thérapies, dû aux effets secondaires puissants des traitements contre le cancer.
Afin de rester aux côtés de Léandre pendant sa lutte, et afin de prendre soin de son petit frère Audrick, son père Denis a dû arrêter de travailler, et devra arrêter le travail pour la majeure partie de l'année. Bien qu'il y ait un crédit d'impôt du gouvernement pour les aidants familiaux, celui-ci ne couvrira que la moitié de son salaire, qui est la principale source de revenu de sa famille. Sans aide supplémentaire, ils seront en grande difficulté financière.

Voilà pourquoi cette campagne GoFundMe a été créée. Tous les fonds reçus iront directement à la famille de Léandre, afin de couvrir leur perte de revenu et leurs dépenses inévitables. Ils pourront ainsi se concentrer sur ce qui importe le plus : les traitements et la réadaptation de Léandre. Ils seront très reconnaissants pour toute contribution.

Avec de l'amour, de la chance et le support de ses proches, Léandre sera de retour sur scène avec son violon, bien avant Noël prochain!
Merci de tout coeur,
« Tante » Jenny
+ Read More
Update 2
1 month ago
Share
Léandre had his radiotherapy in Boston and it went well. We loved our medical team there and stayed in a wonderful place called Christopher's Haven. There was some nausea and fatigue but we were able to explore the city of Boston and have fallen in love with it. There are so many great museums and wonderful places. We then returned to Montreal and have started chemotherapy. Though there are many challenges, Léandre has been extremely brave and his little brother very supportive. We are making the best of everything and trying to stay positive. Everyone has been very supportive. Léandre was even lucky enough to perform on stage with the Montreal Symphony Orchestra, which was an amazing experience. Treatments will continue throughout the summer and we are hoping for some nice weather so we can spend time outside.
+ Read More
Update 1
5 months ago
Share
Thank you all for your generous donations. Léandre is doing well. We have been in Boston for 2 weeks already. So far the proton therapy has caused fatigue and nausea, but Léandre is feeling well enough to enjoy some of what this great city has to offer. Everyone here has been so kind and supportive. The home we are staying at, Christopher's Haven, is full of incredible people that make us feel at home. The Doctors are all very happy with how things are going and are positive for the future. So we will continue to stay strong and stand behind our little warrior.
+ Read More
Read a Previous Update