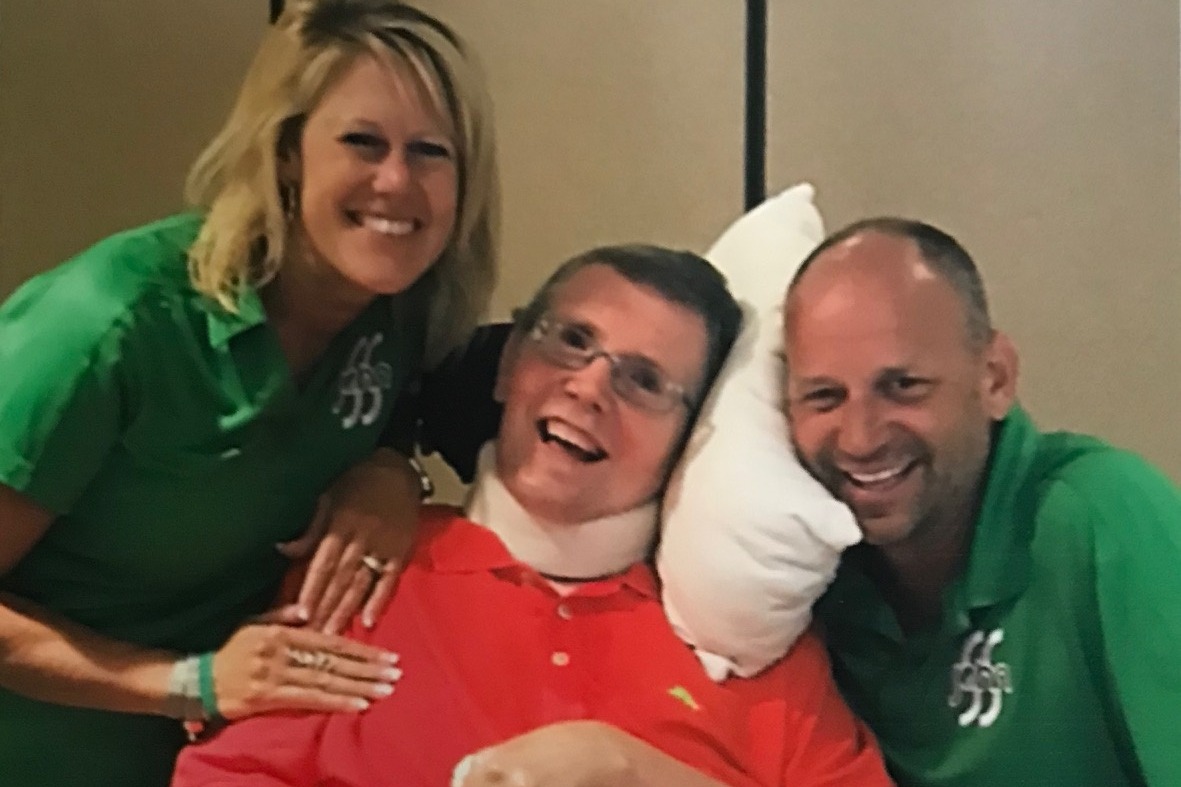 173
4
John Sullivan and family would like your help.
$13,075
of $20,000 goal
Raised by
172
people in 7 months
On July 15, 1985, John Sullivan was 17 and preparing to enter his senior year at Marlette High School.  He was as all-American as a kid could be.

Son of a dairy farmer, and oldest brother of four siblings, John was intelligent and athletically gifted in track, basketball and golf.

After spending a week at Case Western Reserve University in Cleveland, John headed straight to East Lansing with 238 others to compete in the fifth annual Michigan Junior Championships.

John and his three partners, Brian Stanton from Owosso, Scott Klebba and Jeff Szynski of Utica, were in the first group to tee off on the back nine holes of the West Course that Monday, shortly after 7 a.m. 

Dr. C. Barry Dehlin was heading to work at Lansing General Hospital at the time.  He still vividly remembers driving down Mount Hope Road past Forest Akers Golf Course, seeing golfers on the course and seeing the black clouds rolling in.

On the course, John and his group had just finished the 13th hole.  Another foursome behind them hopped on a cart bound for the clubhouse.  The weather worsened as the group got to the 14th, it was around 8:15 a.m.  They retreated to a wooden shelter for 10 minutes, but no one came to help.

Two members of the group decided to make a break for the clubhouse.  John and the other hesitated, then joined their partner's dash.  They got near the Number 5 hole.

Doctors told John's family the lightning passed directly through their son, entering through his golf bag, near his right hip, and exiting through his left heel.  The residual electricity sent the other three to the ground with him.  All four were knocked unconscious, but one came to and somehow managed to get back to the clubhouse.

John had no vital signs when emergency workers arrived.  He was resuscitated on the course and taken to Lansing General Hospital.  The years that followed were filled with tremendous pain, tragedy and sadness for John and his family.  John's family decided to care for him in their Marlette home, and have been doing so since that fateful day.

Dick, and his wife, Marcia, continue to do most everything for John.  He requires 24 hour a day care, including, bathing, feeding and constant monitoring.  It has gotten exponentially harder for them since John's younger brother, Matthew, passed away in 2011.  He was a part time caretaker and helped out a lot, but that responsibility has fallen back onto Dick's shoulders.

Since John was hurt in 1985, it has taken everything to care for him and raise three other kids.  The family home has been neglected during that time and is in need of some overdue attention.  An estimate to do repairs to the flooring, kitchen and roof has been done, and with the weekly financial constraints of the family, assistance is asked for.  The goal is $20,000 for these repairs and to help John and his family continue to keep up the fight.  All donations made will be sent directly to John's account to help with the cost of repairs. 

Being the youngest of the four kids, I have seen the daily battles first hand; the chaotic atmosphere when that call came to the house to tell us that John had been hurt, the countless days/weeks/months in the many different hospitals, the nights where you weren't sure if your brother was going to make it through the night.  The constant struggles to figure out what the future held for John and our family.

All this was seen through the eyes of a young kid, and even as an adult, I have a hard time understanding how we got through it.  Since John got hurt, the road has been a very rocky one, with more downs than ups, and with the passing of my older brother, Matthew, things are that much more difficult.

We have had a tremendous amount of support throughout the past 33 years.  It is because of that support and the love of our family that John has not been back to a hospital or had any illness in years.

I would like to personally thank each and every one of you that has helped in the past and thank every single person that reads this.  My family and I greatly appreciate the support!
+ Read More
Update 2
3 months ago
Share
We are starting to make some progress with the new doors and floor in the kitchen/hallway area! The old door was 32" and the new one is 36". This will definitely help with getting John's chair in and out of the house. The flooring should be going in later this month and, yes, that is some awesome 70's wallpaper in the kitchen. Thank you again to everyone that has helped make this possible!
+ Read More
Update 1
5 months ago
Share
My family and I are extremely thankful for all of the support from everyone here and cannot stress our gratitude enough. A longtime friend of my brother, John, has reached out to us and is going to assist us with some of the repairs to the kitchen and flooring. The biggest obstacles right now are walkways in the kitchen and living room and the doorways to the house. They were managable for the previous wheelchair John had, but the new chair poses more of an issue between the wider wheel base and John's long legs. We are working together to develop a plan to resolve these issues and will keep you all posted as work begins. I would, again, like to thank everyone for the donations, prayers and kind words that have been made/said to my family, the support is amazing!
+ Read More
Read a Previous Update