446
31
Rusty's Emergency Medical Fund
$13,193
of $15,000 goal
Raised by
442
people in 10 months
Who is this Rustydood?
My name is Sam, and I have a 5-year-old F1B Goldendoodle named
Rusty
. He is a goofy, good-natured cuddlebug who loves everyone and everything. You can see more pictures of him on his Instagram page at
https://www.instagram.com/rustydood/
. Before Rusty, I never had a dog or had much experience with them. But my son, who was 5 at the time, really wanted a dog, so I started looking into poodle mixes. I came across Rusty's picture online and instantly knew he was the dog for us. Since his first car ride home, he has been my sidekick and best bud. He has made all of our lives infinitely better. I had no idea how much joy a dog could bring to our lives. He's always ready with a smile and a giant tail wag, and will cheer you up no matter how bad your day was.
-Rusty turned 5 on June 30th
-Rusty is always a big part of our family photos
-Rusty at 8 weeks — he was actually rusty-colored as a puppy. Now he's a big creampuff and his name makes no sense! ;)
What's wrong with this Dood anyway?
On Sunday, August 25th, Rusty became extremely lethargic and stopped eating and drinking. He wasn't showing any obvious signs of illness, just seemed really tired and had no energy. I thought it might be from the extreme heat wave we were experiencing, but was concerned that something more was going on. The following Thursday, we left him with our dog sitter while we went out of state to visit family for Labor Day weekend. During that time, the dog sitter thought Rusty was on the upswing — he started eating and drinking and was even playing with the other dogs. But when we got him back the following Tuesday, I knew something was terribly wrong.
On Wednesday September 5th, I took him to our vet and she immediately diagnosed severe dehydration. Then she examined his eyes and gums and saw that he was jaundiced, which indicated a liver issue. They started running basic blood tests and an X-ray to look for an obstruction. After putting him on IV fluids for an hour and finding nothing wrong in the narrow blood panel and no obstruction, she recommended transferring him to the emergency animal hospital and be put in the ICU.
The hospital admitted him and started running a very wide spectrum of tests as well as doing an ultrasound on his liver. His blood tests all pointed to liver damage. His BUN kidney levels were low, his albumen protein levels were low, and his blood sugar was low as well.
Thankfully the ultrasound showed that his liver is not shriveled or scarred. However, the ultrasound also revealed that his adrenal glands were abnormally small, leading the doctor to believe that he has Addison's Disease. This disease is caused by a lower than normal production of hormones by the adrenal glands. This results in high stress levels, dehydration, lethargy, and it can start to affect the function of other organs. It is fatal if not treated. Looking back, this makes a lot of sense. Rusty has always been skittish with storms and fireworks, but the last few months have been really extreme. We've had to put him on sedatives to get through all the thunderstorms we've had recently. So it makes perfect sense that he can't cope because he's not producing the hormone to fight it.
Why are we asking for your help?
We still don't have the full prognosis, but we are so grateful this disease is manageable with ongoing treatment and medication. Hopefully our sweet boy will keep improving and he can get back to being his awesome self.
We need your help to continue Rusty's treatment and path to recovery. At this point, Rusty's emergency medical bills total $10,087.72 (scroll down to see copies of bills below). To manage the Addison's, he will be on steroids for the rest of his life. Rusty will also need regular blood tests to check his liver going forward, and if those values decline, he will need a biopsy to determine how damaged it is. All of the funds raised will be used exclusively to cover his existing bills, and continue his treatment to give him the best chance to have a long and healthy life.
Thank you for all the prayers and pawsitive vibes we've received from our friends, family, and our Instagram family! We are so grateful for the tremendous outpouring of love and support.  Thank you for taking the time to read this. If you are able to make a small donation, it would mean the world to me.
Sincerely,
Samantha Hickey
Here are the bills so far:Initial vet bill:


Emergency Hospital bill: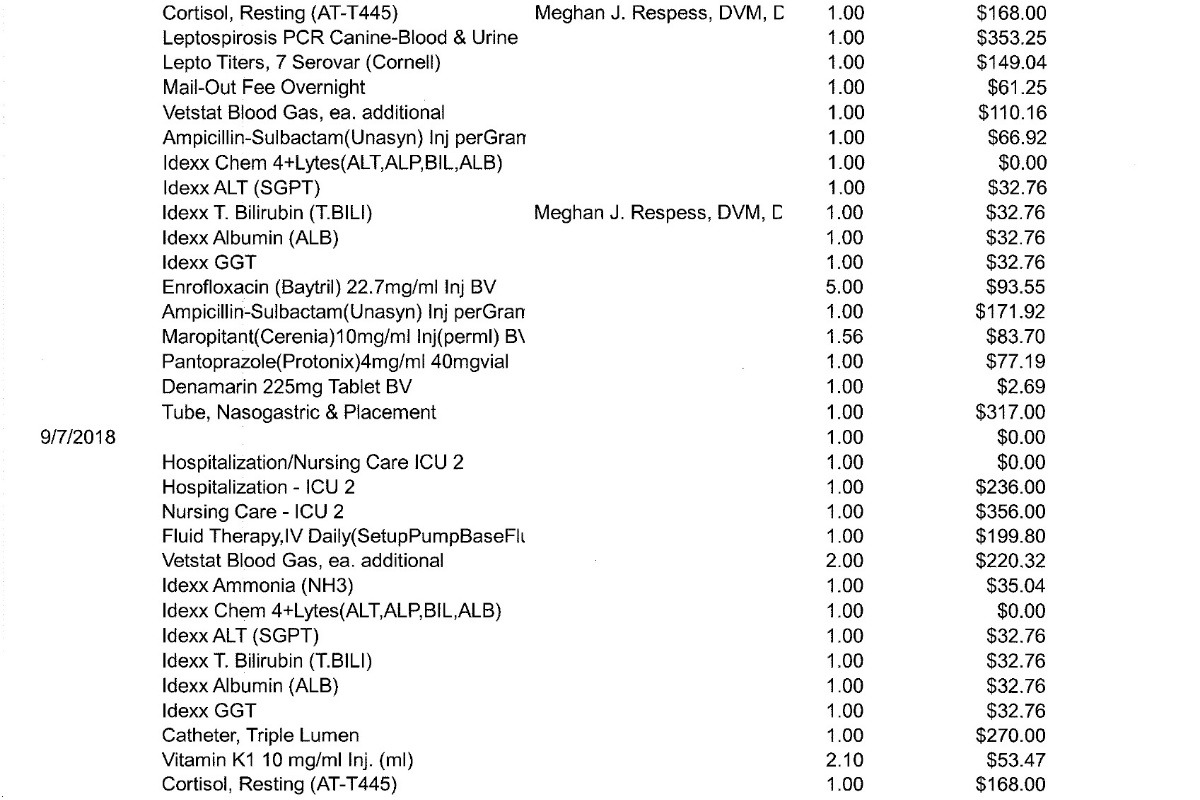 + Read More
Update 1
10 months ago
Share
Hello everyone! First I wanted to say thank you for your incredibly generous donations to help cover Rusty's emergency medical care. Because of you, we are able to completely cover his ICU bills as well as most of the upcoming care he will need over the next few months to monitor his recovery. Words cannot express the gratitude I feel. Thank you, thank you, thank you!

I also wanted to give you a quick update on how Rusty is doing. He's been at home recuperating for nearly a week now and every day he's improved dramatically. His energy is back as well as his appetite. He's happy, alert and playful. Thanks to you, he's got a new lease on life!

We went back to the vet today for a follow-up visit, and all of Rusty's vitals are normal. The doctor was very happy to see him looking so good. She took a new blood sample to check his liver and cortisol levels. The results won't be ready until Tuesday, but now that he's on the right medication to treat his Addison's Disease, we are optimistic that they will show improvement or even be back to normal.

I will send another update once we have the final prognosis. Thank you again, my friends, for the incredible love and support you've given our family. It means the world to us! ❤️
+ Read More