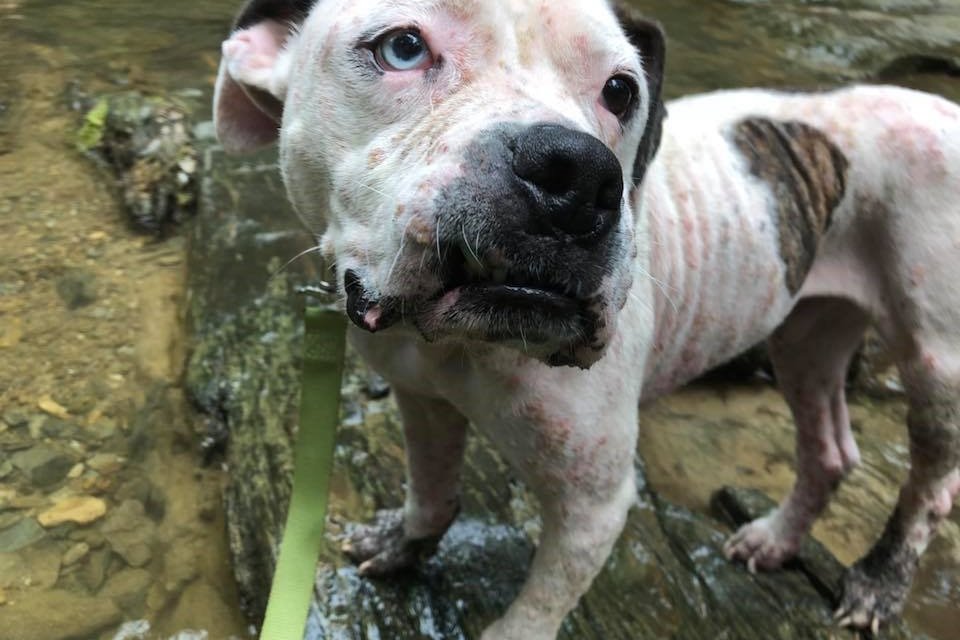 10
3
Help For Jack the Pittie
$555
of $3,500 goal
Raised by
9
people in 3 months
When we first saw Jack's rescue plea from the shelter, at Pitties & Purrs Rescue, Inc we knew we had to pull him (look at that face!!)and help him get healthy and into a happy home. Jack had what looked like a raging case of Demodectic Mange, which we have seen hundreds of times before, but Jack was different; after numerous visits to vets, specialists, with various exams and treatments and of course lots of TLC, he still wasn't getting any better and it was breaking our hearts. 
After taking Jack to see a Dermatologist where he had multiple skin biopsies, things started to make sense.  Jack was diagnosed with an autoimmune skin disease called 'Pemphigus Foliaceus'. This life long disease often goes undiagnosed and untreated in animals (people can get it too) and in those cases, it can often be fatal.....  Thankfully for Jack we were able to diagnose and treat him in time.  We are now happy to report that Jack is responding beautifully to treatment and is—as always—our happy wiggle butt boy.  Now we know what we are dealing with, our mission is to suppress Jack's overactive immune system and then once in remission, his condition can be more easily managed and he can finally live a happy life.
This last critical phase requires substantial expensive medications and follow-up Specialist visits to monitor his condition. 
The costs to diagnose and treat Jack have been significant and unexpected (around $1000 to date) , but we are committed to getting this wonderful boy healthy and hopefully into a loving forever home.
Please consider donating to help us pay for Jack's current and future medical bills.  Jack is only one of the many animal's we have in our care with significant acute or chronic health issues.  We are unable to help other animals like Jack without support from committed advocates like you.
We have a number of different payment platforms.  You can safely donate via this page,  or via paypal directly to
pittiesandpurrs@verizon.net
. You can also donate via our website 
https://pittiesandpurrs.org/donate/
.  (Please note that if you do not wish to made an additional donation to the gofundme platform, you can change the $ amount to $00.00, or whatever you choose.  You are not required to make an extra donation).
If you prefer to mail a check, please write 'Jack' in the memo field and mail to Pitties & Purrs Rescue, Inc, PO Box 5160, Baltimore, MD, 21224.
Pitties & Purrs Rescue Inc.,  is a 501(c)(3) non-profit organization (EIN 46-3037483) and all donations are tax deductible. We hold a  platinum seal of transparency with Guidestar.org.  For more information please visit; 
https://www.guidestar.org/profile/46-3037483
.  You can also donate through here and there is an option for a regular monthly donation.
Thank you from 'the rescue with a heart'.  We couldn't do it without you!
+ Read More
Update 1
2 months ago
Share
Poor Jack can't catch a break, aside from his bad skin, the poor guy now needs knee surgery! Please keep sharing and donate if you can. Thank you!
+ Read More