Help Farmer Frog's Paradise Farm!
$2,195
of $20,000 goal
Raised by
31
people in 1 month
Farmer Frog at Paradise Farm Needs You!
On February 12th, 2019, Zsofia Pasztor, Executive Director of Farmer Frog, traveled with her family through the snow and ice to make sure the animals at Paradise Farm were safe and fed. When she got to the farm, she discovered a disaster: a complete collapse of a vital tool for growing and for teaching the hundreds who come to Paradise to learn sustainability - one of the hoop houses were completely destroyed.
Zsofia posted on social media:
"How are we going to pay for this?'


It is definitely going to take a large village of generous and loving supporters to recover from this. We are reaching out to the community to help with the need for immediate repairs. Zsofia worked through the numbers late into the night:


Materials for a replacement house 

$11,500 lumber and pipe and all the hardware, gutter system
$1,500 plastic
$4,500 lumber for retrofitting the rest of the houses preventing a similar collapse
$2,500 lumber and hardware repairing/redoing the shelving and watering system inside the house

If you can contribute money, or can connect us with in-kind contributions of lumber and hardware, please reach out to us. 
We need your help.

What/Who is Farmer Frog?
Here are just a few things that the volunteers and staff accomplish to teach sustainability - please see the website for ALL of what Farmer Frog does at Paradise Farm and in communities all over Washington. 
SCHOOL GARDENS
Cultivating growth
We help local schools build gardens. The school gardens provide hands-on opportunities for children to grow food and learn about sciences. Many of the gardens also turn into community centers for families to spend free time in.
Farmer Frog depends on volunteer and financial support to make the gardens successful.
CURRICULUM
Teaching children to grow food
Farmer Frog is developing a Kindergarten to 12th-grade STEM-based curriculum that we call "SOIL to STEM": Social Outreach Innovative Learning (SOIL) leading to Science Technology Engineering and Math (STEM). SOIL to STEM is a project-based, hands-on learning system rooted in agriculture that helps children succeed in the 21st Century.
The curriculum incorporates the Farmer Frog school gardens and meets both Common Core requirements and Next Generation Science Standards.
Our team works with educators to integrate the SOIL to STEM curriculum with the gardens at their schools. We help teachers to teach all subjects they would teach in a classroom and integrate sustainable farming—which relies on many academic fields, including agricultural engineering, agroecology, and systems thinking. The Farmer Frog team has several members who are themselves active or retired teachers, ranging from preschool through college levels.
In addition to working with K through 12 educators, Farmer Frog also works with programs that offer Career and Technical Education. We train other professionals as well, including urban farmer educators, community organizers, and project managers, to successfully create, maintain, and run school gardens and urban community farms.
When children and families grow food for themselves, they sow the seeds of positive living. Farmer Frog cultivates programs, school gardens, and hands-on learning to nurture communities.
We grow kids, cultivate community and nourish habitat for all living things through real food. Farmer Frog encourages children and families to grow food for themselves and their community. Hand-up programs, school gardens, and hands-on learning create a safe and healthy community. We grow children in the gardens and cultivate communities.
For more information about how you can help or become involved:
https://farmerfrog.org
and all contributions are tax-deductible to the full extent of the law.
+ Read More
Update 2
1 month ago
Share
Thank you to everyone who has contributed to the campaign. If everyone could share this need in their communities we could get the word our even more. Just one share has been shown to boost fundraising by $300.00 - so it can mean a lot. I can't imagine anyone who would not appreciate knowing about Farmer Frog and the great work the organization does teaching people how to grow food. Here's an easy script to copy and paste and share to your own accounts when you share the link:

"Hi, Everyone! On February 12th, the Seattle area was hit was unprecedented amounts of snow. Our beloved Paradise Farm operated by Farmer Frog sustained significant damage in the several storms that came through the area. Farmer Frog teaches people how to grow their own food in communities and schools all over Puget Sound. They are a stalwart group of hearty staff and volunteers who need our help - if you can give even a small amount, I would so much appreciate it! Thank you!!"

People want to help. The #1 reason people give as to why they contributed to a cause is "Because I was asked." This is a wonderful cause. Let's share the need far and wide. Thank you for your contribution - it means so much to all of us.
+ Read More
Update 1
1 month ago
Share
This is what Farmer Frog's Paradise Farm looked liked before the Puget Sound was hit with over a week of snow. Accumulations were unprecedented and the weight of the snow was too much for one of the hoop houses. So, a lot of hard work and effort over several years was destroyed in the collapse of the house.

The work accomplished by Farmer Frog in our communities in teaching children how to grow food, teaching teachers how to teach sustainability, working with communities to meet food insecurity in communities with the least resources is essential.

Please consider a generous contribution for the repairs needed to Paradise.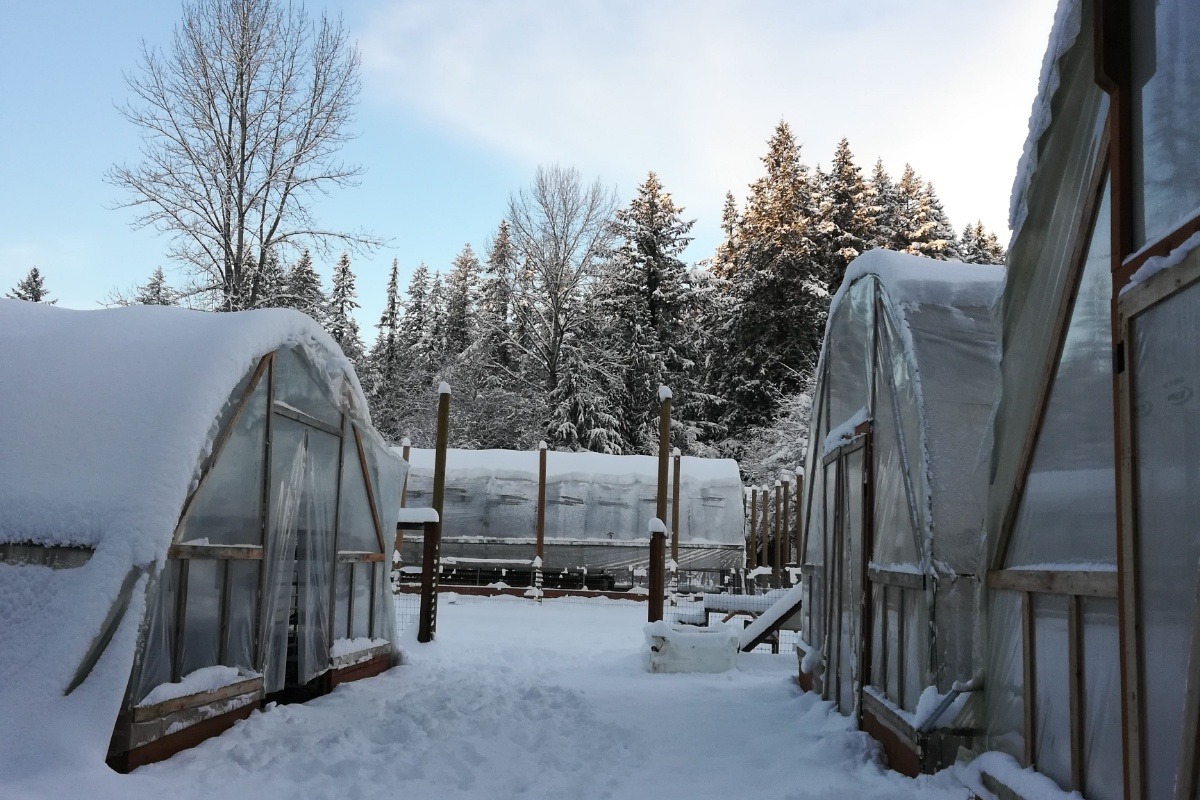 + Read More
Read a Previous Update