34
3
Help Aubrey After A Brain Injury
$1,560
of $20,000 goal
Raised by
33
people in 7 months
I'd like you to meet
Aubrey Haase
.  She has been an instrumental part of my life over the past couple of years.  She is an amazing trainer and coach, who has made such a difference so many times in my life, and countless others lives as well. 
She's always the first to help someone else, always the first to give freely of herself, but now she needs our help!
Her Story:
While she's faced a lot of turmoil in her life, she's never let it stand in her way.  As a paramedic firefighter, she helped save so many lives.  After studying and training with master trainers, training in neuroscience, and human behavior, she decided to start helping save lives in another way; through coaching and training seminars. 
This is how I met her.   And my life has never been the same since.  All was well until….
What Happened:
About a year and a half ago, she suffered a traumatic brain injury.  On top of the other concussions she had as a firefighter, and also sports, this head injury caused a lot of bad symptoms.  Crushing headaches, vision changes, having NO energy, numbness in arms, feet, and hands, and extreme muscle weakness.  Because of this she was unable to work at all for a long, long time.
Unfortunately, the neurologist she saw disregarded the head injury, and instead started testing for Multiple Sclerosis.  Test after test, month after month, almost a year went by with her paying these medical bills, not being able to work, and not getting any answers. 
It wasn't until she finally went to a different neurologist who listened to her history and finally correctly diagnosed her with a traumatic brain injury and post concussive syndrome.
While some of the symptoms went away, others, like vertigo, forgetfulness, confusion, and personality changes came on strong.  She went through all her savings by paying both medical and personal bills while being unable to work.  (She has since gotten medical insurance) The neurologist is worried that she has the start of CTE… what football players get from so many concussions.  And today, she still has many of these symptoms that have kept her from doing what she loves to do:  Helping others.
What I am raising money for:
She lost her business, and she is about to lose her house, car, and also her 5 rescue cats which she loves dearly.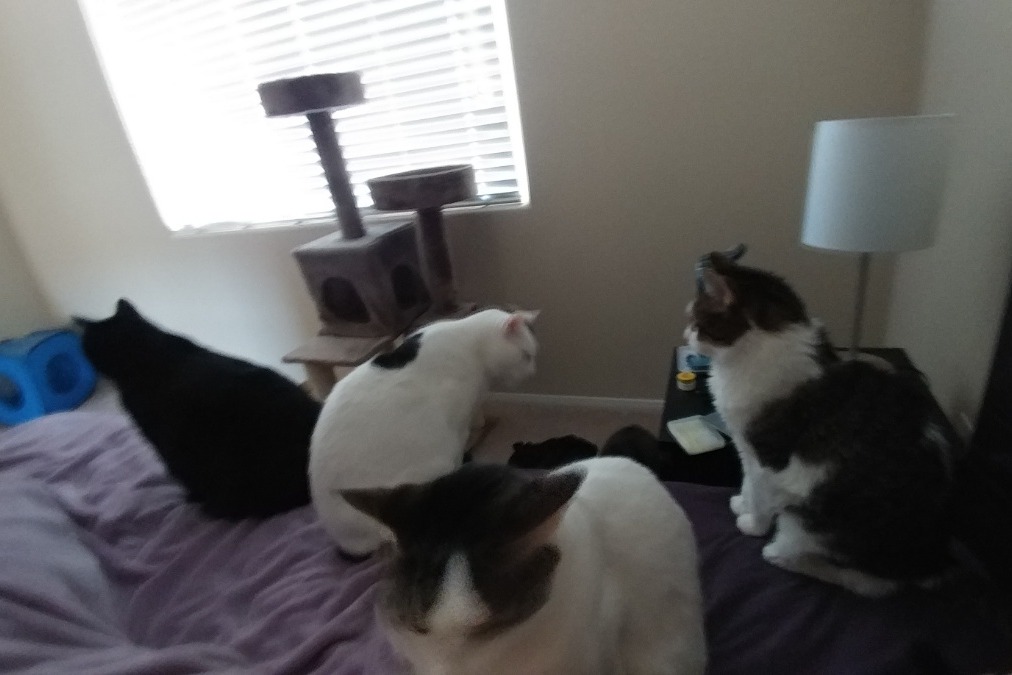 Because of the long term effects, she has not been able to get her business back due to both physical and financial restrictions.  She was turned down for disability, but she's trying again, while working other jobs as much as she can to pay the bills.
She found a clinic in Utah that say they have been able to lower post concussive syndrome symptoms by between 40 and 70%.  It is an intense rehab, were you are basically an inpatient, and working every day.  Insurance will not cover the $11,000 bill for the therapy and housing.  This may be her only way to go back to living a semi normal kind of life.
In addition to that, she needs money to pay her immediate bills, and keep her house and pets.  She's at risk of being evicted even as we speak.  She will also need some money to get her business back up and running after the treatment. 
This is what all the money is going towards.  After helping so many people in her life, it's time for us to help her.
Why this is so important to me:
Like I said before, I wouldn't be who or where I am today without her guidance, love, and friendship.  She is one of the most incredible people I have ever known.  And it's not just me who says that.  Anyone you talk to whose life she has touched will say the same thing.  She is so loving, giving, and when you talk to her you feel like you are the most important person in the world. 
Even now, while she's going through so much, she will put everything aside and be there for you….  Even if she doesn't know you. That's just who she is.  If she only had a dime to her name, she'd give you a nickel if you needed it. 
She believes that being in service is the best gift she can give.  And she truly wants to help others, and help the world. For everyone that she has helped, we now get to help her.  We need to let her know right now that she is just as important as she makes everyone else feel.  Because I know, that when she gets back on her feet, she will pay it forward a million times over, because that's just who she is.
Click Here for a YouTube Teaching from Aubrey...
And I can't just sit by and watch someone like this struggle from an unfortunate injury, when she has so much to give to the world, and hasn't had the chance to do so lately.
PLEASE SHARE:
After you have donated, please share this any way you can:  On Facebook, on twitter, with your family and friends.  I know we can hit or exceed our goal, and the difference we make in her life, will truly be passed down in the way that she will help others when she's back on her feet and giving freely to the world.  If there's anyone who deserves our love and charity at this time, it's Aubrey.
+ Read More