Help Heidi Beat Cancer
$20,603
of $50k goal
Raised by
289
people in 17 months
Last week Heidi and I were told that the cancer had returned, this time in her lungs. Heidi unfortunately is all too familiar with the fight against cancer, as this is her third battle. In 2010 Heidi was diagnosed with breast cancer. She was only 24 years old at that time, a young mother of a 2 year old daughter. After multiple surgeries and extensive chemotherapy treatments she was told she beat it.
In 2014 a routine MRI showed a 10cm tumour was growing on her liver. We were told that she had a 24% chance of survival. Heidi remained positive surrounded by her friends and family she decided to fight once again. She went in for surgery having over half of her liver removed as well as her gallbladder, then spent 27 days in the hospital recovering. After this she went back for yet more rounds of chemotherapy.
She is the strongest person I know. In the time that I've known Heidi, I have witnessed her overcome so many obstacles, yet she's always smiling. She is a fighter. The news of the lung cancer came as a total shock to Heidi and her entire family and we are still learning more about her diagnosis and treatment plan. What we do know is that Heidi is ready to fight. With that said, the road ahead will definitely be a challenge for her.
The emotional and financial burden of surviving cancer is a challenge (to say the least) at any stage of life, but at only 29 years old it somehow seems even more unfair that Heidi is going through this again. (only 2% of breast cancer patients are under 30). Heidi is extremely selfless and giving,  never missing an opportunity to help anyone in need. Even though she is going through so much, she's always looking at the positive side of thing's. Her 7 year old daughter Avery is her entire world. She is the most dedicated, loving mother I've ever seen. Not to mention, the bravest person I have ever met. I am sure you all agree that Heidi deserves and needs our love and support now more than ever.
We have been exploring different treatment options as she has suffered though so many chemotherapy treatments, too many times. Not all of these treatments are covered, I just received a quote from a reputable hospital totalling over $280,000USD, just to get started. We were at a loss for words. Even natural less costly treatments (also not covered) can total up to $10,000 per month.
What is covered is chemotherapy, which has not effectively been working. She has remained very positive and motivated. Even when the doctors tell her we have little hope, she still makes it a priority to keep the people surrounding her smiling.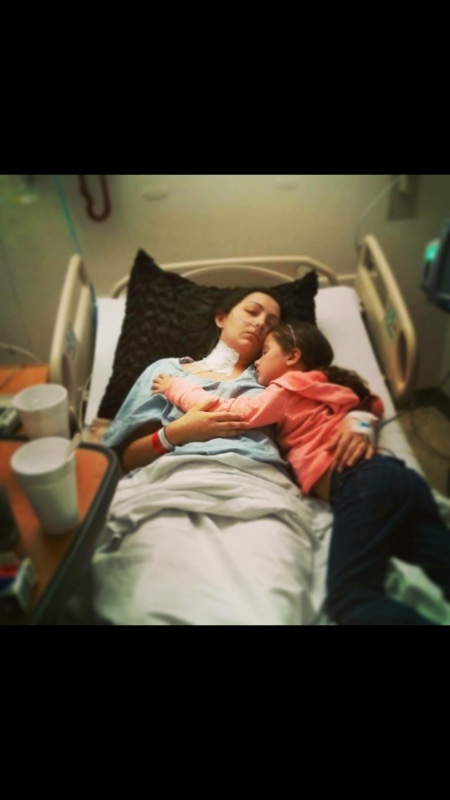 She is my best friend, and I know she will beat this, but she will need all the help she can get.
This is where this fund comes in. The medical bills continue to add up, life has taken a turn for the worst and we are reaching out to our amazing and supportive network of family and friends to help, in any and every, shape or form.  Any donation is greatly appreciated and will be a huge help to Heidi while she is going through this battle.
All proceeds go directly to Heidi.
Thank you.
+ Read More
Update 1
Posted by Rodney Comer
8 months ago
Share
Today I was asked to provide an update on Heidi's condition. We know it's been a while since we've given any updates. We have been taking some time to try to process what we were told and come up with a plan. Words can't begin to express how difficult this is to write.

Back in January of 2016 we attended Princess Margaret Hospital to speak with one of the world's leading oncologist offering clinical trials. During our visit with the oncologist, we were told of some options as far as treatments. Although very limited they didn't offer much hope and were extremely questionable.

The clinical trial being offered would completely cover her face and body from head to toe with a burning irritating rash, and would have to be continued indefinitely, in return It would possibly give her "extra months".

They explained that the Cancer is stage 4 and terminal, they have no cure.... They told us Heidi has a life expectancy of 12 months..........

We refuse to believe it.

Heidi has been through multiple major surgeries, over 16 months of chemotherapy in total. She is the true definition of a warrior and has endured more than anyone should ever have to go through. Heidi has been fighting this disease for 6 years.

Throughout it all, she does everything she possibly can to remain positive, smile and never stop fighting. She is the best mother, step mother and wife in the world and has the biggest heart I've ever seen.

Doctors can say what they want, the strength I've seen in Heidi is enough to make anyone believe she can beat this.

We continue to look in to alternative treatments, and have been experimenting with natural options. We have had too many sleepless nights continuously doing research, and we are always looking for options. If anyone knows of any treatment options, anything......
Please contact us with details.

Please continue to keep Heidi in your thoughts & prayers, now more than ever. Send her positive support and messages letting her know she's not fighting alone, and that she has an army behind her - If anyone can beat this, I know Heidi can.
+ Read More