Healing and Balancing Nature
$4,576
of $5,000 goal
Raised by
37
people in 51 months
www.naturedreamweaver.com
My Name is Nate Hogen aka Nature Dreamweaver the artist and last summer I was diagnosed with Lymes Disease after I discovered a tick byte and was experiencing all the text book symptoms.
I take full responsibility and accountability for this manifesting in my life and understand that it is a deep teaching of life lessons and a catalyst to integrate on a soul level.
Treatment for Lyme, like many diseases is not cheap. There are many therapies, treatments, protocols, and supplements. It all adds up pretty fast. 
I raised enough for my first 6 months of treatment and now I need to raise another $5000 for more treatment.
After a few tests, we believe that the disease itself is gone, but there is a lot of Dis-ease that still needs to be healed. 
A naturopath did a live blood analysis in January and told me that I have low oxygen, low blood pressure, low immunity, low digestive fire (not absorbing nutrition), toxic bowels, heavy metals and exhausted adrenals functioning at 20% of optimal. 
Other tests showed that I have low kidney function, low pituitary gland function, low cellular energy functioning at 40% of optimal.
I have also been experiencing chronic tension and pressure headaches daily making it difficult to think positively and clearly, focus, concentrate, be creative, etc. 
If that wasn't enough, my chronic back pain from scoliosis has been flaring up as well.
All of this adds up to a recipe of not feeling well, depressed, low energy, low motivation, and almost no inspiration. 
Still, I am practicing yoga, praying, meditating, and doing everything in my power to move forward towards healing and balance.

I need all the help I can get from friends, family, community, doctors, healers, herbalists, etc.
My goal is to heal and cure myself using the best medicine available today and go on to serve the community best I can to help us all heal.
Thank you for all your love, prayers, support, donations
May all beings be happy and free and healthy
Nature
+ Read More
Update 2
47 months ago
Share
GREAT NEWS EVERYONE!
A Generous member of our community, Gregg Helt donated $3000 to my campaign. The exact amount I needed and was asking for. I am super GREAT- FULL to him and I will be going to his land to build a NEST as soon as time and space allows. Goes to show the power of prayer and intention in this universe. I am not stopping FUN-RAISING money as I don't know for sure where this road to healing ends. I have had some weird symptoms in my brain lately that I've been calling pressure tension headaches behind my temples making it difficult for me to think clearly, concentrate, focus, be in my heart and feel love, etc. Hard to explain or describe but that's essentially it. So hoping and praying still that the Lyme is truly gone, but they are tricky little buggers.
I also want to offer my new services to the community to teach private in person or via skype/google chat/facebook video chat, Basic Introductory Sridaiva BowSpring alignment principles and postures for those interested.
Sridaiva is a mind-body awareness practice focused on maintaining a BowSpring alignment that accesses and engages the natural curves of the spine. For more questions please private message me.
I am also offering consultations for artists who are struggling to build their businesses.
I've been in the festival industry doing art for over 8 years and through trial and error I've learned a lot and have deep insights on how best to manifest your dreams in the highest.
I will be in Denver for the next 3 months continuing my student teacher training and preparing for spring art tour.
More News Soon!
Thank you to everyone who has donated and for all your love and support and prayers.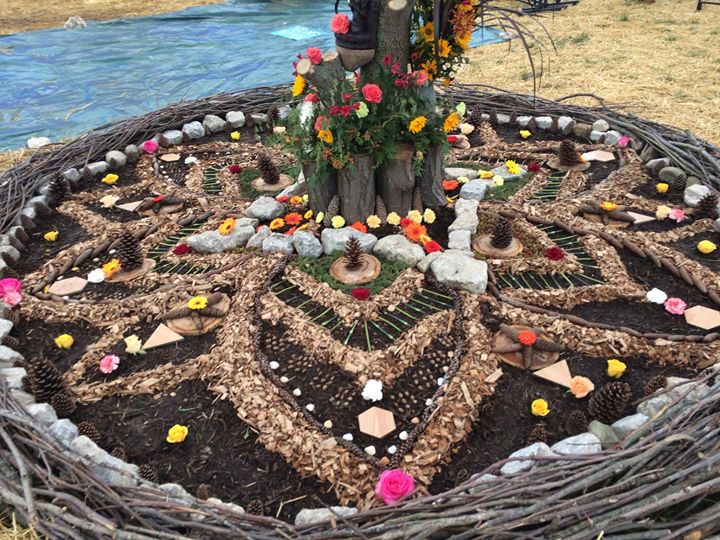 + Read More
Update 1
49 months ago
Share
I know not everyone sees this, but I know with my deepest intention to pay this healing forward that my friends family and fans will help me reach my goal.
Today, I've decided to ad a NEST (new earth sacred temple) to the rewards list. Anyone that has room on their land and with the funds of $3000 or more, I will come personally to your land and build you a super beautiful sacred space with garden included. This is average commission from festivals and with the nest market actually ranging from 10K-70K you're getting a super great deal on a permanent nest where you can lay your eggs in perpetuity forever! Blessings
+ Read More
Read a Previous Update
Be the first to leave a comment on this campaign.