GreenDemBernieDelegateDebtRetiremnt
$4,000
of $4,500 goal
Raised by
139
people in 34 months
Feb 2017 update: I have one leftover debt of $500 fro the incredible convention expenses to pay back. I appreciate this one last push. The resistance continues and we are just getting started!

PLEASE READ THE UPDATE* BELOW FIRST! I'm Don St.Clair, and I have been elected to the Democratic National Convention in Philadelphia as a delegate for Bernie Sanders! Each of the 1900 of us Bernie delegates represents 80,000 to 100,000 voters! I am involved in creating a historic first ever Climate Change Council/Caucus at the Convention to join the more tradition identity caucuses such as Labor, LGTBQ, Latinos, AfricanAmericans, etc. I am also going to Philly to continue organizing the emerging Green Democrat (or Green Dog Democrat) wing of the Democratic Party, espousing the four key pillars of the global green movement: ecology, social justice, grassroots democracy and non-violence. For clarifications purposes: I believe that organizing a Green Dog* Democrat (*Democrat, Only Greener) within the "Big Tent Coalition" of the Democratic Party is the best way to bring these key values into the American political mainstream, just like the "Realo" pragmatist wing of the German Greens became coalition partners with the ruling Social Democrats and were able to leverage their power to implement the stunning advances in Germany of ecological sustainability, free college, etc.


*Update as of Thursday July 21st, 4 days to the convention: FRIENDS! I HAVE AN URGENT PROBLEM around cash flow. If you are about to donate to my gofundme, would you message me via the email to Don link here on GoFundMe INSTEAD? My funds are being transferred via ACH to my checking account, but they will not arrive until about Tuesday of next week! So, I am scrambling to solve the cashflow problem so I may pay for the airline ticket and other expenses that are part of the very expensive process of attending a political nominating convention.

The Sanders campaign has only had limited success in fundraising for their delegates and has only paid a contribution of $377 direct to the hotel bill (splitting a room but they are super expensive).

My Oregon state party, which is NOT a highflying party of fatcats in the slightest, say even being frugal, a national convention costs about $4000 to attend!
(Our exemplary Senator Merkley lives in an ordinary nice suburban house and his wife still works as a nurse, and our state director is a former in the trenches community organizer out of the Howard Dean movement, not a lobbyist type, and except for a few officeholders and about five staffers, almost all of us in the Dem Party Oregon must have day jobs or other support, in my case, SSI disablity.) Yes, Democracy needs some help levelling the playing field, and that is just what Bernie has done and continues to advocate for and what we will fight for on the convention floor!

So... By hook or crook I will be getting on an airplane no later than Sunday to be there for Sunday night's first delegation meeting, but I am needing to call in any and all assistance to make that happen. So please if you are able to, contact me. Thank you!  End of update, please continue with my profile 


I am the co-founder/director the Green Democrat Organizing Project, which is establishing several organizations similar to groups like MoveOn - a 501c3 or 4 educational membership group, an affiliated Political Action arm, and eventually a think tank policity institute for bringing the deeper global green political perspective into the mainstream of American political discourse.  We seek to unite natural allies for progressive victories - the future is and must be blue green! Think green, vote blue, dig in for long term revolution and change from within is our mission.
We are looking for a volunteer web designer right now for that, please contact me directly.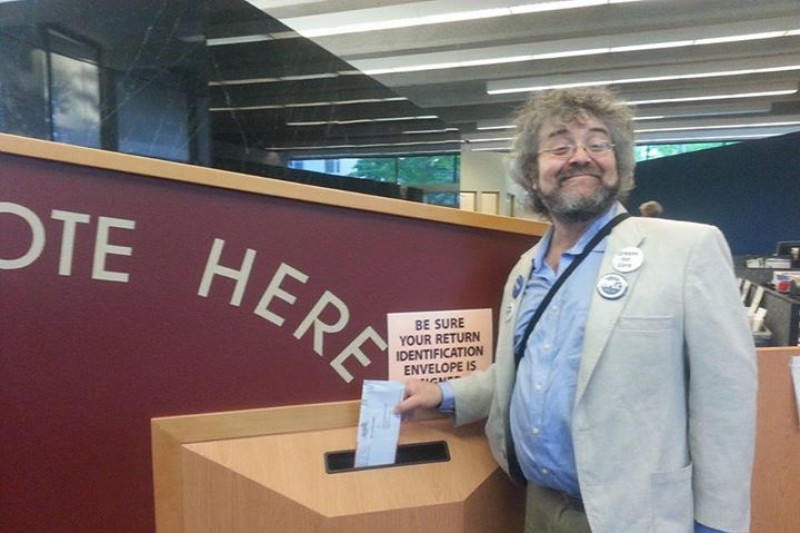 Personally, I am an activist, a healer, a musician, a writer, parent of a 17 year old daughter and step-grandparent of a 1 year old bundle of joy! I am the vice chair of the Environmental Caucus of the Democratic Party of Oregon, and as such have the lofty sounding title of Party Leader/Elected Official (PLEO delegate). Leadership means, we serve everyone - you! Each delegate represents 80,000 to 100,000 voters for Bernie Sanders.  We need your help to get to the convention, where every vote will count, and every voice will be needed to continue the revolution and Bernie Sander's vision, and unite to defeat Donald Trump in November and create a Brand New Congress down ticket!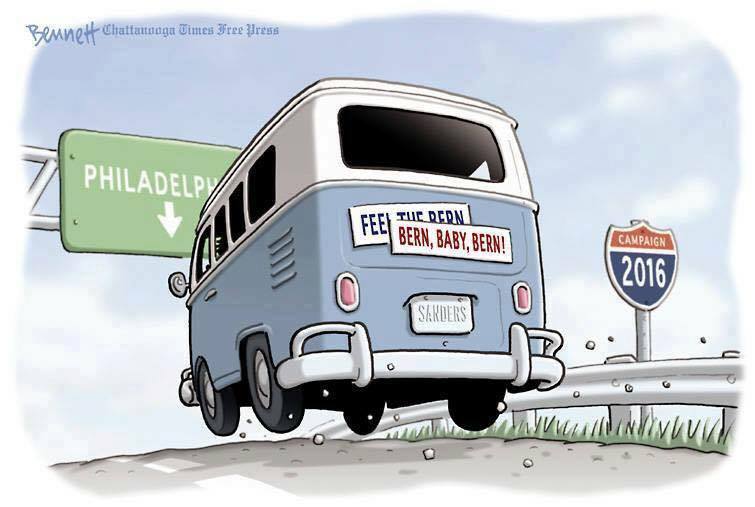 So I must humbly ask your help. It is $4000, for airfare, hotels (we must stay in one designated one particular one, in this case 30 miles away in King of Prussia, we get credentialed every morning at 7am and bussed in through very tight security to the arena), meals, expenses. I also need to pay for expenses like child care for my one year old baby granddaughter, whom I am a primary caregiver for as she lives with us, and I need a few necessities of an organizers life I lack: a smart phone and a functioning laptop.  I am seeking donations of items like those and frequent filer miles transfers as well to fly round trip between Portland Oregon and Philadelphia. I need to raise the funds in the next two weeks!

 I seek to unite natural allies for progressive victories - the future is blue green., Think green, vote blue, dig in for long term revolution and change from within is our mission!

I am most grateful for your assistance and will post many possible perks and videos and what have you. 

You may vette me to be sure I am an actual official delegate by going to the Democratic Party of Oregon's website at  http://dpo.org/2016convention, and at  http://www.fundberniedelegates.com/





Thank you!
Don St.Clair
Eugene, Oregon
+ Read More