Give to Food Literacy Education
$861
of $20,000 goal
Raised by
15
people in 1 month
Get Onboard: Help Support Food Literacy Education
THE BAD NEWS: THERE IS A FOOD LITERACY CRISIS IN CANADA!
The agriculture sector contributes more than $100 billion to the national GDP, and 1 in 8 jobs is tied to this sector, yet the topic of food and agriculture has limited coverage in the education system.
The absence of agriculture education in the classroom has led to a population of Canadians who have very little understanding about the production or distribution of food.
Agriculture education is the long-term solution to Canada's food literacy crisis. The students sitting in classrooms are the future of Canada's agriculture economy. In fact, by 2025 the agriculture sector is expected to have 114,000 unfilled jobs.
If we do not provide today's learners with agriculture education, we will fail to teach them about the importance of our food systems and to cultivate their interest in food and agriculture careers.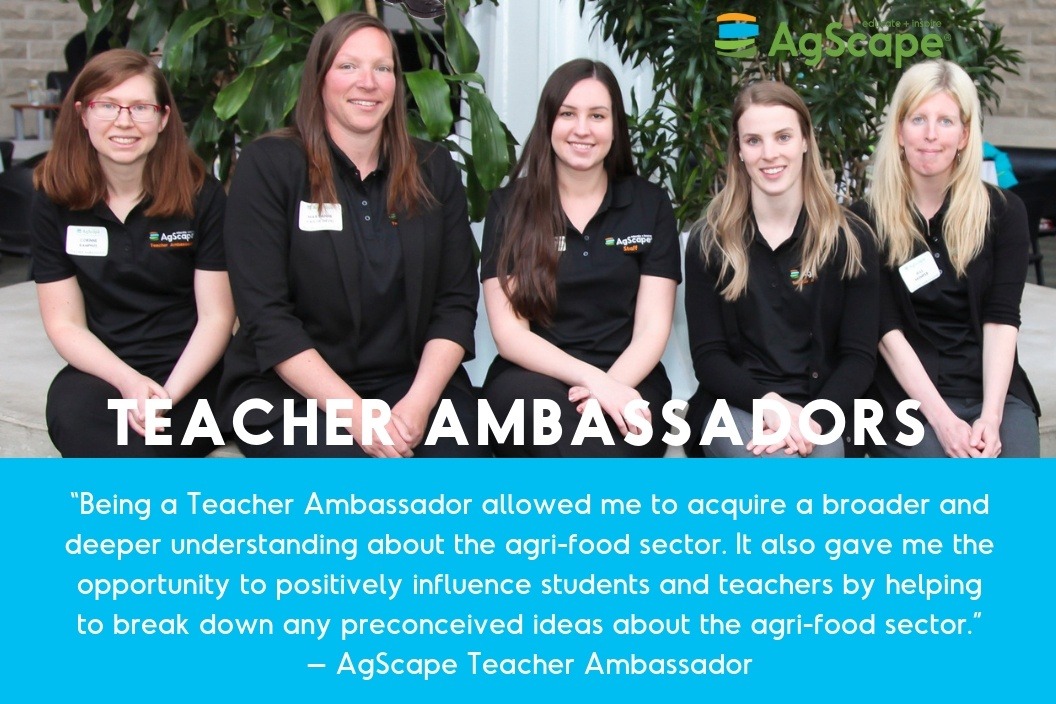 THE GOOD NEWS: AGSCAPE IS TRAINING TEACHERS TO DELIVER FOOD LITERACY EDUCATION

Through the Business of Food online e-learning course, AgScape is training Teacher Ambassadors (new Ontario Certified Teachers) to educate students about agri-food topics and inspire them to explore agri-food post-secondary education and career options.
AgScape is the voice of agriculture in the classroom Ontario, a registered charity bringing food and agriculture education, resources and tools to students and teachers. Our programs and resources are linked to the Ontario curriculum and are provided free of charge to kindergarten to grade 12 educators.
BUSINESS OF FOOD TRAINING TOOL

This comprehensive online course, developed by AgScape, trains and equips Teacher Ambassadors to deliver factual, relevant and balanced information from across the agri-food sector into Ontario classrooms.
• Online learning modules offer seamless, 24/7 access to professional development
• Offers the opportunity to 'live track' progress
• Each module contains pre and post surveys and quizzes
WHAT YOU CAN DO TO HELP!
There is strong demand for our Teacher Ambassadors to deliver agriculture lessons but as a charity organization, we struggle with the funds required to onboard and train new teacher Ambassadors using our Business of Food training tool.
With your help, we aim to raise $20,000 to train new Teacher Ambassadors to deliver FREE food and agriculture lessons in classrooms across Ontario.


Your support will help us to:• Fulfill the demand from Ontario schools for FREE food and agriculture lessons in classrooms.• Create a sense of stewardship and responsibility for food and agriculture among the next generation of students• Equip new Teacher Ambassadors with training materials and resources to reach more students in rural and urban communities across Ontario.• Ensure the ongoing food literacy education of Ontario students to sustain a strong and vibrant agriculture economy.


Thank you for taking the time to learn about AgScape's food literacy education campaign. Your donation will help provide much needed food and agriculture education to children in Ontario classrooms.
To learn more about our programs and services, please visit our website at
https://agscape.ca
 .
--All donations are eligible for a Canadian charitable tax receipt--
+ Read More