The Sherburne Inn Matching Grant
$75,215
of $100,000 goal
Raised by
285
people in 40 months
Our sincerest thanks to all who donated to SSIRP during the holiday season. Looking forward to good things to come for The Sherburne Inn in the New Year!




2017 Christmas Ornaments are Selling Out


It isn't even December yet and The Sherburne Inn 100th anniversary ornaments are selling out! Don't wait any longer to order or you may miss your chance to update your collection (this is ornament number 3 in The Inn series). Only 100 produced, a beautiful and memorable gift. See below for order details, and
please don't forget to include your mailing address
.



100th Year Sherburne Inn Christmas Ornaments Have Arrived!
We all know the old saying: It's never too early to start Christmas shopping. With this in mind SSIRP is happy to announce that the 2017 Sherburne Inn Christmas ornaments have arrived! This year, to commemorate the 100th birthday of The Inn, SSIRP has selected a design that harkens back to days of old when Christmastime was filled with frosty mornings, warm kitchens, mulled cider, and grandma's cookies. Dangling from the tree at the turn of the 20th century were delicate glass baubles attached carefully to branches by tiny hands.
The 100th anniversary edition of The Sherburne Inn Christmas ornament is just such a treasure. In imperial amethyst, the glass ornament features a magnificent reindeer image that embodies the spirit of strength and endurance. The message – in antique script – reminds us all of the endurance of the century-old Sherburne Inn and its merry one hundred years. The ornament is packaged in a Happy Holidays box.
Only 100 of these ornaments were produced, limit 2 per person. Please order by December 5th to receive by Christmas. To pay by credit card,
cost is $35 per ornament
and includes shipping, handling, and fees.
To pay by credit card:
• Click "Donate Now"
• Enter amount ($35 per ornament)
• Click "hide name and comment…" box
• Enter zip code
• Under "Leave Comment" enter the word "ornament," then
VERY IMPORTANT
enter your name & full mailing address
• Click continue and follow payment instructions
Be sure to include email for order confirmation
Ornaments will be shipped by regular mail.
To pay by check
, make payable to SSIRP and mail $30 per ornament (limit of 2 per person, includes S&H) to SSIRP, POB 1102, Sherburne, NY 13460. Order by December 5th for delivery by Christmas, be sure to include your full mailing address with your check. Ornaments that do not require shipping will be available for purchase for $25 at The Sherburne News office starting October 16. Ornaments will also be on sale for $25 at The Sherburne Inn Arts & Crafts Shopping Spree on December 9th & 10th.
Cost by credit card: $35
Cost by check: $30
Cost if purchased in person at Sherburne News office or at Arts & Crafts Shopping Spree: $25
---
We're doing it again! In 2016 SSIRP hosted a wonderful arts and crafts Christmas shopping event at the Inn, and it was so well-received that we decided to have a repeat performance. Twenty talented artists and crafters will be selling their beautiful work on December 9th & 10th at the Inn. Stop by between 11 a.m. and 4 p.m. both days for some holiday shopping, warm drinks, sweet treats, and friendly faces. Of special note: the Sherburne Inn 100th year Christmas ornament will be available soon!


Thanks to everyone who stopped by The Sherburne Inn on June 17 to help us celebrate the Inn's 100th birthday. A special shout-out to artists Colleen Eggers and Riley Webster for all their hard work on the new dining porch mural, titled "Rexford Falls, c. 1917." We're lucky to have such talent in Sherburne.


Sherburne Inn Announces Winners of Mural Contest
Save the Sherburne Inn Restoration Project, Inc. (SSIRP) is  pleased to announce that a group of students from Sherburne-Earlville Central School (SECS) has been chosen to complete a mural project in the dining porch of the historic Sherburne Inn.  The students are sophomore Riley Webster and seniors Colleen Eggers and Abby Mullen.  The students' submission was one of many received in response to a Call for Mural Artists published last October.  Submissions were reviewed by a panel of professional artists.
Riley's artwork has won numerous awards, including the 2016 Francis K. Wilcox Emerging Young Artist Scholarship, first prize in sculpture at the Colorscape student art exhibit, and first prize in painting at the 2016 Sherburne Arts Festival student exhibit.  Colleen is an Art Major 3 student who is also independently studying black and white photography.  She received awards for her mixed media at the 2016 Colorscape student art exhibit and has particpated in the Vans Custom Culture National Competition.  Abby's artwork has been displayed at the Colgate Art Gallery, Colorscape, the Earlville Opera House, and the Chenango County Fair, and she has received the SECS Art Department and Student of the Month for Art awards.
The mural project will be overseen by Jackie Gimson Craine, who teaches several art disciplines at SECS and is currently the District Department Chair for the Arts.  Jackie studied art at the Pratt Institute and New York University, and worked at Pratt's School of Art and Design.  She has done design consulting for various organizations, and was involved in the design of the Weitz Center for Creativity at Carleton College.  Her work has won numerous awards, including Best of Show at the Chenango Arts Council Members Show.  She is actively involved with Colorscape's Emerging Young Artists Scholarship program.
SSIRP plans to "unveil" the completed mural later this year in conjunction with a 100th anniversary celebration of the Inn's original grand opening in 1917.
---
The 2016 Sherburne Inn Christmas ornaments are still available. To inspire memories of Christmas at the Inn, SSIRP paid homage to the original sign that once hung on the building. This second in a series is a beautifully-designed etched brass ornament with 24kt gold finish. Hand-assembled, delivered in a black window box. Made in the U.S.A.
$25 cost includes shipping and handling
To pay by credit card:
• Click "Donate Now"
• Enter amount ($25 per ornament)
• Click "hide name and comment…" box
• Enter zip code
• Under "Leave Comment" enter the word "ornament," then VERY IMPORTANT enter your name & full mailing address
• Click continue and follow payment instructions
Be sure to include email for order confirmation
Ornaments will be shipped by regular mail.
Local residents: to save shipping and handling costs and pay just $20, purchase your ornament at The Sherburne News office.
---
Since 1803 there has been a "meeting place" at the corner of what is now Routes 12 and 80 in Sherburne, New York: a rooming house, a tavern, a restaurant, or a hotel. In 1915, after fires destroyed previous buildings on the site, village philanthropists agreed to erect a structure that would stand the test of time, and in June 1917 The Sherburne Inn held its grand opening.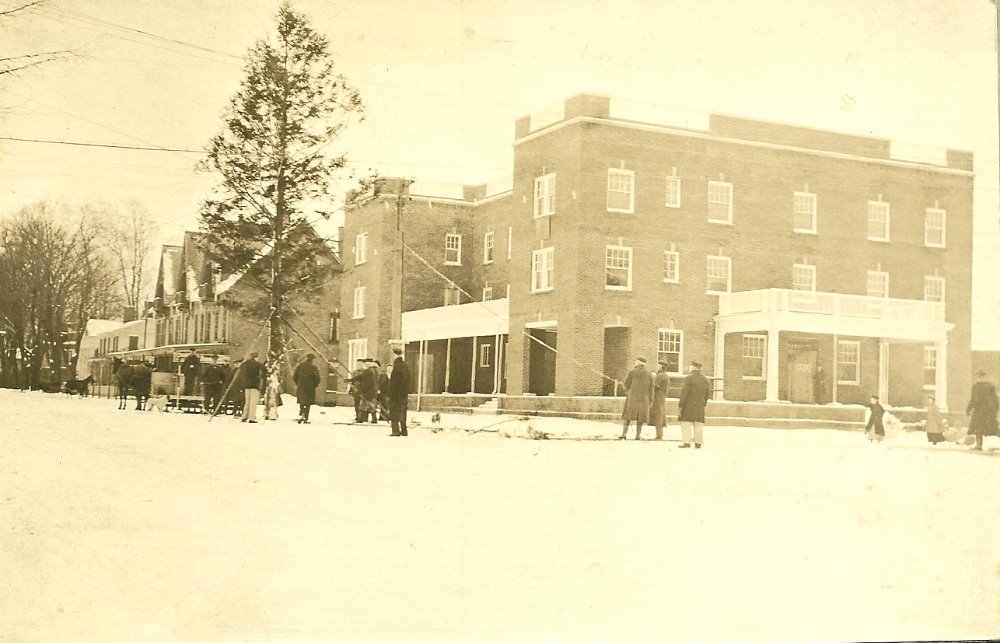 Constructed of brick and poured concrete, The Inn served its patrons well for more than eight decades, with comfortable accommodations, good spirits, and fine food. Located centrally on Sherburne's anchor corner, The Inn was a downtown gathering spot for businesses, neighbors, and families to celebrate life's traditions.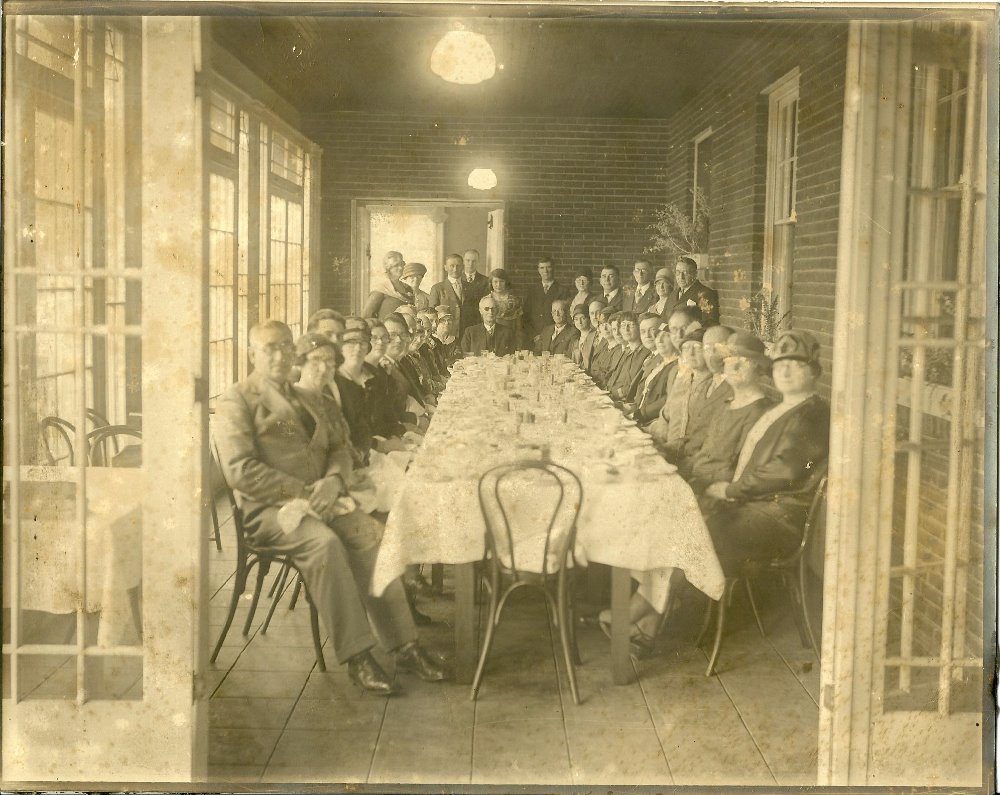 In 1990, The Inn was listed on the National Register of Historic Places as part of Sherburne's historic district. This designation was well deserved for a hotel and restaurant that once welcomed such renowned individuals as Duke Ellington, Duncan Hines, Bobby Rydell, Jim Braddock, Minnesota Fats, Peter Falk, Johnny Cash, Carl Yastrzemski, and The Ink Spots.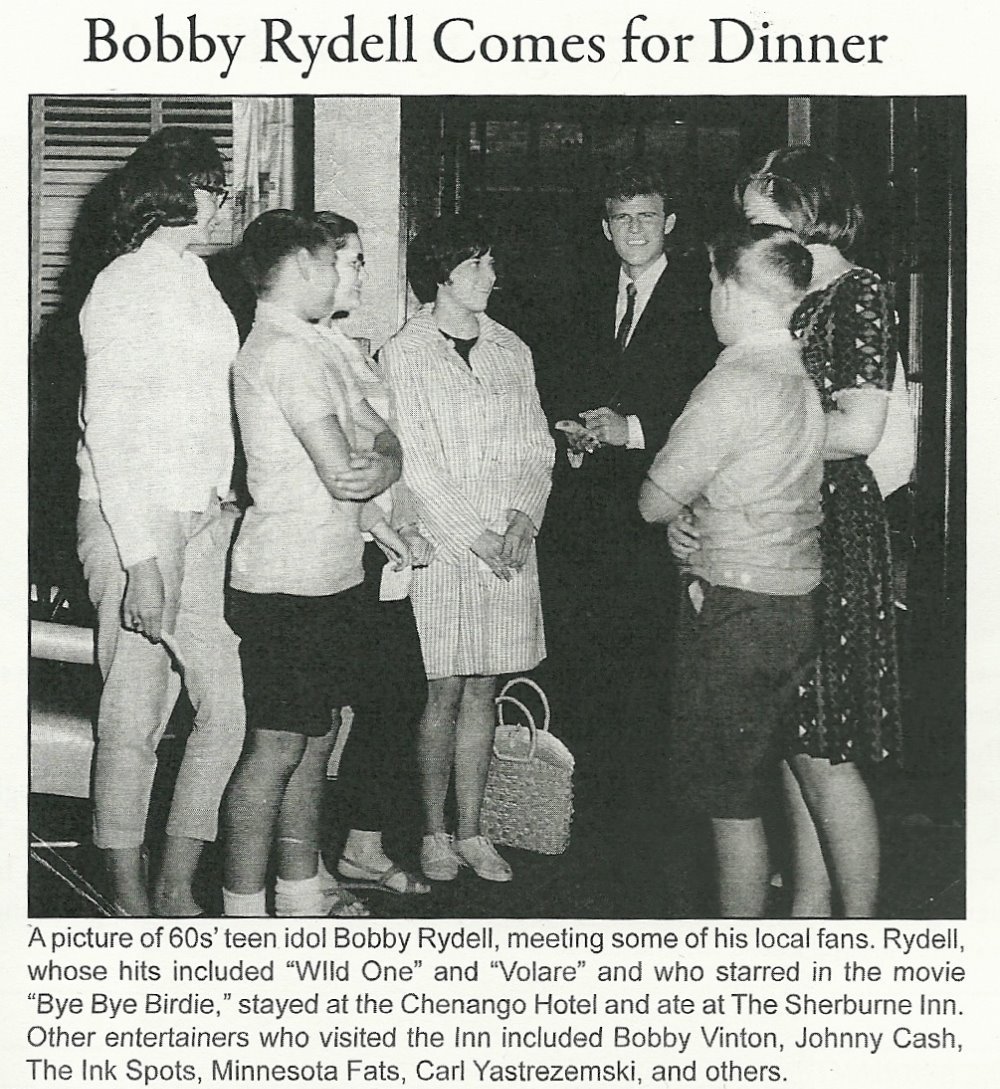 In fact, the Inn was awarded the Duncan Hines Silver Anniversary Service Award in 1961, and was featured in a book authored by Duncan Hines, Adventures in Good Eating (Mr. Hines ate at The Inn in the 1930s).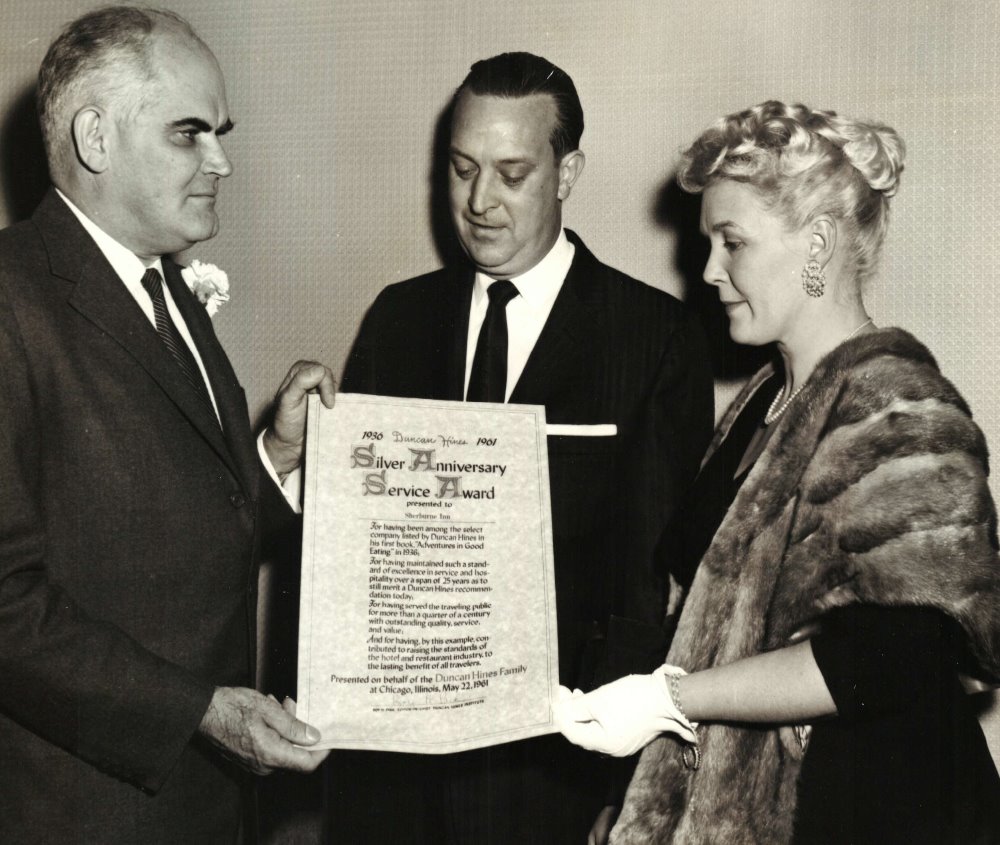 All this to say, The Sherburne Inn is not just a building. It is a focal point of our traditions and our rural culture, a vital and important piece of central New York history and, indeed, of Americana itself.
In October 2012, The Sherburne Inn -- which had stood empty and abandoned since 2002 -- was threatened with demolition, to be replaced by an all-night convenience shop and gas station. Once again, village philanthropists stepped forward to preserve not just an historic corner, but a way of life in this small community.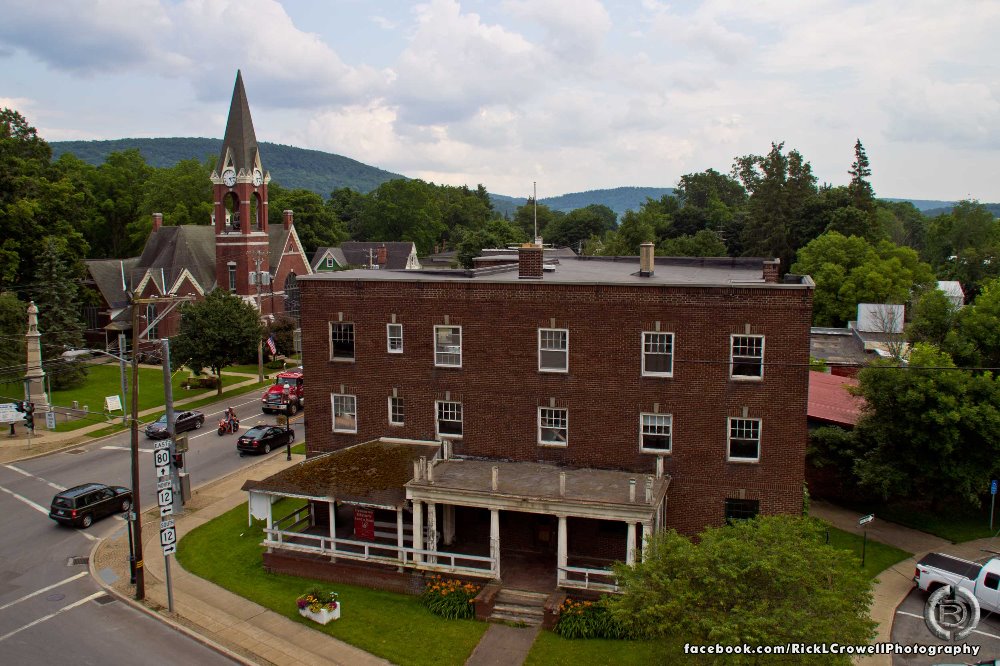 Save The Sherburne Inn Restoration Project (SSIRP), formed with nine board members in 2012, was incorporated in January 2013 and purchased the building three months later. As a 501(c)(3) nonprofit, the organization is eligible for grant awards, and spent several years fundraising, planning, and establishing a solid infrastructure for the restoration and re-opening of this historically-significant building. "Infrastructure" included hiring such professional consultants as preservation architects Crawford & Stearns and Rich & Gardner Construction Company.
As of July 2015, when  construction began, SSIRP had committed funds of nearly $1.3 million toward its $3 million goal, including two $500,000 economic development grants from New York State, a $50,000 grant from the Howard K. Finch Memorial Fund, and a $25,000 matching grant from NBT bank of Sherburne. In November 2015, we received another commitment of a $25,000 matching grant, this one from the Chobani Foundation.
We still need another $1.7 million to complete the job.
When reopened, The Inn (as it is known locally) will feature:
-
a farm-to-table restaurant
, supporting local farmers and producers and offering healthy and delicious seasonal fare
-
a street-level bar
, for after-work and after-dinner drinks
-
a lower-level pub
, for live music and gathering of friends around the fireplace
-
event space
, for wedding receptions, class reunions, family get-togethers, birthdays, retirement dinners, school proms, school dances, and theme parties
-
meeting space
, for service organizations, senior citizen classes, and corporate gatherings
-
office space
, to enhance our business district
-
retail space
, with shops, a salon, and a fitness center
-
residence rooms
, for the long-term residence needs of business professionals; and
-
hotel guest rooms
: beautifully appointed and unique, answering a call for sleeping rooms in our county 
Appreciating the efforts being made by local volunteers to bring this project to completion -- and even more, appreciating the importance of this building to the community -- the local financial institution, NBT Bank of Sherburne, has taken on the role of lead corporate donor and has awarded SSIRP a $25,000 matching grant. In order to receive these funds, SSIRP must match the grant dollar for dollar, with matching funds accepted only from individuals and businesses (not from other grants).


"NBT Bank is committed to supporting the local communities we serve," said NBT Bank Territory Manager Thomas Sutton in July 2015. "We are pleased to partner with Save the Sherburne Inn Restoration Project to help them reach their goal of restoring the historic Sherburne Inn. The Inn is a vital part of Sherburne's history and is important to the community's future.  We are delighted to take on the role of lead corporate donor to help move this project forward. We hope our commitment inspires others to donate to this cause."
Chobani expressed similar sentiments:

"Giving back to the communities in which we live and work is one of Chobani's founding values," Jeff Genung, senior manager of corporate communications at Chobani said on Monday. "Save the Sherburne Inn Restoration Project represents the perfect opportunity to support an effort that aligns with our core beliefs – a grassroots movement to restore purpose to something others once thought had outlived its usefulness. Much like our first factory in South Edmeston, The Sherburne Inn has been rescued from the wrecking ball and will soon be alive again with activity and vitality. Chobani is proud to help usher in a second lease on life for this important and historic part of the Sherburne community." 
  
That is what this GoFundMe campaign is all about: matching our NBT and Chobani grants.
Since the beginning, SSIRP has depended upon those in Sherburne and in surrounding communities who share our vision, and we look forward to welcoming all of you for dinner, drinks, business meetings, and special events when the lights come back on at The Sherburne Inn. To our friends, neighbors, and local businesses -- and to everyone reading our story who cares about preserving historic buildings and about economic development in rural communities across the country -- thank you for any contribution you can make. No amount is too small.
Donations made to SSIRP are tax deductible to the fullest extent allowed by law. If you prefer to donate by check, please make checks payable to SSIRP and mail to SSIRP, POB 1102, Sherburne, NY 13460. For more information about Save The Sherburne Inn Restoration Project, please visit our website at thesherburneinn.wordpress.com
+ Read More