15
4
GaysForTrump & MAGAOneRadio.net
$490
of $5,000 goal
Raised by
15
people in 12 months
2016 was a wonderful year of supporting and then electing Donald Trump. Now this is a new year and The Maga Network : Including GaysForTrump and Allies has a lot of events to do. Please help if you can.
It's time for LGBT people to abandon the left. They have clearly chosen Radical Islam & Resistance rather than Gay Rights. You can't have it all. Pick ONE!
Hi as you may not know funding for grassroots has been extremely low this year.
Due to this GaysForTrump & Allies have not been as active as it should be.
Last year I spent 11 k out of pocket. I cannot this year.
This weekend MagaOneRadio Net has been given a spot on Radio Row at the very Christian Conservative Values Voters Summit in DC.
As host of MAGAFirstNews and President of GaysForTrump I wish to attend as a Gay Conservative Catholic.
I wish to make it known to those at the summit that like Ronald Reagan said "The person who agrees with you 80 percent of the time is a friend and an ally - not a 20 percent traitor."
We have a chance to prove to the liberal media that Gays can be accepted in the conservative movement. We are not all in the GLB..etc crazy liberals but many gays are American loving patriots.
So my appeal is are you willing to help out not only #MagaOneRadio but also #GaysForTrump and help #MAGA ?
So if you can please help fund the station, this trip, and help out GaysForTrump.
Min is $5 if everyone that follows me pitched in that would greatly increase what we are able to do.
Please share and tweet this and thank you. (If it helps think of it as a send to 10 of your friends for good luck post)
GoFundme.com/GaysForTrump
Thank you for helping fund our activism God Bless
==========================
This Last June during the same week of the one year anniversary of the terrorist attacks at Orlando in Pulse night club where many of our fellow gay community were killed we have learned that liberal LGBTQ have learned NO LESSON from this. As it's been said before if we fail to learn from history we are doomed to repeat ourselves.
What we have seen is that liberalism like a disease has indoctrinated into the gay community so bad they are blinded to not see that Donald Trump has been a true protector of the gay community and all Americans. He has tried MANY times (even possibly risking his own campaign) to ensure that the gay community received this message.
All one in the Gay Community has to do is venture outside of their normal media input and read REAL news without the Anti-Conservative, Anti-Religion, Anti-GOP, Everyone is Racist & Homophobic liberal spin of many of the frequented gay publications such as the Advocate, QueerNotes, Joe My God, Towleroad, Queerty, LGBTQ Nation, Huff Post Queer Voice, BuzzFeed LGBT, & More.
For example here is a Pre POTUS article that explains a lot,
"Donald Trump challenged Hillary Clinton Monday to spell out why she supports an immigration policy that could increase the levels of anti-gay sentiment in the United States.
Mr. Trump, the presumptive GOP nominee, has panned Mrs. Clinton's support of refugee relocation efforts in the United States and took his criticism a step forward by arguing that her immigration stance threatens gay men and lesbian women.
"Hillary Clinton can never claim to be a friend of the gay community as long as she continues to support immigration policies that bring Islamic extremists to our country who suppress women, gays and anyone who doesn't share their views," Mr. Trump said. "She can't have it both ways. She can't claim to be supportive of these communities while trying to increase the number of people coming in who want to oppress them."
Mr. Trump pledged during a speech at St. Anselm College in New Hampshire to block immigrants from countries that have served as safe havens for terrorists from entering the United States.
"The burden is on Hillary Clinton to tell us why we should admit anyone into our country who supports violence of any kind against gay and lesbian Americans," Mr. Trump said." (
http://www.washingtontimes.com/news/2016/jun/13/trump-casts-hillary-clintons-immigration-stance-an/
) 
Donald Trump has a PRO GAY "rap sheet" way before he every considered running for President, becoming the FIRST President in History to be considered "Pro-Gay" from the beginning of taking office.
As a private citizen, Donald Trump has been pro-gay for decades:
•                     In the 1980s and 1990s, Mr. Trump donated to charities that worked to combat the AIDS crisis
•                     In 2000 he supported amending the 1964 Civil Rights Act to "include a ban of discrimination based on sexual orientation."
•                     Trump was 1st in Florida to allow openly gay members in his private Palm Springs club.
•                     Trump supported adding sexual orientation to the civil rights laws 16 years ago in the Advocate openly in a gay newspaper.
•                     Trump feels very comfortable with gays. They are his friends, employees, customers, and attorneys.
•                     Trump has been guest at many gay marriages.
•                     Trump knows gay rights are human rights and American rights. He doesn't pander to anyone.
Trump has "New York Social Values." He didn't need to "evolve."
If Trump didn't care about the LBGTQ community he wouldn't have mentioned them by name and offered them protection. If he didn't care about the LBGTQ community he would have just focused on the general public's protection, in fact the reason why I know Donald cares about the LGBTQ community is because he mentioned them by name when he didn't have to and he offered them protection from terrorism when he didn't have to.
Never has a republican mentioned the LBGTQ community by name and offered them protection. This shows that republicans do care about the LBGTQ community.
Donald Trump OUR President Literally waved our PRIDE flag on Stage to signal, I LOVE THE GAYS! But, the Liberal gays instead complained he had it turned the "wrong" way which has been debunked since there are multiple varieties of the flag and no "correct" way to fly it just the common way. This "upside down" rainbow flag has become a symbol (much like the snowflakes safety pin), of which #GaysForTrump has taken as their national symbol of independence from the mainstream gay community.
#GaysForTrump has been growing and organizing as a national organization and even partnering with others outside of the US, with our mission:
TO INCREASE THE AMOUNT OF GAY CONSERVATIVE VOICES IN AMERICAN SOCIETY our main question is what will shake these brainwashed gays from their zombieism?
So Why NOT Support Donald Trump? He Supports us, is that NOT the goal of Gay Rights? When did Gay Rights have to become a one sided Political affiliation? It's Not hard to see that Gay Rights has NO Political affiliation, one can go as far as one of the greatest lines for #LGBTQ in Presidential history with his speech:
"We need to protect all Americans, of all backgrounds and all beliefs, from Radical Islamic Terrorism - which has no place in an open and tolerant society. Radical Islam advocates hate for women, gays, Jews, Christians and all Americans. I am going to be a President for all Americans, and I am going to protect and defend all Americans. We are going to make America safe again and great again for everyone." - Donald J. Trump
Now, the Liberal LGBTQ are always quoting that the GOP is Homophobic, etc. & etc… Yet I know that the GOP really truly at its roots embraces ALL people and are Inclusive. In contrast here is a rundown of how the DNC the "so called" pro-gay political party really treated gays in 2016.
2016 is the year the Democrat Party has shown its anti-LGBT true colors:
•              Hillary Clinton takes $$$ from countries, who throw gays off of buildings.
•              Radical Islamic Orlando shooter targets the LGBT community, and democrats blame guns.
•              Orlando shooter's father is a staunch anti-LGBT and Afghan Taliban.
•              The Orlando shooter's father attended a vetted Hillary Rally, after the murders.
•              Attacking Rep. Candidates for being Gay
•              Call us "good little gays" We are not your sheep.
Yet this year they ignore his past and complain he did not recognize pride month… our answer why should he? Clearly Gay Rights this year was put on the back burner for the #Resistance movement….
What the Majority of the Gay Community needs to understand is that Orlando was supposed to be a VERY tragic wakeup call! But, sadly one year later all we have is exclusiveness from the Gay Prides, and the Gay Community. While the liberal gay community preaches peace, love, and tolerance they only extend it to people who think like they do and instead they reject anything that is different or place it in another category, thus how we came to LGBTTQQIP(LMNOP…XYZ).
It's Sad and Ironic that Liberal Gays will FIGHT to FORCE Their Inclusiveness on Us YET when faced with someone in their own community like Conservative gays they are quick to reject us from their "Queer Spaces" and wish to ignore our existence, attack and bully us, and reject us from the gay community.
A group in June of this year that fits under the #GaysForTrump movement was recently denied a spot in the parade at Charlotte Pride, while other places such as in Ohio used excuses such as "not enough space", in Maine they claimed "501c3 status prevented them", in California conservative gays were invited 2 days before the event to a #Resistance March for "Gays Rights" yet it was a cold welcome, and in Chicago they kicked out Jewish Gays for flying a Gay Flag with the Jewish symbol on it. This Hypocrisy has to STOP!
"Tolerant" Gays = Rejecting Conservative Gays and #GaysForTrump = False Inclusiveness = Hypocrisy = Liberalism = Disease = Eventual Destruction of All the Rights We ALL Fought so hard to get.
Everyone wants to know what #GaysForTrump are going to do about this, well we are not going to be shoved back into the closet. We are HERE, We Are GAY, and We Are CONSERVATIVE, GET USED TO IT!
We will make our presence known, we will apply to be included in Gay Prides, if we are allowed EXCELLENT! If we are rejected we WILL Protest!
So Charlotte NC Pride wants to reject us, then it's time for #GaysForTrump to take a call from the Liberal playbook and #RESIST, this is why #GaysForTrump & Allies are asking for an OPEN CALL TO PROTEST THEIR EXCLUSIVENESS! TOGETHER WE WILL PROTEST OUR WRONG EXCLUSION
Contact @PeterBoykin (twitter) & GaysForTrump@Gmail.com
We are TRULY Inclusive in EVERYTHING we do, so ALL Conservative, Independent, and Enlightened Democratic Gays & Allies are invited to protest with us and welcome to help. I think what needs to happen is both sides need to work together to promote REAL peace, understanding, and tolerance, so that we can talk to each other once again and exchange ideas without coming to blows with each other and then maybe we can get people to come around and supporting our President Donald J Trump.   
Multiple Links
http://www.thewrap.com/donald-trump-embraces-gays-in-historic-shout-out-at-republican-national-convention/
http://www.cnn.com/2016/07/21/politics/peter-thiel-gay-republican-national-convention/
http://www.politico.com/story/2016/06/donald-trump-gay-rights-224343
http://time.com/4418475/republican-convention-peter-thiel-lgbt-gay-rights/
http://www.pbs.org/newshour/rundown/donald-trump-may-support-gay-rights-republican-party/
http://www.politico.com/story/2016/07/rnc-2016-lgbt-conservatives-226002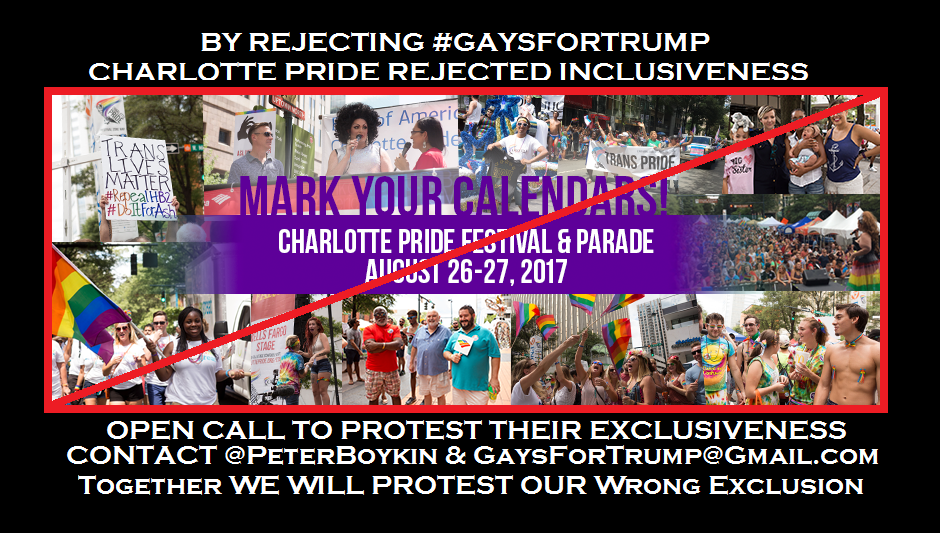 + Read More
Update 1
4 months ago
Share
Looking to have another rally in June
+ Read More