Fund for the Goldman/Fox Family
$59,625
of $60,000 goal
Raised by
547
people in 8 months
We want to thank everyone in this community for your generosity and support in the months since Eric's diagnosis. The last five months have been incredibly challenging. If you follow Eric's updates on our Caring Bridge page ( https://www.caringbridge.org/visit/ericgoldman), you've read about most of our ups and downs. His first MRI post-radiation and chemo was completely clear, aka No Evidence of Disease. Only approximately 10% of GBM patients have a clear first scan and it can be an excellent predictor of a longer term prognosis. 


How You've Helped So Far
Your financial contributions have sustained us in so many ways. Both Eric and I have had to take leaves from our jobs and go on short term disability. We have also had to deal with some unique expenses to help us through such as hiring a financial planner and a trusts & estate attorney to assist us with end of life planning. We are now trying to figure out what the long term picture looks like as I return to work and we make decisions about whether Eric will be able to work and whether that looks like an adjustment to part-time or potentially long-term disability and all the financial implications those scenarios imply. Your gifts have given us piece of mind navigating all of this. 


Most importantly, we are focusing on the best and most aggressive ways to fight Eric's cancer in the long term. Eric's current treatment regimen involves a week of chemotherapy once a month, wearing the Optune device pretty much 24/7, following a Keto diet, and taking supplements (green tea, tumeric, etc). Eric will continue on his current cycle of chemotherapy for at least one year and possibly as long as two years. He will be wearing Optune and doing the rest of his regime for life, or until a new therapy comes on line. 


We have been so touched by everything everyone has given to us so far. Anything else you can contribute to this new need would be very much appreciated. 







10/30/18 Update
First, I would like to thank everyone for their incredible generosity to Eric, Jane, and the twins. Your support, whether financial, with food, childcare, or just checking in, is so meaningful. They have been deeply moved by the outpouring of love. On a practical level, the financial cushion and extra pairs of hands have taken a weight off as they adjust to a new normal. 
Last week, Eric received more details on his diagnosis and treatment plan. The news was disappointing - his doctors describe his cancer as highly aggressive. 
Beginning treatment is the next step. The intensity and prolonged timeline of the treatment path mean that Eric may not return to work for quite some time. It's also possible that Jane may need to extend her leave from work. The lost income will be a financial strain. In addition, despite their excellent health insurance coverage, we anticipate that the bills for medical expenses and other aspects of Eric's care will be an added burden.
In light of this new information about the path forward, we have increased our fundraising goal to help Eric and Jane focus on his treatment and their boys. If you've already given, please consider adding to your support and/or sharing this page with members of the Goldman/Fox network far and wide. Extending the network of support has already made a huge difference in our fundraising.
Please consider donating again, if you are able, and keep this page in mind over the holidays. 
I will continue to add updates to this page as there is more to share. Please continue to check our Caring Bridge site for other updates and ways to help: 
https://www.caringbridge.org/visit/ericgoldman
With love and gratitude for your generosity and support,
Maggie (Jane's sister and Eric's sister in law) 
On October 5, 2018, two days before his twin sons' second birthday, Eric underwent emergency brain surgery to remove a tumor on his left parietal lobe. At the end of October, Eric will begin chemotherapy and radiation treatment. 
We have started this fund for Eric and his family to support them throughout Eric's treatment. Eric will be out of work for some time and we anticipate there will be many financial needs for this young family. Your donation will help them with daily needs such as groceries and childcare, rides to the hospital, and to fill in the gaps of lost wages. 
So many people have already reached out to ask how to help. A financial contribution is one of the best and most effective ways to support Eric, Jane, Jake, and Sandy. 
Please visit our Caring Bridge site for updates and sign up for specific tasks as they are needed (meal delivery, childcare, rides to appointments):
https://www.caringbridge.org/visit/ericgoldman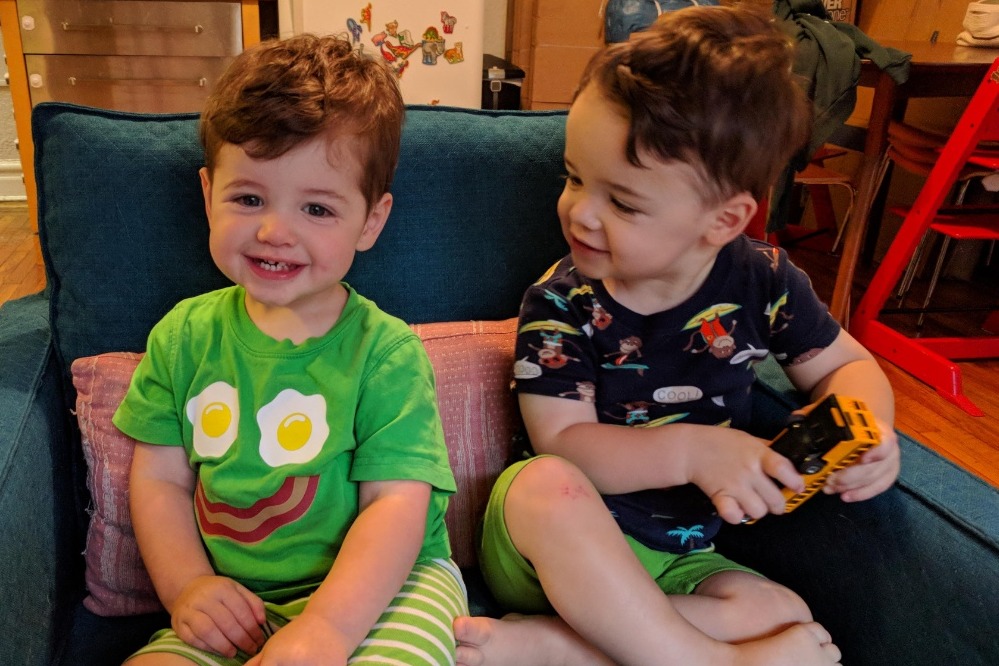 + Read More