Frozen Embryo Transfer
$9,550
of $5,500 goal
Raised by
370
people in 10 months
Ivf is EXPENSIVE. And a frozen embryo transfer is less, but it's still money that we don't have. After learning that our first IVF cycle had worked we were THRILLED. We felt a happiness that we thought wouldn't ever return. After learning that our second child had gone to be with their sister, we are taking the time we need to heal physically and emotionally. 
We would like to celebrate Maeve's birthday in June and then be on track to start our frozen cycle. We learned that this little egg is the best one we had, but at the time of choosing, it wasn't as far enough along as the one we put in and would grow into our tiny sweetpea. We found out at 7 weeks and 5 days that sweetpea had stopped growing at 6 weeks one day and that the development was slow. 
We underwent a D&C to prepare my womb to heal. And be able to take little sweetpea with us and plant her in Maeve's garden.
All together we've been trying for a living child for more than two years now, time is not on our side due to my diagnosis of high fsh. (I'm running out of eggs quicker than your average 34 year old.) This frozen cycle is our last shot.
I never know what to write when asking for help. So I'm just going to write our story in hopes that it will bring us closer to our goal:
John and I met in early kindergarten. We lived down the street from each other. We went to school together. We were childhood friends. Always friends.
Six years ago we found each other again and this time it was different. We fell deeply in love. We share a love of the outdoors, a silly sense of humor, and years and years of friendship. We wanted the same things. We were excited to start our life together, a family. Two weeks after asking me to be his girlfriend we moved in together. We hiked mount Katahdin, something we'd always talked about. We became avid mountain bikers. And we got engaged while we were snowshoeing that winter. I had never been so happy before. Everything was perfect. We started saving money for a house. We planned to go hiking for our honeymoon. We wanted to hike the John Muir trail.
We paid for the wedding all by ourselves, something we were very proud of. We had a 'mocktail' bar and danced all night. We got married on September 7, 2014. Both of our parents helped where they could. But it was all us. Our wedding was filled with people we love.
Two weeks after our wedding we conceived our daughter. Our first try! We found out we were pregnant exactly one month after the wedding. She ended up being our honeymoon. We wanted to give her the world.I loved being pregnant more than anything. I had never felt more beautiful, more peaceful, everything was just filled with more love.
Together we built her crib, we nested. My husband read her books when she was in my belly. Every night, two books. He kissed my belly each day before heading to work. And each day I watched her grow, I fell more in love. I sang to her, I imagined our life together. My love grew and grew. Every kick, I felt my heart expanding. I took all the vitamins, I did prenatal yoga, I went to a special physical therapist to get my pelvis ready, I spent so much money at whole foods so my baby would have everything she needed. I even ate spinach for breakfast!
When I was 9 months pregnant the midwives noticed her measuring small but assured me everything was fine. I was scheduled to be induced at 38 weeks because of her size. I was so excited. I was so happy. One nurse even promised me an easier labor because she was small.
Our Maeve Lucille died at 37 weeks 4 days.
She had bright red hair like her dad and the sweetest face I'd ever seen. My birth was so beautiful. But so silent. My husband pressed his cheek against mine and coached me to push. All the time, I thought they'd be wrong. All the time I kept thinking she'd come out screaming and they'd be wrong. I pretended she'd be alive so I could do it.
I remember hearing my husband's cries. 29 years of friendship and love and I'd never heard him cry before. We had to leave the hospital without her. We had to place our daughter in a little basket and watch a man take her. My husband says I sounded like a wounded animal. Your child isn't supposed to die before you.
June 10, 2015.
Our journey to get pregnant again started at the end of August 2015 after we lost her.
I was nervous and excited because we'd gotten pregnant our first try with Mae. I was ready. I wanted to feel hope and joy again.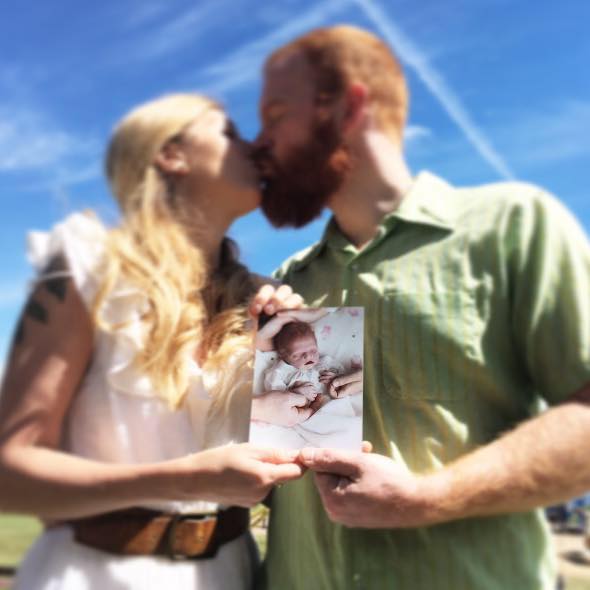 We bought ovulation tests and got an app on my phone that would tell us our fertile days. We both made sure to take our vitamins and get lots of sleep and exercise. We were focused and we were a little obsessed. Mostly we started to feel hope again. Hope that we could feel happiness after an unimaginable loss.
We tried for 6 months on our own before seeking help. Then after some blood tests came back saying I'm running out of eggs quicker than a normal 35 year old woman, we were referred to Boston IVF for more testing and consultations. We still had hope. And we had an amazing doctor helping us and nurses that were kind.
In March we were prescribed clomid to see if it would help us. We tried it again in April. Nothing. Still we had hope. (Clomid has a lot of side effects, mostly headaches and crying. Lots of crying.)
In May we tried our first IUI with a higher dose of clomid and again in June. (IUI is inter-uterine insemination. It's just as pleasant as it sounds.)
Then in July, along with the clomid, we added ultrasound, injectable hormones, and a trigger shot with Ovadrill. My husband read the instructions so carefully so he could inject me in the stomach.
We were able to see via the ultrasound that I had 5 big follicles on my left ovary! And a few smaller on my right. The drugs were working! All these months I'd been worried that I had no eggs left, that they'd run out and Maeve was our only miracle. But there they were!
After seeing those eggs we had SO much hope. We saw a double rainbow after a terrible storm that week and we thought it was a sign. We had so much hope! This was it!
That last IUI hit us hard. We were so hopeful. 
Our doctor has advised us not to waste any more time. We need to move forward to IVF before it's too late and I have no eggs left.
We never imagined a year of heartache and how much money getting pregnant is costing us. We never imagined having to grieve anything other than our baby girl. But grief from this, grief from not being able to heal, grief from not getting pregnant, it's another sadness. Sadness on top of sadness.
Prenatal care and hospital bills from delivery cost about 5,000 after insurance. That is something we are happy to pay. Raising Maeve and the cost of living is also something we'd planned for. We never imagined she wouldn't be here.
And we never thought that after Maeve died we wouldn't have another chance at happiness...
I wish things would get easier for us.
19 cycles of trying. A year and a half that she's been gone. Countless negative pregnancy tests. So many tears. It's taken its toll.
If I had to total the cost of all the home pregnancy tests, ovulation tests, the clomid, the injectables, the Ovadrill, the two iui's, and then the monitored IUI; it would be about $2,800. Not a huge amount, but when you compare it to getting pregnant naturally, it's huge. And sad. It's money we should be able to have for our future children.
We have always known we wanted a family. We have saved and saved so that we could give our daughter a good life, but we never imagined we'd have to spend over $15,000 for ivf. We planned for our baby, but we never imagined where this fertility journey would take us.
THEN, in December 2016, a miracle. We won the money we needed to pay for a single IVF cycle. A couple from Utah with a popular Youtube channel gave us this chance. Elle and Jared did something for us that I can't even discribe.
We did 4-5 injection a day for 16 days. We retrieved 5 mature eggs and we learned that four of the five had fertilized. Of those four only two made it to day 5.
We implanted the embryo that was ahead at the time. Our little sweetpea.
AND IT WORKED. We learned that we were pregnant on my birthday in March. I was carrying our second child and the joy that I hadn't felt since Maeve died returned to our hearts. We were a family again.
On April 12 we learned that our baby sweetpea wasn't measuringing a correct size and we were told to come back in a week, that hopefully baby will have grown and we can all breathe a sigh of releif.
At our next apointment we learned that our little sweetpea had passed away. We were just starting to love this little joy and they were taken from us so quickly. In the 7 weeks and 5 days that I was pregnant, I felt a joy, a purpose, and a love that I can only describe as 'meant to be.'
We had a precodure called a D&C and we were able to keep baby sweetpea with us to plant with Maeve's ashes in her garden.
We have one viable embryo left. And it turns out that this embryo is special. On the day they implanted little sweetpea this other embryo wasn't ready yet. That evening we got a phone call that our frozen embryo was a higher grade embryo than little sweetpea and would be frozen at the lab. WE loved them both. And we were in love with the fact that we'd have another change in the future for a brother or sister for our babies.
The grief of infertility is a different type of grief. My husband and I both want a living child more than ever. We would be the most loving, caring, and giving parents. We've been through the worst possible things imaginable, and we've become more and more in love. I like to think that all the extra love we had saved up for Maeve and her sibling is now in each other, more powerful than ever. All that love is saved up for our future child, we already love them so much!
We will never give up, we will do whatever it takes to hold our living breathing child in our arms.
I wish with all my heart that money wasn't an issue. But it is. We never thought we needed help getting pregnant but our dream seems so far away.
We've been through so much these last two years. I don't want to waste any more time. We've already lost so much. After we get through Maeve's birthday in June we want to start our journey to a frozen embryo transfer.
Please consider helping us with this frozen cycle. I believe it will work. I believe we will have a living child. 
Any small donation brings us closer to holding our baby, Maeve and little sweetpea's sibling.
Thank you from the bottom off our hearts!
+ Read More
Update 2
10 months ago
Share
Because of everyone's generous donations we won't have the burdon of having to take out a loan or work extra hours. The extra money that's been donated will be used towards my most recent medical bills.
We will take this time to heal, grieve, and be together.
My doctors want me to have two natural cycles before starting treatments again. We've decided to wait until after Maeve's birthday in June to pursue our transfer.
I can't believe this still.
My heart is so broken and yet so very full at the same time. Maybe that's why I can't stop crying.
XO
+ Read More
Update 1
10 months ago
Share
Thank you all for the support and hope you've given us.
Winning the IVF grant was a dream come true and it brought us little sweetpea. I never imagined after losing Maeve that we would be in the midst of battling deep deep greif again.
Last night I woke up to pee, half asleep, and I forget that I wasn't pregnant anymore.
I cried and cried until John placed our sweet dog Louise in my arms and I could feel her little breaths on my neck.
Pease consider a small donation.
We would like to start our frozen cycle after Maeve's birthday in June.
+ Read More
Read a Previous Update