5
9
Fr. Seraphim Slobodskoy Documentary
$325
of $50,000 goal
Raised by
5
people in 3 months
Fr. Seraphim Slobodskoy 1912-1971
is a documentary currently in production exploring the life and legacy of Archpriest Seraphim Slobodskoy.
Photo
: Fr. Seraphim Slobodskoy in front of the
Holy Virgin Protection Church in Nyack, NY.
SYNOPSIS 
His story begins in Russia at the brink of the Revolution and ends in America whe
re he found sanctuary connecting to a vast network of Russian Emigres and befriending direct descendants of the famous Russian author Leo Tolstoy.


Fr. Seraphim was denied access to an education and was, instead, drafted to fight in the Red Army without ammunition, to be killed in battle for being the son of a priest. His father, Priest Alexey Slobodskoy, was murdered by Soviet Communists, amidst millions of other faithful Orthodox Christians (many of whom were sent to Gulags), in their attempt to destroy the Russian Church and its participants. His story surviving battle is nothing short of a miracle. 
Photo
: The original Christ the Savior Cathedral being destroyed by communists during the Russian Revolution.
Fr. Seraphim's life takes on many surprising turns and fortunes. He arrived in America thanks to
The Tolstoy Foundation
, created by Alexandra Lvovna Tolstoy, the youngest daughter of Leo Tolstoy. The Foundation assisted thousands of Russian Emigre in finding sanctuary in America from the oppressive Soviet Dictatorship, located in Valley Cottage, NY.
Photo
: Alexandra Lvovna Tolstoy, founder of The Tolstoy Foundation
Photo
: Fr. Seraphim with his wife (matyshka Elena Alexeievna Slobodskoy) and family at their new home in Nyack, NY.
Finding a home in Nyack, NY, Fr. Seraphim lead a parish to  build the Holy Virgin Protection Church (HVPC) with the aid of Vladimir Tolstoy, architect and designer (also a descendant of Leo Tolstoy).
Photo
: Building the outer wall facing the Alter, 1955
Left
: Fr. Seraphim (standing).                       
Right
: Vladimir Tolstoy (sitting) 
Photo
: Holy Virgin Protection Church as it stands today.
Fr. Seraphim Slobodskoy authored
The Law of God: For Study at Home and School

Photo
: Fr. Seraphim's hand drawn typography for The Law of God. 
Photo
: Cover of the English edition
Fr. Seraphim illustrated all the drawings and designed its pages by hand (as can be seen in the original 2 Russian editions). 
Photo
: One of many illustrations Fr. Seraphim drew for his book. This illustration depicts "The Sower of the Seeds". The handwritten number on the bottom was Fr. Seraphim's measurement of the page. 
This book interprets The Holy Bible in accordance to Orthodox Christian Tradition—becoming internationally renowned with various translations and publications.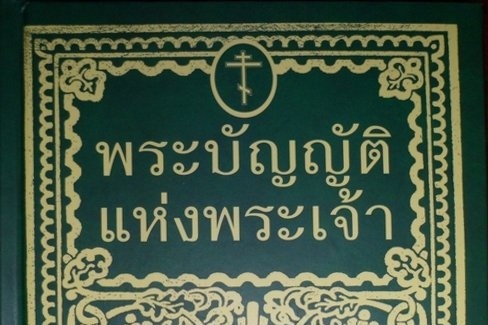 Photo
: Cover of The Law of God in Thai
In Russia, the book served in assisting the preservation and rebuilding of the Russian Patriarchate.  
DIRECTOR'S NOTE
Much work is yet to be done in restoring archival photos, footage including interviews that can no longer be replicated (including an interview of Fr. Seraphim's wife Elena Alexeievna Slobodskoy). There are more interviews to schedule and shoot (sooner rather than later) with people who can still remember living through those times and knowing Fr. Seraphim intimately. There is to be an English and Russian version of the film as Fr. Seraphim and his book are known in all parts of Russia (and worldwide).
The project is currently in need of financial support, and holding a lot of promise and worldwide attention.  Your support, if desired, will be acknowledged at the end credits. 
Please help keep this project alive. Knowing our history and remembering our ancestors is vital to pass from one generation to the next. 
My deepest thanks!
Dimitry Tchertkoff
Filmmaker 
+ Read More