611
7
#FlintKids Christmas with Little Miss Flint
$27,561
of $25,000 goal
Raised by
621
people in 6 months
Hi. My name is Mari Copeny. Im 11 years old and a kid from Flint, Michigan. You may know me as Little Miss Flint. Im an activist, an advocate for Flint Kids, a philanthropist, and I am the Chief Change Agent at Pack Your Back, a nonprofit entirely ran by young people. 
For almost 3 years I have been partnering with the nonprofit Pack Your Back to bring relief to the people of Flint and more specifically Flint Kids. We started out small, at first focusing on just backpacks and school supplies and since then we have been doing so much more for the kids and people of Flint. This year alone we have done over $250,000 in programming for Flint. Not only do we give back to the community but we give a space for young people to be able to help out and give back too. 
This year we want to bring the magic of Christmas to over
1,000
#FlintKids, which is over double of what we did last Christmas. And this event wont be like other holiday giveaway events where toys are bundled and picked up...we are giving kids the whole experience of a Christmas wonderland. Our holiday party is going to be filled with fun things to do including oversized inflatables, a hot cocoa bar, cookie decorating, and an indoor skating rink. We will even have Santa and Mrs. Clause too. Every single kid will get to go into our toy room and pick out their own
TOYS
, they will also receive books, a stocking with stocking stuffers, school supplies, backpack and every family will leave with a food box and have access to even more community resources. We even have a few surprises up our sleeve.  But to make this event a success we need your help. 
Our 2017 Christmas Event 
Check out some of the other events I have done with Pack Your Back. 
Our 2017 Backpack distribution gave backpacks and school supplies to 1,000 Flint Kids. 
This year we were able to expand our backpack distribution and were able to cover 15,000 area kids, we made sure we hand delivered backpacks to every single Flint community school. 
We also gave $15,000 to a local middle school for teacher support.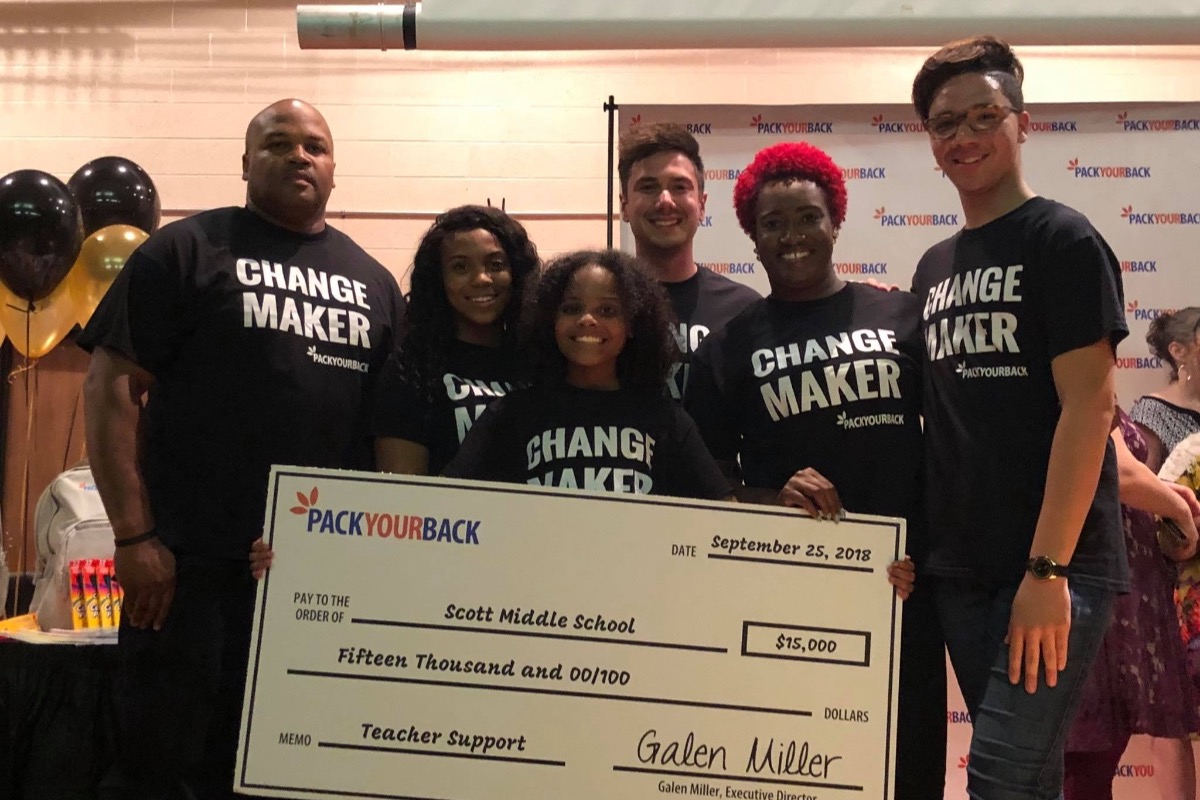 On Easter we were able to provide dozens of Easter Baskets to Flint Kids at the Shelter of Flint and a local church. 
We have raised over $71,000 to provide water to Flint residents. Since we started out water fundraiser we have provided over 700,000 bottles of water to Flint residents and helped over 2,000 families. 
I have also done 3 movie screenings, one allowed 850 kids to see Black Panther, the other for a Wrinkle In Time let over 300 kids see the movie, and The Incredibles 3 allowed 180 kids to view the movie. I also was able to get over 1000 Wrinkle In Time books for Flint Kids and over 500 comic books featuring black superheroes.
My letter project Dear Flint Kids has gotten in over 7000 letters from all over the world sending words of encouragement to Flint Kids.
This year for my birthday I decided I didn't want a party or presents for myself. Instead I wanted to throw a party for the kids of Flint and give them gifts.  With the help of generous donors we were able to throw the biggest summer party for Flint Kids in a long time, we had inflatables, a candy bar, food, photo booth, and so much more fun stuff plus we were able to give out over 600 bikes and ride-on toys to Flint Kids. 
Our Stuff Your Stocking Event last year provided an amazing Christmas party including a slime station, cookie decorating and a hot cocoa bar, stockings stuffed with school supplies so kids were able to have new supplies when they came back to school from Christmas break, and we provided over $13,000 in toys to Flint Kids. We even were able to drop a load of toys off at Hurley Children's Hospital for the kids spending Christmas in the hospital. 
Im a Flint Kid fighting to make life better for all Flint Kids and your support helps me to make dreams come true. 
Thank you in advance for supporting me and helping bring Christmas magic to #FlintKids 
Any remaining funds will go towards programming for #FlintKids via Pack Your Back.
All donations are tax-deductible under section 501(c)3 of the Internal Revenue Code.
Please email gmiller@packyourback.org if you have any questions or would like to request a receipt. 
Tax-ID: 81-2402039
+ Read More
Update 2
5 months ago
Share
We are now 5 days out from this amazing event and only $2515 away from our goal. Toy shipments are coming in this week and we set up this Friday. We have been busy filling raffle baskets for the families attending our event.
+ Read More
Update 1
5 months ago
Share
We are under 2 weeks away from our event.
Thank to a generous grant from Nestle Water North America ALL of the toys are paid for.

The last big thing we need to make this event go off perfectly is to fill 500 food boxes for the 1,000 kids that will be attending with their families. We have about 500 families attending.

Each food box is stuffed with everything you need for a holiday meal and cost $30 per box.
+ Read More
Read a Previous Update