21
4
Fill in the Blanks
$3,755
of $20,000 goal
Raised by
23
people in 11 days
L'Arche Chicago is a community strengthened by faith, where people with and without intellectual disabilities share life together in homes as a family. We strive to merge quality care and mutual friendship, building a community where everyone has a genuine place of belonging. Our Chicago community was created in 2000 and has since been a vibrant addition to the Oak Park/River Forest neighborhoods. 

We are made up of three homes – Angel, Peace and Friendship – where core members (residents with intellectual disabilities) and assistants (direct support professionals) live. Everything in the homes is shared by many, making wear and tear over time inevitable. We are hoping to replace a number of large furniture pieces in Angel House and Peace House now that they have reached a point of being too well-loved. 

The total fund of $20,000 will go towards the purchase of the following pieces: 

Peace House

- 2 sofas
- 1 loveseat 
- Dining table and chairs (seats 8) 
- Breakfast table and chairs (seats 4)

Angel House

- 1 sofa 
- 1 loveseat 
- Dining table and chairs (seats 8) 

These pieces are not just tables and chairs. They are places to meet, to draw and paint, to read, to have conversations, to play music, to sing, to pray, to share meals, to laugh and to cry. They are where relationships are forged and memories are made. 

Will you join us and help fill in the blanks?

We thank you for supporting L'Arche Chicago, and you are always welcome to take a seat at our table.


+ Read More
This Monday, we're taking the time to publicly thank our donors from the first week. Ryan, Diana, Sidney, Amber, Elizabeth, Laura, Kenneth, Crystal, Helen, Wayne, Jeff, James, Linda, Beata, Donald, Damon, Theresa, Allison and a number of anonymous donors have generously filled in two blanks – a sofa ($2000) and a loveseat ($1500). Everyone of them has contributed to keeping up the high standards of living and care that L'Arche Chicago provides its core members and assistants.

However, a second sofa, two dining room tables, chairs, a second loveseat and a breakfast table remain empty. Will you be the one to fill in these blanks?

We couldn't be more grateful for your support and kindness. Please continue sharing this link with your friends!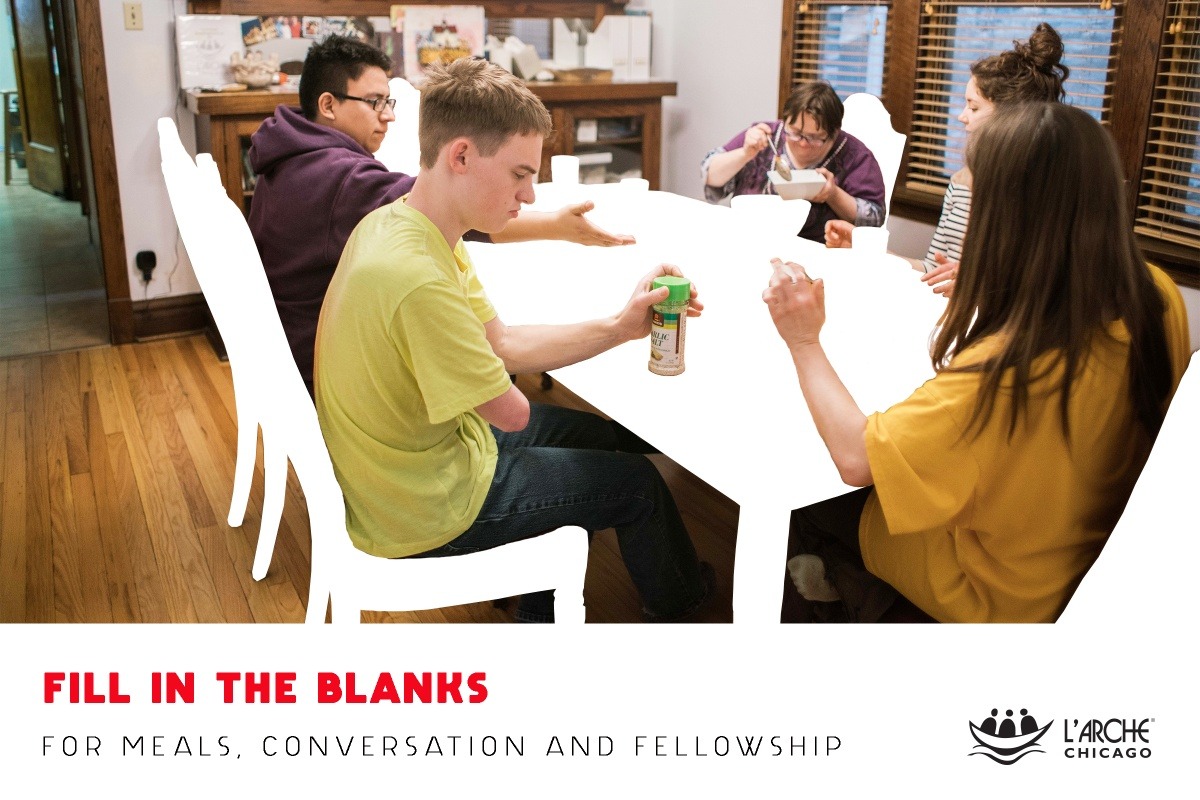 + Read More