Frankie Leukemia Fund
$5,510
of $50,000 goal
Raised by
60
people in 46 months
Meet Francesca and her family…
Frankie is three years old, diagnosed on November 3, 2014 with High Risk Pre B All (Acute Lymphoblastic Leukemia.) She is a very special little lady and anyone who has the chance to meet her will undoubtedly be changed by her light and spirit. She has a one year old sister, another one on the way and battles this cancer on a daily basis alongside her warrior parents. She is currently receiving treatment from Loma Linda Children's Hospital and this is her journey….
(frankie and her sister emmie before dx)
Below is an excerpt from "OK," an ongoing written documentary from Frankie's mother. Please understand we have chosen to share this as a way for friends, family and supporters to simply be a part of her ongoing journey.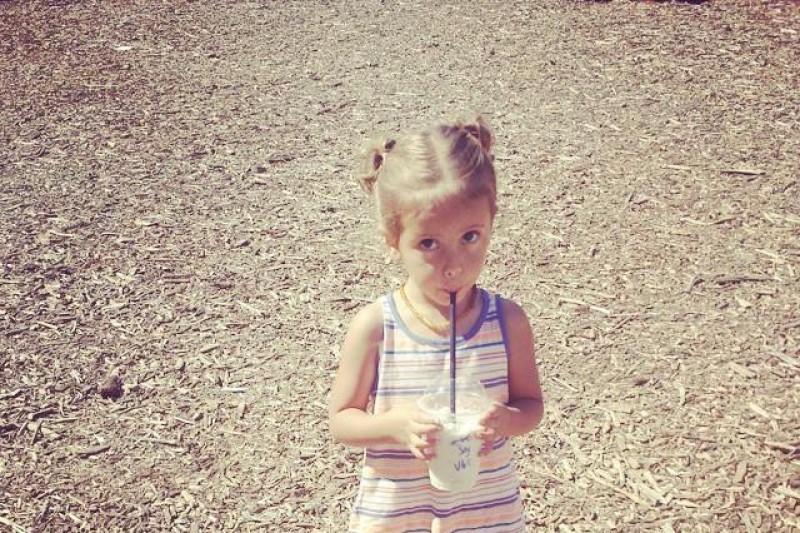 (frankie one week before dx)
OK.....a word that will take on a whole new meaning when facing cancer. 
OK...doctors...OK...nurses...OK...social workers 
OK...family...OK...GOD...
It's going to be OK honey...
It's going to be OK baby...
It's going to be OK....it's OK
Are you ready to do this? 
OK.
So here it is. My daughter, my beautiful three-year-old Francesca, "Frankie Bean" has Acute Lymphoblastic Leukemia, better known as ALL, or better known as, CANCER. The BIG word you never want to say out loud, especially when talking about your baby. Wait? What? CANCER? How is that even possible? We are healthy people; we live good lives, she is innocent, WHAT THE #*!@!!!! Wait, no, nope, this isn't happening. I refuse it. There's a mistake. She has an infection, she doesn't have cancer, and I don't believe it. She's too little, too pure and too full of life. She's my baby. I carried her and nurtured her. How can this be!?  This is impossible, not my family. I have a 10 month old, I run a company, I'm starting another company, and oh yeah, I am 6 weeks pregnant…. collapse on the floor.
I can't quite seem to know what to type now as I glance every few seconds at this beautiful angel sleeping next to me, wondering, what next?
Let's start at the beginning.
November 2, 2014
Phone rings. It's 8:30pm on a Monday night. It's our Pediatric doctor calling with Frankie's blood results. She was running mild to moderate fevers for about three weeks with cold symptoms. After being seen by two doctors and not having found anything substantial, we insisted on running all the preliminary tests with her primary, to get some peace of mind. Well, peace of mind wasn't quite what happened next.
"Hello, this is Giselle, Frankie's mother. I believe you just called?"
"Hi. Yes. Thank you for calling me back, are you home? Is your husband there?"
"Yes. Why? Is everything ok?"
"Well, this is very hard for me to say over the phone and I am so sorry."
(My heart starts to race, I grasp Ryans arm for support, as I can begin to feel my legs giving out on me).
"Yes. What is it????"
"Well, your daughters white blood cell count is extremely high and she's very anemic and I'd like you to get to the Emergency Room immediately, I think she may have Acute Leukemia"………………
I can't breathe. I'm on the floor, shaking and dizzy, trying to understand what sort of bullet just hit me. That's what it feels like, a large, massive, bullet straight to the heart…. Oh wait, now I think I'm going to vomit.
Ryan somehow pulls me off the floor. We call my mother and tell her it's an emergency and to get to our home immediately. The next few moments are forever imbedded in my mind. Frankie resting in our bed, watching us frantically grab clothing, a cross, a prayer book, toothbrushes, chargers, kids books, who knows what else.
Pause…
"Mommy, is it an emergency?" "Mommy, am I gonna be ok?" "Mom, mom, MOM, it's gonna be ok!"
I will never forget the look on my sweet girls face, as it somehow registered in her little brain, that she is sick.
My mother arrives to watch over our sweet baby girl, Emmersan, who has been looking around, curious with all the commotion, yet too young to understand. We explain to Mom what the doctor said. She doesn't understand till Ryan says it. CANCER. She begins to sob, "Not my little girl." We give hugs, kisses, say our 'I Love Yous' and hit the road.
The road looks different. The lights seem to glow with intensity. The freeway signs seem large and obscure. I take a moment to pray with Ryan, hands clenched tightly together and we begin to beg, "Lord, please don't take our little girl, PLEASE!"
I call my best friend in Florida, whose daughter is two days younger than our Frankie. I try to muster the words Leukemia, but my sobbing made it hard for her to understand. Once she got it though, the tears started. I begged her to start praying and to inform our group of friends and to get anyone and everyone praying for our sweet Frankie.
As we approach the Loma Linda ER, I see dozens of people waiting to be seen and I'm wondering, how in the hell are they going to make us wait with this crowd? If she does have cancer, isn't she in danger of getting even worse by getting an infection? Now comes the intense MOM mode and all I can think about is getting a diagnosis.
We get to registration and inform the nurse our doctor called in to the floor MD and they should be expecting us. I try to hold it together as best I can, resting low to the ground as often as I can to gather my breath. They quickly take us to an isolated room where we wait…. and wait…and wait. 
Nurses come in, take vitals, offer us a blanket and we just sit.
Phone rings, it's my dad. The Grandpastinky that always shows up, no matter the time of day, to just sit with us. We sit together, head in hands trying to breathe and hope for something different than the bullet that just hit me an hour back. About an hour after waiting, they have a room for us and we are at the starting line. I can feel my pulse rising and I suddenly feel like I am a walking spectacle. When we get to our room, a kind nurse in Hello Kitty scrubs approaches us to begin taking vitals and get Frankie's history. We explain that Frankie has been sick for three weeks, we had blood results come back today and our primary Ped doctor told us to come immediately, as he feared it might be Leukemia.
This is the moment I'm reminded that there are larger forces working here. The nurse pauses and asks, "So, what did the doctor say?"
I explain he indicated her blood count was very high, she was anemic and she's just been sick, but that nobody else caught it. She calmly takes vitals and begins an IV.
I ask her, "Do you think this is possible?"
She pauses again, looks me in the eye, turns her badge around and says, "I'm from the pediatric oncology, hematology floor. I am just helping out in the ER tonight." My heart stops, I can feel the tears welling up in my eyes, how could we possibly get this nurse, someone who knows this disease? I immediately felt better, knowing someone was already helping us who is familiar with the 4800 floor all too well.
Our journey begins…
Various doctors come in and out, giving us that look…the look of emptiness, as they've been trained to detach and not get too invested. One doctor, whom we call Dr. Mouse, comes in. He is the Resident MD, but there was something about him, his calm nature, his deep voice and his large frame that just made me feel safe. He was the one to deliver the news. As Frankie laid resting, Ryan and I held hands as the words began to spill from Dr. Mouse's mouth.
"With counts this high, we are usually looking at a blood cancer, we don't know what kind, but it's most likely leukemia. We will have to do more tests. But, you will be admitted tonight and go from there. Are you OK?"
(The first OK)
I fall over Frankie, who is now fast asleep and begin to sob. Ryan falls over my back as we hold our Frankie, tears pouring uncontrollably with a pain unlike I have ever known. About 20 minutes pass and we pull ourselves together and have the, 'let's do this' talk. Both Ryan and I have experienced loss and pain and this is the moment we knew we were called to share together; to fight as a team, warrior parents whose little girl is about to change our lives forever.
Once things calm down, Ryan's mother comes by to give Frankie a necklace that says, 'All is Well.' We now maintain this saying to stay calm. We just stayed in a space of calmness while she was there. Something about her brings a light in to the room and it was exactly what I needed in that moment. After she left, we began our preparation to be moved to the pedicatric oncology floor.
It is in this moment it really hits me. We begin our walk out of the Pediatric ER unit, through a series of doors and approach a large elevator. The hospital is rather quiet, aside from doctors and nurses roaming about attending to patients.
It's 3am, November 3, 2014, the light dings at the 4th floor and we take our first of many steps down the halls of 4800.


...continued on FeistyFrankie Blog. 
(frankie at clinic during the holidays)
Update:
Frankie has since hit some unfortunate bumps in the road. She did not hit remission by day 29 as exepcted by the doctors, which put her in a Very High Risk category with a much more intense treatment plan. During the early weeks of December, she experienced kidney stones, which were passed unmedicated. Early January, she experienced a pretty painful case of pancreatitus, which required a week long hospital stay and 5 days of no food or drink. Then there were other hospital stays due to nose infections, mouth sores or no immune system. Her family has revamped their home to accomodate her recovery plan and her parents have dedicated their lives to their new lifestyle. 
On February 20th, Frankie hit REMISSION!!! As exciting and relieving as this is, the family still has a long road ahead. Frankie's mother has since resigned from her job and the family dedicates everything they have to the future stability of their family. 
Any support either by helping with their fund or in prayer and positive thought is much appreciated.
The family is starting a blog in the coming weeks to provide updates. If you would like to follow them, please select the following link.
www.feistyfrankie.com
(Frankie at a prayer labrynth in Oak Glen over the Valentine's Day Weekend)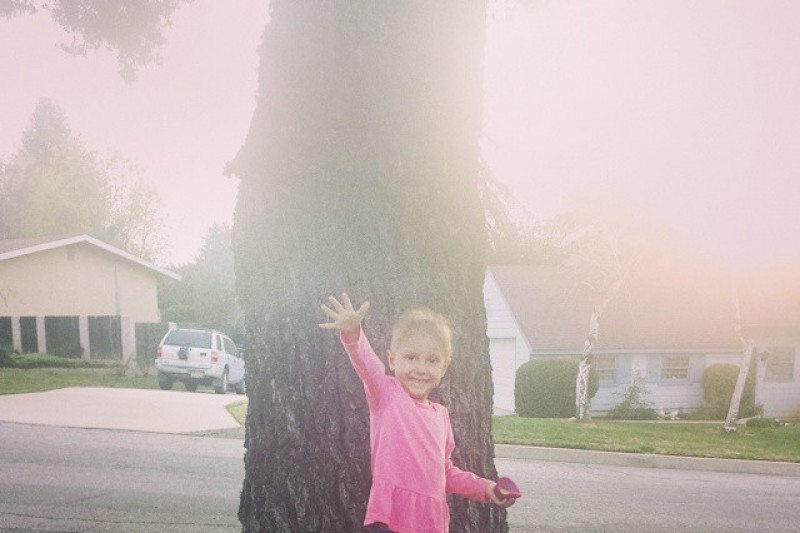 (Feeding the birds in her front yard)
(Inpatient during Interim Maintenance phase 1)
Update: June 11, 2015
Frankie has been doing better. She turned 4 on June 5th and the family was able to celebrate a week prior with friends and family before starting the second half of delayed intensification. Unfortunately, she did not make counts as expected, so her treatment was delayed till this last Tuesday. Her parents are back to giving chemo shots at home, which is just horrible, but a part of treatment. Her mother is about 3 weeks from delivering her baby sister and the family is trying their best to stay patient, calm and humble. Weekly treatment is still their routine, hopefully she will be in maintenance by late August. More to come!!
+ Read More