Arachnoid Tumor Surgery
$6,950
of $155,000 goal
Raised by
112
people in 40 months
In 2013 I delivered my second child and started experiencing extremely painful headaches that would induce vomiting and dizziness. My OBGYN immediately sent me to a neurologist. When explaining my symptoms he swore that I was experiencing an epidural leak (a leak of the fluid around the brain and spinal cord). Through an MRI I was diagnosed with a 2.1 cm pineal cyst. I was so incapacitated that I was unable to care for my newborn, 5yr old daughter, husband or myself. For three years I've lived on pain pills, on December after experiencing new symptoms such as cold sweats, unable to keep balance standing up or walking and even my vision turning completely black, I knew something wasn't just right on 01/22/16 after another MRI as usual I received a call from neurologist saying everything was still the same, and that he was going to change my medication AGAIN.I knew that was just not right, after searching I came across a neurosurgeon here in Houston who is known for his outstanding medical history, on March 1, 2016 I call to ask for an appointment and was asked to send my medical records and the they were scheduling appointments for the end of May, on March 8th after sending my medical records I receive a call from Dr. Kim's office asking me to watch a webinar on his website about Arachnoid Cyst and that Dr Kim wanted to see me as soon as possible March 15th since it took me by surprise I asked if it could be the following week and they schedule me for March 22, 2016. At my appointment I found out, that what I thought for three years was a pineal cyst was actually and arachnoid tumor that was in the pineal gland which are rare, he explained to me that for sure my symptoms were due to my cyst growing and that I needed to get surgery done before my symptoms start worsen, they will have to put a drain inside my head that will stay there for the rest of my life due to 40% this type of cysts/tumors tend to come back, he has done over 300 surgeries on pineal cyst removals and only five on arachnoid tumors. Due to my symptoms getting worse and the cyst growing I need to get surgery soon, unfortunately this type of surgery is very expensive and due to the timing I have to get it done is almost impossible for us to raise that amount money without your help. We want to Thank You in advance for your donations, for your help, support and for your all your prayers.






En Abril del 2013 a una semana de haber tenido a mi hijo empecé a tener dolores de cabeza muy fuertes, no podía ni levantarme de la cama, cualquier sonido, luz o movimiento hacia que mi cabeza casi explotara del dolor, después de comentarlo con mi ginecóloga decidió mandarme con un Neurólogo después de ordenarme un MRI encontró lo que creyó era un Quiste Pineal al principio me dijo que mis dolores de cabeza no venían de allí pues ese quiste era benigno y no ocasiona ningun síntoma, me ordeno medicamentos que solo ayudaban a dormir y a que el dolor fuera un poco más tolerable, después de un tiempo mis dolores seguian y no tenia ninguna mejoria decidido mandarme con un Neurocirujano para el ver las imágenes del MRI fue algo sorprendente pues era uno de los más grandes que él había visto más su diagnóstico coincidia con el que mi Neurologo me habia dado antes, me mandaron con un Neurooftalmologo y pudo ver que el quiste estaba a poco de poner presión sobre mi nervio óptico pero no era nada de alarmarse, tras intentar cantidades de diferentes medicamentos pude vivir una "vida normal" un año hasta en Diciembre del 2015 empese a sentirme rara, mi ritmo cardiaco subía demasiado alto sin estar haciendo ningun esfuerzo, empezaba a tener sudores fríos y mis manos me temblaban hubo varias veces que mi vista quedó totalmente en negro, empecé a perder el balance al caminar incluso al estar parada inmediatamente supe que algo no estaba bien, lo comente con mi esposo e hice una cita con mi neurólogo quien me ordenó de nuevo un MRI el dia 22 de Enero del 2016 después de unos días recibo una llamada de mi neurólogo diciéndome que todo seguía igual, que no había ningun crecimiento ni cambio, que por milésima vez me cambiaría el medicamento, pero yo sabía que lo que estaba sintiendo no era normal, tras buscar información encontré un grupo en Facebook que fue creado para personas con Quiste Pineal y ese dia mi vida cambió, encontré miles de personas de alrededor del mundo que padecian síntomas muy parecidos incluso los mismos y para mi sorpresa la mayoría habían tenido cirugía aqui en Houston con quien ellos le llaman "Un Héroe" El Neurocirujano Dr. Kim no perdí tiempo llame y pedi una cita me dijeron que necesitaba enviar mi record medico y que el Dr. estaba dando citas hasta finales de Mayo no importaba pues para mi era el paso a recuperar mi vida sin dolor,una vida normal, envíe toda la papelería y discos de mis MRI y en menos de una semana recibí una llamada de la asistente del Dr. Kim pidiéndome que viera un seminario en la página del Dr. Kim acerca de Arachnoid Cyst pues al ver las imagenes todo parecía indicar que tenía ese tipo de quiste y no el Quiste Pineal me alarme pues no sabia de que tipo de quiste me estaba hablando jamas lo habia escuchado mencionar, al siguiente dia me llama de nuevo y me dice que el Dr. Kim quería verme lo mas pronto posible, (la llamada fue el 8 de Marzo del 2016) querian verme el 15 de Marzo del 2016 en ese momento no supe qué decir, pedi que fuera otro dia pues tenía que organizarme, me dieron cita para el 22 de Marzo 2016 ese dia el Dr. Kim acompañado de otro Neurocirujano entraron al cuarto, escucharon todo lo que tenía que decirles, repasaron las imágenes de mi MRI y confirmaron que lo que yo tenía era un Arachnoid Cyst y necesitaba operarme pronto pues mis síntomas empeorarian a como vaya pasando el tiempo y el quiste vaya creciendo. Ese momento sentí que el mundo se me vino encima siempre pensé que yo tendria la opcion de seguir una vida como hasta hoy o tener cirugía para mi sorpresa mi única opción es cirugía, necesitan abrir mi un pedazo de mi cabeza para poder llegar hasta la región Pineal donde se encuentra el quiste que tengo, me tendran que poner un drene que se quedara allí de por vida pues este tipo de quistes tienen un 40% de posibilidades de que se vuelvan a formar. Desgraciadamente este tipo de cirugía es demasiado costosa y para el plazo de tiempo que tengo para hacermela es casi imposible para nosotros poder contar con ese dinero sin la ayuda de ustedes. De antemano les agradecemos por sus donaciones, por su ayuda por todas sus oraciones.
+ Read More
Update 1
36 months ago
Share
"If you saw the size of the blessing coming to you, you would understand the magnitude of the battle you are fighting"

"Si vieras el tamaño de la bendicion que viene a ti, entenderias la magnitud de la batalla que estas luchando"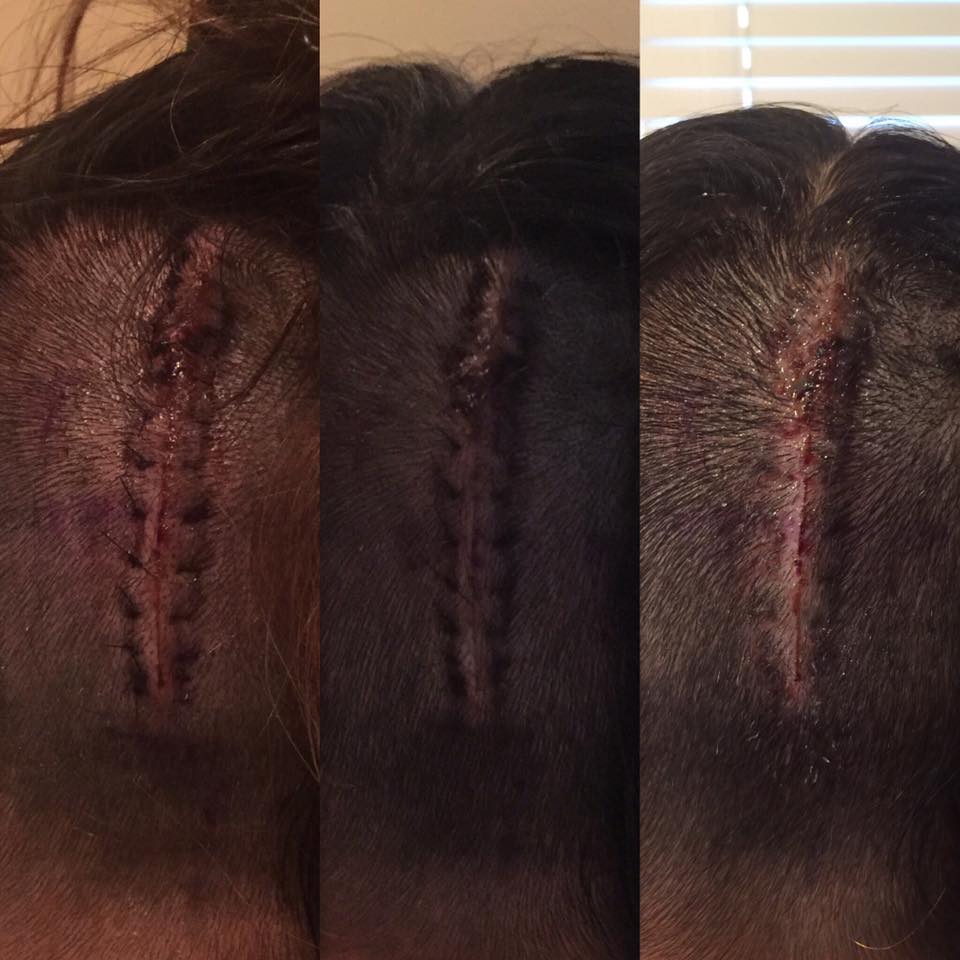 + Read More