Flood damaged our home please help!
Welcome to our Go Fund me, we could use your help! 
What do we need?
- We had a massive flood from a hot water line under our dishwasher that flooded our house.
- This has caused our walls in the living room, kitchen, dining room, under the appliances, pantry, and utility room to become damaged. We also have lost all of the cabinets and items in them etc. Our floor needs to be fixed too.
- Estimates put this between $2000 and very worst case scenario, $20,000. I'm told it's the worst case because there is a chance that something else is damaged and we won't know until things are ripped up during the drying out and cleaning period. 
- We also have to replace the washing machine, dryer, dishwasher, and cabinets in our kitchen, drywall and paint that we won't be able to fix.
- Our insurance has a very high deductible, and the initial estimates are lower than the deductible so we will have to pay out of pocket. We are mostly asking just for the deductible and what it costs to replace the damaged appliances.
- We then have to hire a contractor to put the drywall back on, new cabinets in and baseboards.
( I do not have an estimate for the contractor because we still don't know what all has to be fixed.)
- During this time we will have to live somewhere else, and we have no nearby family to stay with so we will need an extended stay hotel. 

Right now we could use any help that is possible just to get started with drying our home out and finding somewhere to stay.

If we can reach our goal we would be so appreciative, we would like to at least have it totally safe and dry by Christmas. 






Who Are We?
My name is Mary and I'm the wife of a wonderful husband, and mother of 2 lovely kids and I also take care of my widowed and disabled mother. I got to college full time, I am a housewife now, and I retired from my previous job to take care of my mother and two children. 
My husband is a long haul trucker. If you know anything about trucking, you know it's 'feast or famine' and depending on what is going on, some days are better than others.

My husband only comes home when we can afford it. We haven't had him in the house since June when I retired to take care of his business and my house. We are making enough for ends to meet but not enough to fix anything extra. We had savings, but with the diesel cost after Hurricane Harvey, we had to use the savings to make sure we had food in the subsequent months when my husband was only able to make enough to cover his lease payment on his truck.

My daughter turns 8 soon, and she is a big sweetie pie. She's doing very well in school, has a big heart for giving and is very kind. 

My son is about to be 4. He's also a big sweetie, very kind, but he has Autism. His disability makes things somewhat difficult, but he is my little superhero and the most wonderful boy.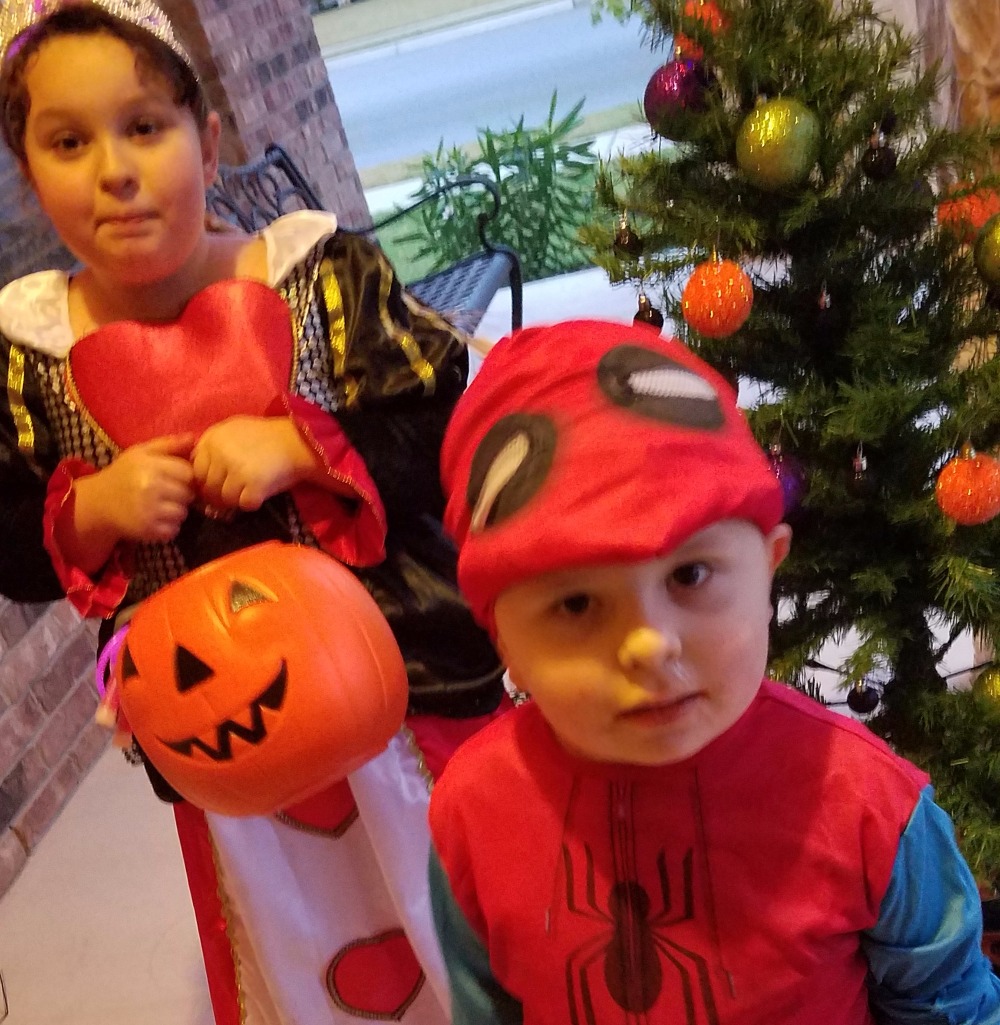 My widowed mother who lives with us is my hero. She suffers from a spinal disintegration, and a few other issues. She has recently had a major surgery where we put a battery pack in her back because she wants to live in less pain, even though the battery only makes her feel like it doesn't hurt so bad when it actually does.  She's a tough woman, but she's a wonderful lady and it's my honor to care for her. 

As a result of leaving my job, I had for over 10 years with its steady income, health insurance, some things have changed in our home. I wanted to put my family first and care for my mom especially with her surgery, and my son who needs me and help my daughter to continue her journey through life. 

Quitting, put a strain on our finances, and things have been very tight. We, however, have been doing fairly well at meeting our obligations to keep our utilities and living expenses paid. 

More about the flood:
About a month ago, our dishwasher stopped working. Since my husband is pretty good at fixing things but was on the road at the time,  I talked to him about it. We decided to do dishes in the sink old-school style, and we didn't see any problems or signs of a problem with waiting for him to come home to fix it. He promised as soon as we could afford to get him home he'd take care of it. 

It turns out there was a clog from the dishwasher that was also causing trouble to the disposal and sink. That clog got worse and caused a leak under the wall. I didn't notice anything because the other side of the wall is where we have our living room and couches. 

On Sunday, November 12, I was washing clothes. The washer and the dishwasher are actually very close to each other. The washer apparently was clogged too and dumped many gallons of water onto the floor. It rushed into the kitchen, living room, pantry and utility room. 

When I moved the couches and started cleaning everything up, I discovered the baseboards and walls were saturated with water, and that we had a serious problem. It was Sunday but we called a plumber. Our plumber turned the water off to the house that night. He came the next day, and after testing everything from pressure to pipes, the air conditioner condenser and how it was shut down for the winter and,  the hot water heater, he discovered the trouble did not come from anything in the plumbing. , it's not the pipes, plumbing or anything to do with the actual house. He states this is the dishwasher and the washing machine that caused all of this problem. 


If there is anything you can do to help, we would appreciate it. 

Here is some of what we were looking at:
This is the wall behind the dishwasher in the living room. The darkness is the paint peeling away to reveal the pressed particle board baseboards that have flooded. 

This is after the flood, I shoved it all into the garage with a broom. Some of it went under the wall as I was shoving it out of our home.



This was after we got most of the water off the floor, I was using that tub to help me scoop water. We have used every towel, blanket, and piece of cloth in our house to dry things up. We do not have money until Friday to wash the clothes since the washer flooded. 

Below is after they removed the damaged wall. The countertops were so wet from what happened to the cabinets that they fell apart from the water as they were removed.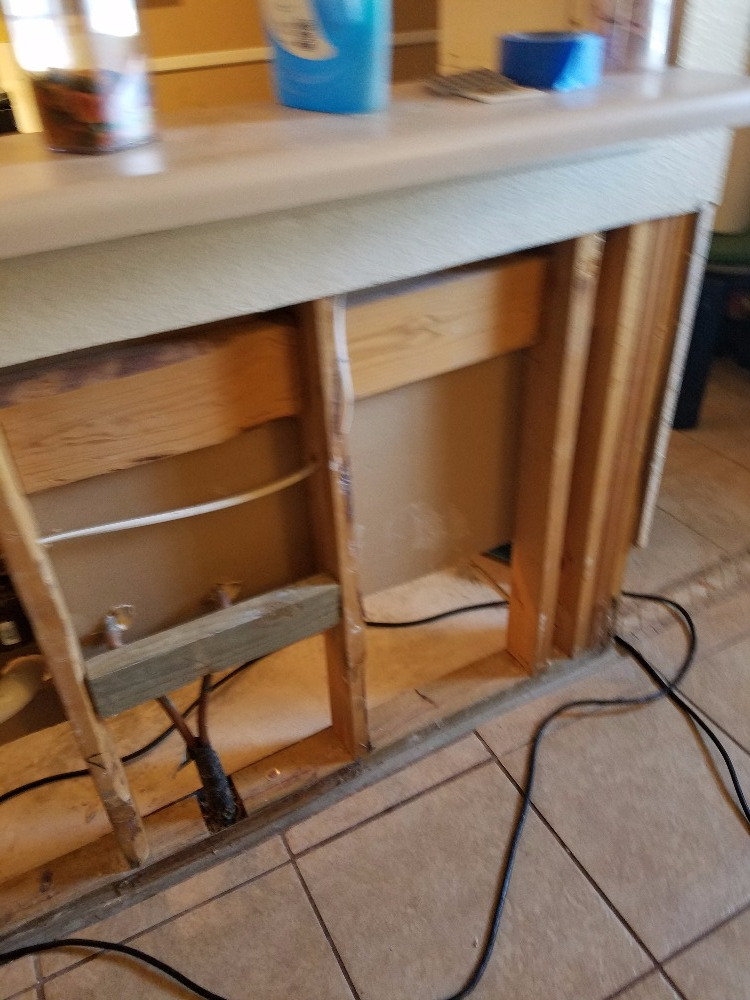 Organizer
#1 fundraising platform

More people start fundraisers on GoFundMe than on any other platform. Learn more

GoFundMe Guarantee

In the rare case something isn't right, we will work with you to determine if misuse occurred. Learn more

Expert advice

Contact us with your questions and we'll answer, day or night. Learn more