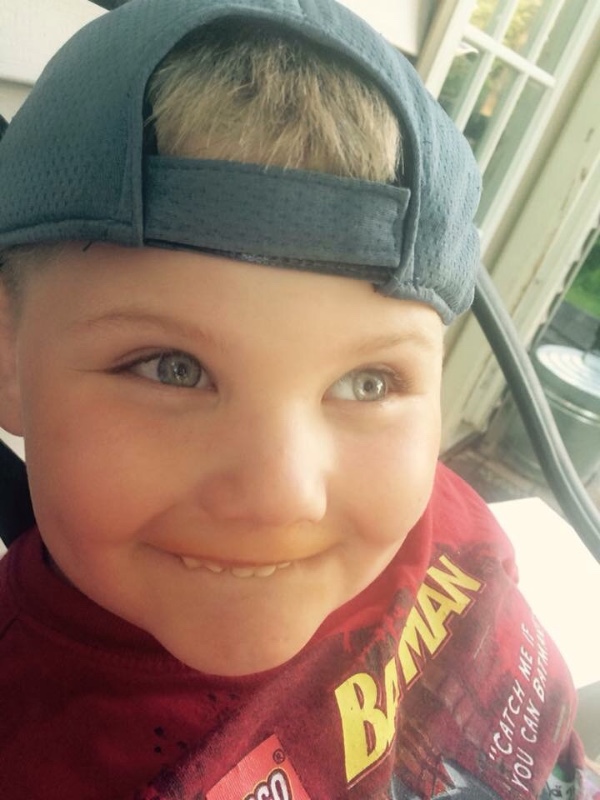 Sunday night- 6/21/2015 - Connor was a bit dizzy and not stable on his feet, but he was ok.
Monday morning - 6/22/2015 - Connor woke up Vomiting quite violently with long dry heaving sessions. This lasted all day.
Tuesday Morning - 6/23/2015 - He was pretty much in the same state, Violent dry heaving, but he slept a lot that day, he was pale and cool to the touch. I had a very hard time keeping anything in him, not even sips of water would stay. I started worrying about dehydration so I took him into the ER in Austin late afternoon.
In the ER - they were checking for appendicitis and concentrating on getting him rehydrated. He was given an anti-nausea med under the tongue. He vomited within 10 min, so he was given an IV with fluids and anti nausea meds in the IV, and Blood work was done. His white Blood counts were up a bit.
Wednesday Morning - Connor had perked up, he was doing great. He was playing and eating and drinking water without any issue. We had a follow up appointment with his main Pediatrician. But by evening he was becoming very unstable he kept falling over and could not stand well without wobbling.
Thursday Morning - Connor woke me up at 5 am with diarrhea and bloody stool. Called is Pediatrician and we went back in. More blood work was drawn and his white counts had come down which ruled out appendicitis. but by evening he was wobbly again, ran into me twice walking, and falling over again.
Friday Morning - Again he was vomiting from the start of the day to mid afternoon. Back to the Dr we went and an X-Ray was taken of his stomach. Friday evening he was playing again and eating ok. His stability was getting noticeably worse.
Saturday Morning - he Vomited at 4:30 am, 5:30, 7,11:30, and 1pm. We took him to St.Marys in Rochester. We arrived at 3pm and by 6:30pm we were given the news that would change our lives.
At the time of examination in Rochester Connor was unable to complete simple tasks like standing on one foot, he was dizzy, and very unstable standing or walking. The Doctor decided to not only do a new X-ray of his stomach but also run a CAT Scan.
Connor has a Brain Tumor and it was most likely Cancerous. He was admitted to St Marys Peds ICU. He had a basic MRI that night and they started Steroids to try and shrink the tumor. He was very tired and slept really well.
Sunday - This was a long day he was put under and a tube was inserted into his brain to relieve the pressure build up. The tumor is blocking the natural drainage of fluid and it needed to drain. This is what was causing the dizziness. While he was under a long in-depth MRI was completed, and we learned what they think it is, and that it was not anywhere else!
Sunday night - Connor was back, Draining the extra fluid was helping. He drank Hot Chocolate, and ate Jimmy Johns. He was watching his favorite movie and singing along.
Monday - Today is the Day! He was wheeled in and put out again at 9am. The surgery to remove the tumor will take 4-8hrs. We receive updates from the staff hourly on his progress. He is doing great so far!!
We do not know yet exactly what this tumor is, until it is out and Biopsied! We have been told that they are pretty sure that it is cancerous and They think it is Medulloblastoma. If it is it will be a very long road, he will not be able to speak or walk. It should take 3months to a year for him to be back to normal. Chemotherapy or Radiation or both are possible, but until biopsy is done we will not know for sure exactly what the plan is.
Tuesday June 30th update:
Recovery is going good so far. There was some blood drawn for testing and met with the Dr. they suspect they got the whole tumor out. Connor went for another MRI to check and make sure they got it all.  The rest of the day was spent recovering from everything. 
Wednesday July 1st
The  drain tube for the brain has been removed and a couple of the IV's along with it. Sounds like we will be moving off the ICU floor and into another room for the duration of the stay. We met with the chemo and radiation Dr's to talk about a short term and long term plan.  It is as they suspected and he will need chemo and radiation. There still need to be a spinal tap to check the brain fluid lower in the spine to see if it is carrying the cancer cells. If so an aggressive attack of chemo and radiation will be needed over a four month span. This will make him very weak and very poor immune system. If the fluid comes back with no cancer cells then a less aggressive attack will be needed over a nine month span but can be handled as an outpatient procedure. 
Thank you to everyone that can help. We have a whole year ahead of us before it starts to taper off.
Organizer
Milo Weckwerth 
Organizer
New Richland, MN