Don't Text for X - Annual Walkathon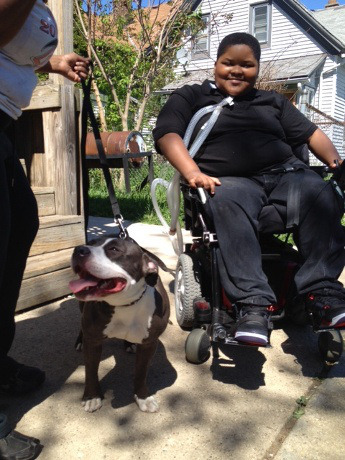 The X-Man Foundation is planning its fourth 'Walk for Awareness' starting at that very crosswalk where Xzavier Davis-Bilbo became paralyzed and dependent upon a respirator to continue his life in the restricted zone. The driver who injured this five year old was texting so she didn't notice that her vehicle had crossed out of her lane and struck an innocent child ripping him from his sister's hand. This driver was texting. We hold this walk on or near the anniversary of October 10th every year because Xzavier survived and drivers need to meet him to realize that watching the road should take precedence over whatever is on a cell phone. Meeting Xzavier in person or hearing his story, the Story of X, is the most powerful tool we have now to educate drivers away from abusing this technology.
Valetta Bradford, the mother of Xzavier started the X-Man Foundation in order to educate drivers away from distracted driving. Donations to the X-Man Foundation is used to further this education and to continue the care of Xzavier Davis-Bilbo who now requires 24-hour monitoring of his respiratory equipment and other special needs. Valetta left her position in corporate America to become Xzavier's primary caregiver rather than submit him to institutional living. Valetta turned herself into a spokeswoman against Distracted Driving with an emphasis on texting. She takes Xzavier and his sister Aurie on speaking engagements. They started with granting interviews to local television stations in their hometown of Milwaukee, WI. This exposure got the attention of the folks at the 'It Can Wait' campaign and Valetta and Xzavier were featured in a PSA against Distracted Driving and then Aurie joined them in another feature in the documentary 'From One Second to the Next' directed by Werner Herzog. This family never turns down an opportunity to speak before drivers. They visit public schools and local colleges. Their mission is to educate drivers everywhere to the dangers of texting while driving. The Story of X is on-line and available to the world wide web.
http://thestoryofx.wordpress.com
We are asking for donations at this time in order to plan for this upcoming event, 'the Walk for Awareness'. We have a need for donated or loaned equipment that will allow us to skype this message all over the world and we are asking for sponsors to host venues on October 11, 2014 where they can skype in and interact live with this event. We are also in need of technological support to make this happen. This event was rained out last year and the only attendees were friends and family that celebrated Xzavier's third year of survival after this tragedy. We are hoping to reach more drivers with this year's event by using technology to reach drivers at your sponsored venues. We are also hoping to block off the street and we will need a permit to do so. T-shirts and X pins will be made available at this event. Your donations are greatly appreciated. Volunteers are also needed locally and through our connections through the internet. Promoting this event is as simple as sharing articles on your timelines on Facebook so we can get the word out to all drivers. This is important life-saving work if it gets people to pay attention. The Story of X tends to do just that.
P.S. For the love of Karaoke, you can gather your friends around to skype in with the Walk for Awareness and perhaps share a song or two for the event. This is an afternoon event so Little League football games or bowling tournaments or anywhere where you gather with your friends on weekend afternoons is a great place to get their attention. 'Don't text for X'.
Thank you,
Valetta Bradford
Founder
X-Man Foundation
Post Office Box 06061
Milwaukee, WI 53206
Phone: (414) [telefone editado]
Organizadora
Valetta Geisha Bradford
Organizadora