Wheelchair to Change Norbert's Life
Hi there, I'm Heidi Cooke.  My beloved dad Norbert is in need of a powered wheelchair to regain some of the independence that was taken from him when he suffered a significant ischemic stroke at home in Cairns, Queensland (Australia) in August 2014. 
Stick with me here.....
The stroke dad suffered that morning was his third, and would be the one that changed our family's lives forever.  Dad thankfully survived that morning due to quick medical intervention, however in the hours, days and weeks that followed it became increasingly and heartbreakingly clear that dad would not regain use of half of his body, and would never walk again.  This outcome was confirmed by various neurologists.
Scans showed that a substantial portion of the right side of dad's brain had been affected, ultimately leaving him nonambulatory - bed-bound for the majority of his days, and without the use of his entire left side, below the neck.   
Positively, the cognitive deficits faced by dad are quite minimal.  He's retained his famous dry sense of humor and lack of tact, speaks clearly and is more than aware of what's going on around him and within the world at large!
Dad is considered High Risk due to the severity of his stroke and requires around the clock care in terms of bathing, toileting, feeding, changing etc.  He resides in an aged care facility close to our family home where he can receive the care needed, and mum visits him at dinner time each night after work, and often twice on weekends.
The love and dedication mum has shown to dad cannot be faulted and I doubt it could be matched.  She has filled dad's room with family photos and motivational sayings.  Mum spends anniversaries and birthdays preparing special meals for them to eat together at his bedside.  She spends hour after hour researching and implementing stretches, massages and other techniques (like mirror boxes) herself to try and help with dad's left side, unfortunately with little effect other than maintaining some flexibility.        
Ann and Norbert Hoffmann - Christmas lunch at the aged care facility
Dad spends his days in bed, receiving weekly therapy from a private physio we organise ourselves.  For a man who spent his entire adult life working fishing boats this is, to me, incomprehensible.  Dad is literally hoisted out of bed every second day for an assisted shower (laying on a wet board).  Occasionally dad is moved into one of the facility's 'princess chairs' which allows him to 'sit' up and be out of bed.  The facility will not allow these chairs (these are really reclined beds that can be wheeled) to be taken out and they will not fit in a taxi, hence dad has only been home for a visit twice in the last 3 years (for 1 hour each time to have Christmas lunch).  On both occasions my husband and also brother have had to use their whole body strength to readjust dad in his old wheelchair as he constantly slid forward.  Last Christmas we were unable to take him home due to the inappropriateness of the wheelchair and decline in dad's core strength.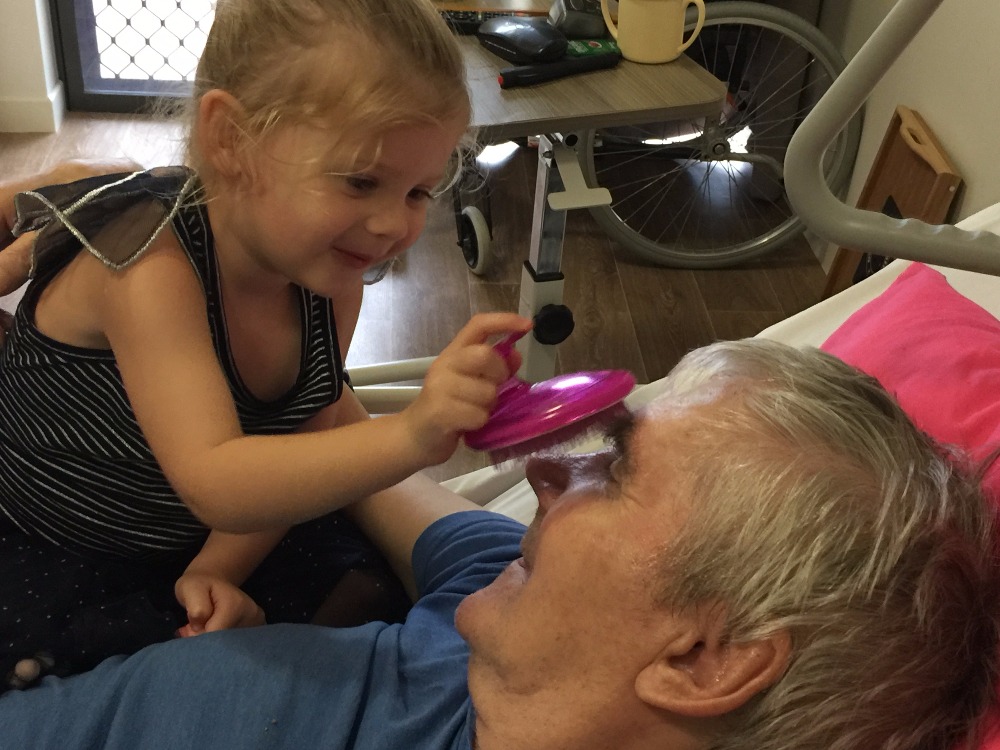 Elise brushing Opa's hair
More recently, a necessary trip to the dentist in the old wheelchair ended with dad sliding out (despite various dentists trying to manoeuvre him back up) and spending 2 hours on the floor of a public disabled toilet before two ambulances could transport him back to the facility.
I was 32 weeks pregnant with my parent's first and only grandchild when dad's stroke occurred.  Dad absolutely dotes on his granddaughter (now nearly 3) and the joy he gets from her visits (we live a 5 hour drive away) is immeasurable and has undoubtedly kept him going through some very tough times.  
Norbert and his granddaughter Elise
A new motorised wheelchair for dad would mean independence.  It would mean that a couple of days a week he would be able to move freely around the aged care facility rather than lay in bed.  It would mean our family could confidently take him on regular outings without the worry of him sliding out and being dosed up on medication to deal with the chronic pain caused by the stroke when he sits upright.  He could come and watch his granddaughter take a swimming lesson at the local pool or watch her eat an icecream down at the playground.  He could sit in his lounge room at home for an afternoon and watch soccer or sit in the garden at home with mum.  At the moment – these things are only a dream.  
We have recently had dad assessed by an OT for a suitable long-term wheelchair that would give him back some much needed independence.  In particular, it's important that dad be able to move without the help of mum (who works long hours each day and is very slight in build).  The suggested outcome was a motorised Tilt-in-Space wheelchair, with motorised recline option and prop attendant control (allowing someone else to take over and steer for him from behind if required in tight spaces).  This wheelchair would allow him to move independently, tilt back to take pressure off his back and lower limbs, stop him ever slipping out of a chair again, and allow him to recline the backrest to any comfortable angle needed.
After much research, the best fit for dad's needs appears to be an Invacare TDX SP Power wheelchair. 
The cost of this chair is $16,000.  Yes, the price of a small car.  But really, what price can you put on giving someone the ability to move on their own again.
We recently trialled a chair with dad and the smile on his face at being able to move by himself for the first time in almost 3 years was amazing.  
Hoisting into the trial chair
Test driving a trial chair

My parents have worked hard their whole lives, living a modest life and always putting others first.  Theyve had more than their fair share of financial hardship, and right now, mum still works full time at the age of 71 in order to pay bills/mortgage at home and at the aged care facility.  Our immediate family give time, money, advice and support as best possible, while still trying to balance our own lives.  But, for my family, an outlay of $16,000 for a wheelchair is unreachable without help.
We have exhausted all potential options for funding - dad is not eligible for My Aged Care because he's not at home, and considered High Risk.  He won't be eligible for NDIS funding when it starts in Cairns because he's over the age of 65.  I've had communication with dad's local MP and also Senator, and unfortunately they could not offer any new advice.  Effectively, dad has fallen through the cracks in terms of availability of funding.
Your assistance, whether through a small donation, or sharing our story on social media, would be forever remembered.
Ron and Karen Hendrickson 
Organizer