First off, I would like to thank anyone who is taking time out of their day to visit our page. It means so much to our family. I'll try not to let the story get too long but in case you are curious about any of the fine details or missing links, feel free to message or reach out to my family.
This is Weston on the left.
But I'm sure most of you already knew that. If you want to see some more exciting pictures of what Weston went through, I have added them towards the bottom of this page.
The short explanation for the creation of this page is that Weston recently underwent emergency brain surgery. Thankfully he is healthy and home recovering. However, this unexpected hosital visit has left Weston and his family with financial unrest. Under the circumstances, the Holley family felt it was necessary to reach out to the community for help. Bills for the hospital stay, the medications, diagnostic scans, follow-up appointments, home utilities, and rent are quickly stacking. Any help whether it be emotional, or physical, is appreciated beyond measure.
We are completely unsure what the actual cost of everything is going to amount to. The goal that was placed on this site is only for the site's purposes. Our main goal is to support Weston in his time of need.The story goes like this...
Weston had been living in Rochester, MN with the occassional headache and sinus pressure for a couple months. As time went on, Weston's headaches began to get worse and last longer. His time with friends would often get cut short, he would call in sick to work, and even leave work early with a headache.
For the longest time, Weston didn't want to admit there was an issue. Any time his condition seemed to be a real problem, the headache would break and he would feel better. His girlfriend Carly, however, insisted he see a doctor. She noticed a change in his everyday demeanor. He was more irritiable, anxious, and sometimes he was a total brat (Carly's words, not mine).
Finally, Weston gave in and made an appointment to see a doctor. He didn't last the night. He awoke to his pain at 2 in the morning and was brought to the emergency room (ER). The doctors there explained that it could be migraines. They gave him medicine and asked him to stay to see if the medicine helped. After seeing no results, his frustration and anxiety drove him to leave and return later for his actual appointment.
When he went back later that day he was in rough shape. He was throwing up minutes before seeing the doctor. While there, he was put on steroids for migraines and was given an "emergency migraine medication". This particular emergency  medication was supposed to help him when a migraine was coming on. This gave him the confidence to continue working and even drive to his parent's home for family Thanksgiving.
He showed up to family Thanksgiving pale and almost crying from the pain in his head. He spent half of Thanksgiving laying down trying to feel better. However, Weston mentioned he felt comforted being with family during this time.
As his family, we could tell something was not right. The doctors at the ER mentioned that if nothing was helping, he should get another appointment for a CT scan as soon as possible. He called and made his appointment on Friday for Tuesday.
Weston endured a couple more nights of pain and little sleep. Early Sunday morning, Weston had enough. He woke Carly from a deep sleep and asked her to take him to the ER once again. This time they ordered the CT scan.
A mass of some sorts was discovered in Weston's head. The doctors speculated that it could be a brain tumor. As young as Weston was, with no prior trauma to his head, they didn't think it could be brain bleeding. They ordered an MRI shortly after and it was discovered that Weston had a subdural hematoma. As soon as they made the diagnosis a neurosurgeon was in front of him telling him he'd be going into emergency surgery.
Weston didn't truly understand the depth of the situation until he woke after surgery smiling and looking at his family and friends. The doctors had done a burr hole evacuation to drain the blood pooling in his brain. From there they left a tube from the area being drained in the skull to a small resevoir.
Weston's "Brain Drain"
Post-Op and post "brain drain" removal. Weston has 7 staples on the first section, 2 stitches where the drain was, and 7 more staples on the final section.
Initially the doctors reported about 50 cc of blood had burst from his skull when they made the hole for the drain. After that, over the course of a 24 hour horizontal bed rest, the resevoir they connected to the drainage tube collected another comparable amount of blood from Weston's skull.
After the surgery, Weston would not stop talking. He had been given new life. He was no longer feeling this crushing weight on his brain. He could look into lights without debilitating pain and he could finally interact with people and his environment without feeling crippled. He talked to everyone that came into that room and hardly took a break. He didn't sleep that much the next two nights in the hospital bed but he would never complain about that after what he had been through.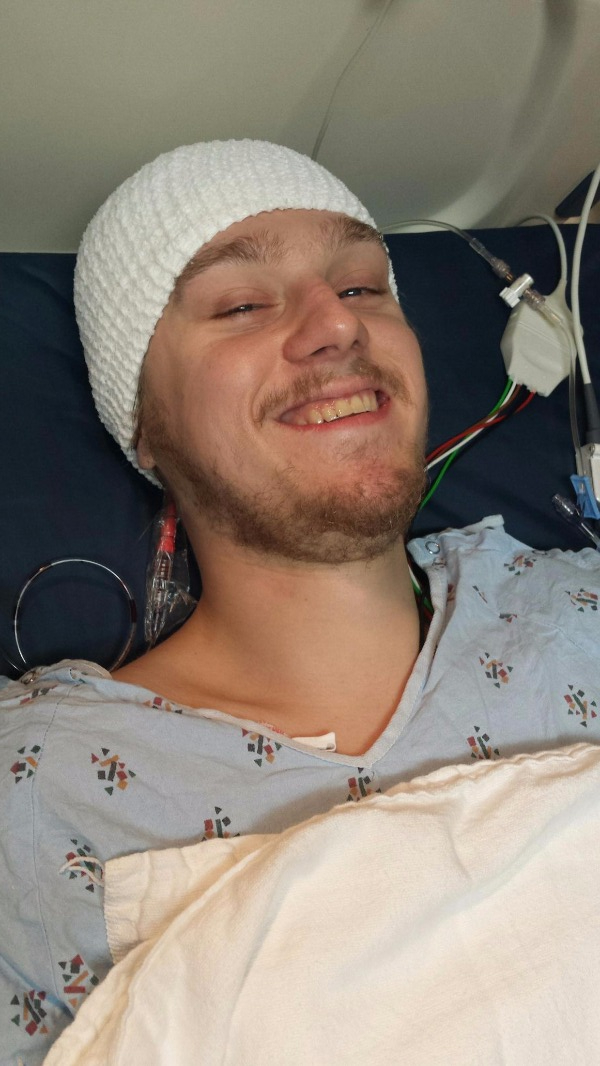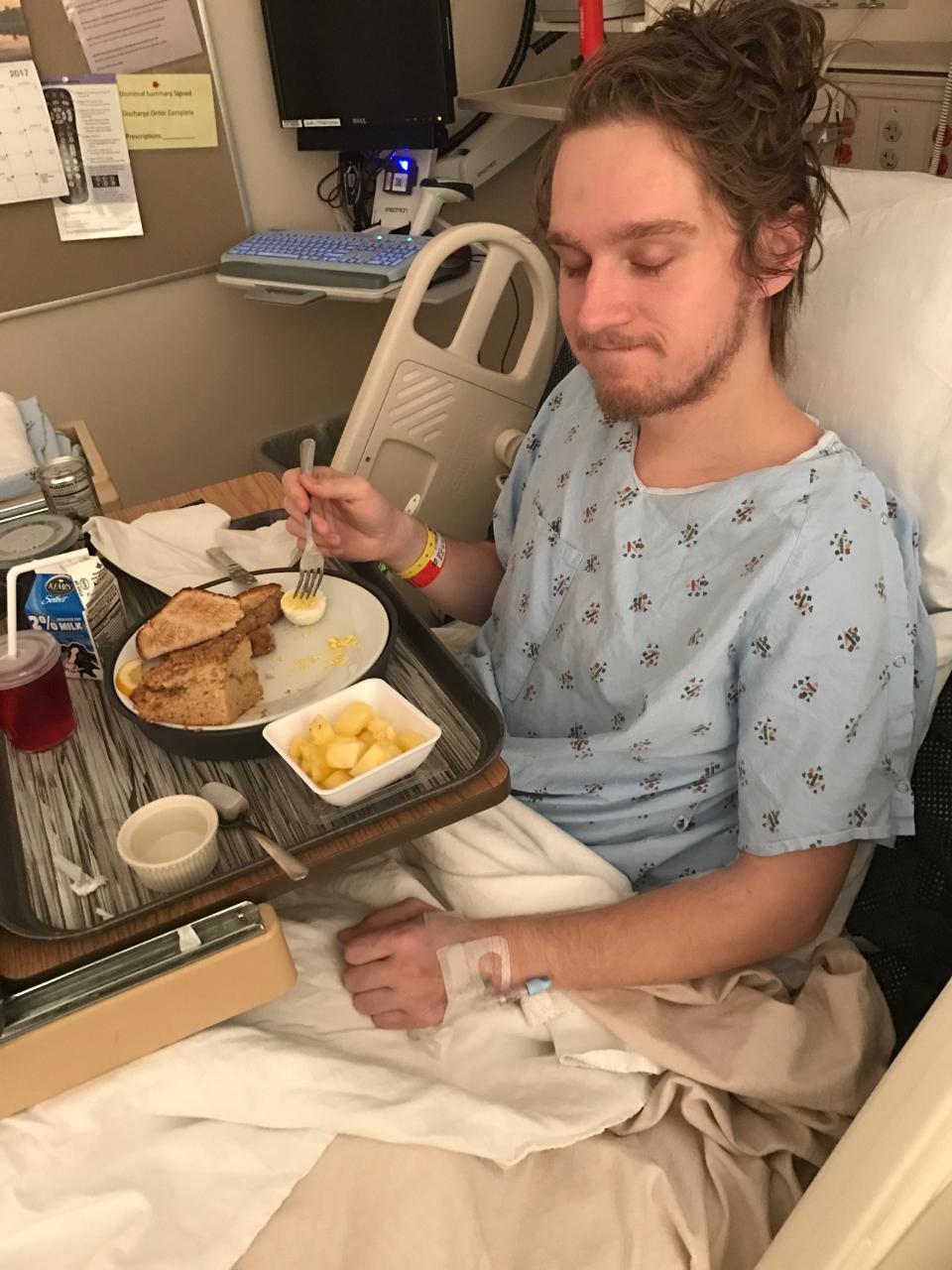 Once the hospital staff moved Weston out of the ICU he was able to walk around again. And show off his head a little more.
Weston returned home late Tuesday morning, slept for a few hours, ate lunch and went to bed early getting another 12-13 hours of sleep. The next morning, the first thing he did was get a sweet new haircut.
We could not be happier...
The whole experience has taught Weston and his family so much. I know I'm not speaking for just a few people when I say "We love you, Weston". We are all so glad you came out of this on top and we want to do everything in our power to help you through the weeks to come. You have some recovery to do. I know you are excited about how good you feel but please, don't over do it.
If anyone has anything else they would like to share about Weston's story, please let us know by contacting us on Facebook, e-mail, or postage. We will give you any contact media you request.
We love you all so much and are so grateful for each and every one of you,
Love,
The Holley Family

Organizer
#1 fundraising platform

More people start fundraisers on GoFundMe than on any other platform. Learn more

GoFundMe Guarantee

In the rare case something isn't right, we will work with you to determine if misuse occurred. Learn more

Expert advice, 24/7

Contact us with your questions and we'll answer, day or night. Learn more