Friends, family and caring supporters,
The Williams family of Wild Rose are graciously asking for your help and support for little Weston Crist, a member of our family.  Weston is just 19 months old and was recently diagnosed with a form of cancer called Neuroblastoma. Unfortunately it's a high risk cancer.
First, we ask that you add Weston into your prayers. Miracles happen every day; your prayers and positive thoughts are both needed and greatly appreciated.  Secondly, if you are able, please become a 
"Warrior for Weston"
by making a donation to the "Weston Crist Family Fund".  There is no amount too small. Anything you can give these young parents will help them as they take time off from work to care for their son during this critical time.   
Let us tell you about Weston and his family. 
When Ashlay and Aaron Crist of Weyauwega, WI found one another, they were overjoyed to have met their true soul mate; sharing the love of the outdoors, camping, fishing and just hanging out by a campfire. They were married in the Fall of 2013 and began the next chapter of their lives as a team. Little did they know, the love and companionship they had found wouldn't compare to the joy they experienced in April of 2015 when they were blessed with the arrival of their only child Weston. The focus of Ashlay and Aaron now became this little man.
Fast forward to Halloween 2016… Look at this face!  Who would have imagined that at the time of witches, goblins and all things scary, a true monster was lurking within Weston that would turn this wonderful family's lives upside down emotionally, physically and financially?
On Tuesday, November 22, 2016 Weston was taken to the emergency room at ThedaCare Medical Center-New London to quickly be transferred to Children's Hospital of Wisconsin, Fox Cities located on the ThedaCare Regional Medical Center-Neenah campus.  They found a large tumor in his tummy. His serious medical needs sent him to Children's Hospital of Wisconsin in Milwaukee by ambulance. There, Weston is under the care of amazing doctors and nurses who discovered that Weston is facing the aggressive and frightening form of cancer called Neuroblastoma.  Weston's Tumor is 4.33 inches and located in his stomach surrounding his adrenal gland. Weston's chemo begins on December  12th and he has a very long journey including surgery in his future. 
The Crist family will be burdened with mounting and growing medical bills, transportation costs, along with daily and monthly living expenses. They need to be with Weston and Weston needs them, so their ability to be at their jobs will be compromised.
That's why we are asking you to become a
"Warrior for Weston"
by giving what you can.  Your generosity is an amazing blessing and VERY much appreciated. 
Thank you & God Bless. 
 –The Williams Family
   Wild Rose, Wisconsin
Weston's dear stuffed friend "Jerry Giraffe" is close by his side.
Weston  and his parents at Lambeau Field from a few months ago as they enjoyed a family day with Aaron's Mom, (Lynn Crist) sister, brother-in-law and nephews (Angela, Tim, Dominic & Robbie Stearns).  It's a wonderful memory that they are cherishing during this difficult time.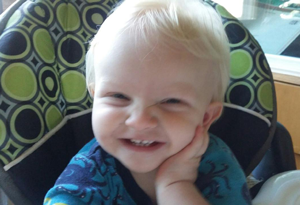 Ashlay's sisters, Lindsay and Alyson Breitzman and Logan Schommer are taking care of the Crist home in Weyauwega and providing much needed support. This is a favorite photo of Weston they wanted to share.