Webster Court Project Closing Party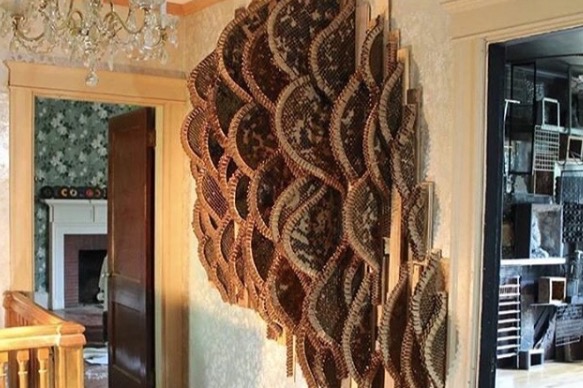 "Honey Systems" By Sofia Plater at the Webster Court Project in Newton
An old Victorian house sits vacant in Newton, Massachusetts. Within the creaky walls and the overgrown lawn are dust-coated cabinets, ornate wallpaper, and fireplaces with coals preserved. Transformed by a collective of Boston-based artists, the house celebrates its history while simultaneously challenging concepts of home, environment, and identity. Using photography, painting, installation, video, performance, and other media to offer a wide array of perspectives, these artists are challenging the viewer to re-contextualize their idea of home. 
On June 30th of this year, we opened our doors to the Greater Boston community. With over 150 attendees, we all joined together to make connections, foster creativity, and question the place of art in Newton and beyond. 
We would like to make our next and final event bigger than the last, but we need your help.
On
September 29th
we will be saying our formal goodbye to Webster Court with a closing reception. Featuring the artists from the opening reception, we are adding several new Boston based artists to the project as well as local musicians. This will be an all day event with refreshments, music, art performances, and exploration of the art and installations around the Webster Court house.
In addition, we are organizing a collaborative art piece that will be fun for the entire family. We value the connections we make here in Newton and wish to create some artwork with you. 

The artists of Webster Court kindly ask for your financial support to:
-Further promote our event in the greater New England area
    This would include flyers, postcards, and possibly ads on social media to boost awareness of the event  
 -Fund a book to chronicle the process and results of this creative endeavor 
    The book will be included in the list of donor rewards. It will also serve as a permanent element of the work that was created here and the events hosted by The Webster Court Project. When the house is gone, we will have this book as a means of remembrance    
Our success relies on your generosity. In a time where the artistic community of Greater Boston is being pushed out from rising housing and studio costs, the artists and supporters of The Webster Court Project cannot financially throw this amazing event without assistance.  From all of us here in Newton and beyond, the journey to create the artwork, connections, and community are worth every penny. Please consider donating what you can to this ephemeral, culturally rich space.
Rewards for donors!
"(Re)generation" by Evan Blackwell at the Webster Court Project in Newton
So please donate and join us September 29th in Newton for a free all day event:

Fundraising team: Webster Court (2)
Krystle Colleen Brown 
Organizer
Jamaica Plain, MA
Joelle Zakak 
Team member
Raised $2,086 from 24 donations