We stand with Momodou from The Gambia.
To donate via Paypal, use this link:

https://www.paypal.me/skoafrican



About Momodou
To experience people, their emotions and their deepest beliefs, is always an intense feeling that stays in your mind and your heart forever.
Momodou Sey from The Gambia is one of those personalities, that will make you shake your head and ask yourself how this generous, powerful and open-hearted light can arise through all this cruel exploitation, misery and hardship.
One of his many decisions makes it very clear:
The last day, before our team left The Gambia, we agreed on giving Momodou 100 $ so that he can receive some regenerational massage treatments. He was overwhelmed and accepted the money so gratefully. Later we saw how he joined his teammates, sat with them and shared his money amongst all of them equally.
This serious moment was filled with an endless touching and heartbreaking depth and it showed us: One action can tell a million dynamics about a person.
photo by Jennifer Tuffour
The Tragedy 
Momodou Sey is the HOPE of The Gambian people.
He is only 20 years old and is already the best sprinter of his nation.
(10,56 sec- 100m; 20,96 sec 200m)
photo by Jennifer Tuffour
Until the day we met him, he never owned a new pair of spikes. We were speechless about the condition of his other sports shoes. It seemed quite amazing to see his great sprinting ability arise despite his second hand, worn out spikes. 
We were happy to give him brand-new spikes for the very first time.
When we sat down together, we were curious about his circumstances and he told us a story, which not everyone can bear. 
photo by Jennifer Tuffour
After having this conversation with him, we knew we can not leave him behind without trying to profoundly help. 
Right now, Momodou trains. Every day. He has a dream that is lightening up the spark within him, and his dream is becoming an Olympian. He is working to achieve this- to finally ascend a pride in his country. He is doing it for the people of The Gambia. 
All kids and athletes look up to him, they see his talent and his rising light. 
photo by Jennifer Tuffour
His school, his town, his parents, brothers, cousins and friends support him with all they have.
They do what is in their power- they pray for him. But they all know that there is something cutting his light. Something that right now is cutting all their talented kids lights.
It is the lack of resources.
photo by Jennifer Tuffour
Right now Momodou trains without any regenerational resources- he has no physio therapy, no massage therapy, no nutritionist, no ice treatment, no supplements, nor enough money to buy varied foods and he sleeps on a small mattress on the floor.
Thinking about these conditions he lives in and him being only 0.72 seconds away from the 200m qualifying standard for the Olympics is mind-blowing.
photo by Jennifer Tuffour
The big tragedy about a circumstance like that, is feeling how close you are to your ultimate goal in life. The goal which would change your whole life and the lives of all people around you, who are praying for you and praying for their country to be blessed with blissfulness, euphoria and happiness. Blessed with hope for their children, which you can spark in them. 
But for this, you will consequently need the proper professional preparation. And the time is running.
If 5.000 people donate 5 $, WE WILL MAKE HIS DREAM HAPPEN.
About us
After leaving Momodou and The Gambia, we knew we can not leave him behind without doing everything in our power to make him join the Olympic Team.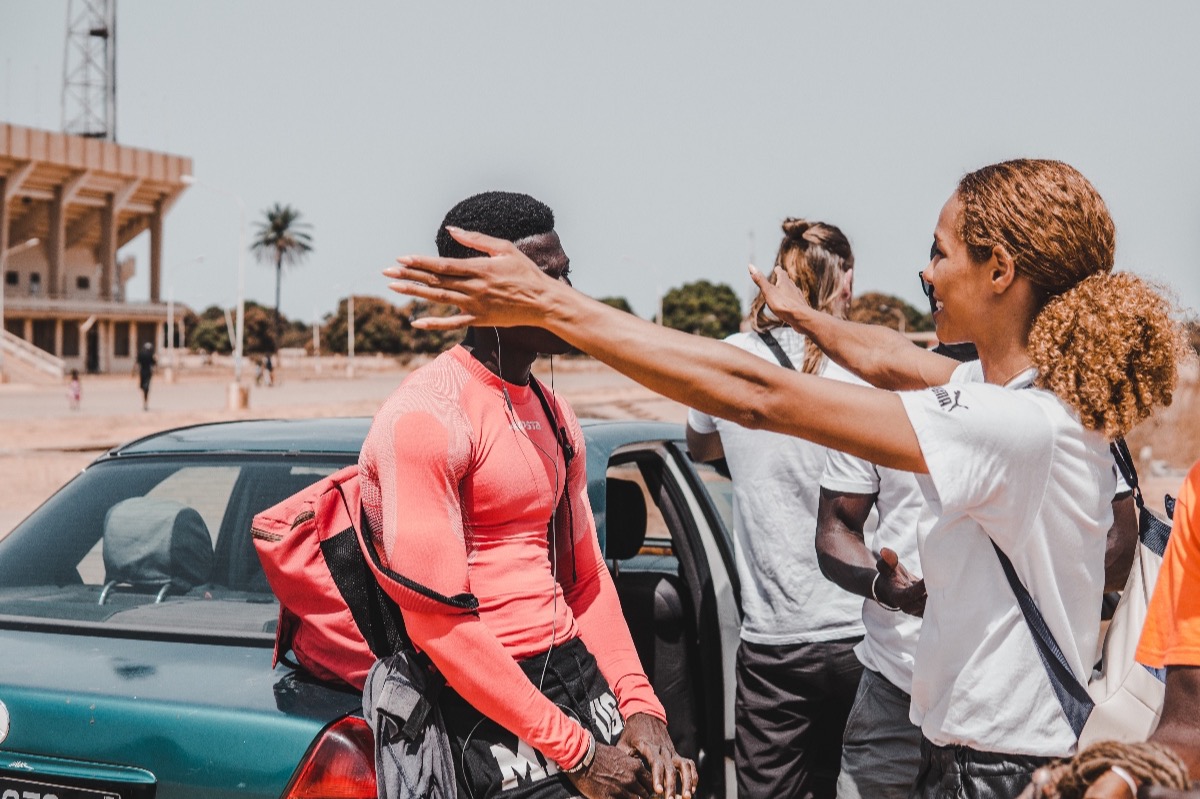 photo by Jennifer Tuffour
Since we are also two German professional athletes with African decsend (Joshiko Saibou, National Team Basketball Player and Alexandra Wester, Olympian in the Long Jump), we know and feel the deeply driving will to unleash your full athletic potential.
photo: Martin Vogel (l.), Axel Kohring @beautifulsports (r.)
We knew, everyone can make a change for the kids in this world, who live in unfair conditions. So we started our first project "Smiling Kids of Africa" December 2018 by collecting over 600 pairs of sports shoes in Berlin, Germany and handing them out to small kids and young athletes in The Gambia- Alexandra's country of birth. This experience sharpened our entire perception of the tragedy arising from ongoing exploitation.

After this project it was clear for us, that we want to help develop the next generation by creating the right surroundings for local role models to rise.
These children need role models they can look up to, identify with and furthermore take on the belief that their spark can lighten up, too.
photo by Jennifer Tuffour
Momodou Sey is that role model we want to help now.
For this, we will need every single one of you, reading this right now.
The Plan
With your help, Momodou will be able to precisely and professionally train for 5 intense months with Worldclass Sprints Coach Danny Williams (trained 17 Olympians throughout his career) at the US Training Centre in San Luis Obispo, California. He will join the training group of Alexandra Wester, with her being his Mentor. He will have a professional recovery program designed for him, including Physiotherapy, Chiropractic, Infrared Sauna, Cryotherapy, Nutritional Guidance and Mental Coaching. A camera team will accompany him on his empowering road to Tokyo.
Then, in June 2020, the African Championships will take place in Algeria and will be his ultimate competition to qualify for the Olympic Games in Tokyo, July/August 2020.
Do you believe in the power of hope?
MAKE.THIS.HAPPEN.
#MomodouSeyfromtheGambia
If Momodou makes it to the OLYMPIC GAMES next year, you have been a part of it!! How proud can not only his own country, but people all over the world be of him? How much hope can this generate in thousands and even millions of peoples lives?
Turning the tragedy of a life into a BLESSING for so many was worth for us investing in Momodou from The Gambia. 
Now it's your turn.
We want to see and acknowledge EVERY single one of you.
Whatever you donate, if it is 5 $ or 50 $ - do a screenshot, upload it in your Instagram story and tag us- @smilingkidsofafrica !!
Not only will we see you, OTHERS see that it doesn't take much to just donate. Everybody got Paypal nowadays, it takes 2 minutes. And will change the life of an over-the-top talented athlete from The Gambia!! ✊
#childrenneedhope #childrenneedheroes #WestandwithMomodou.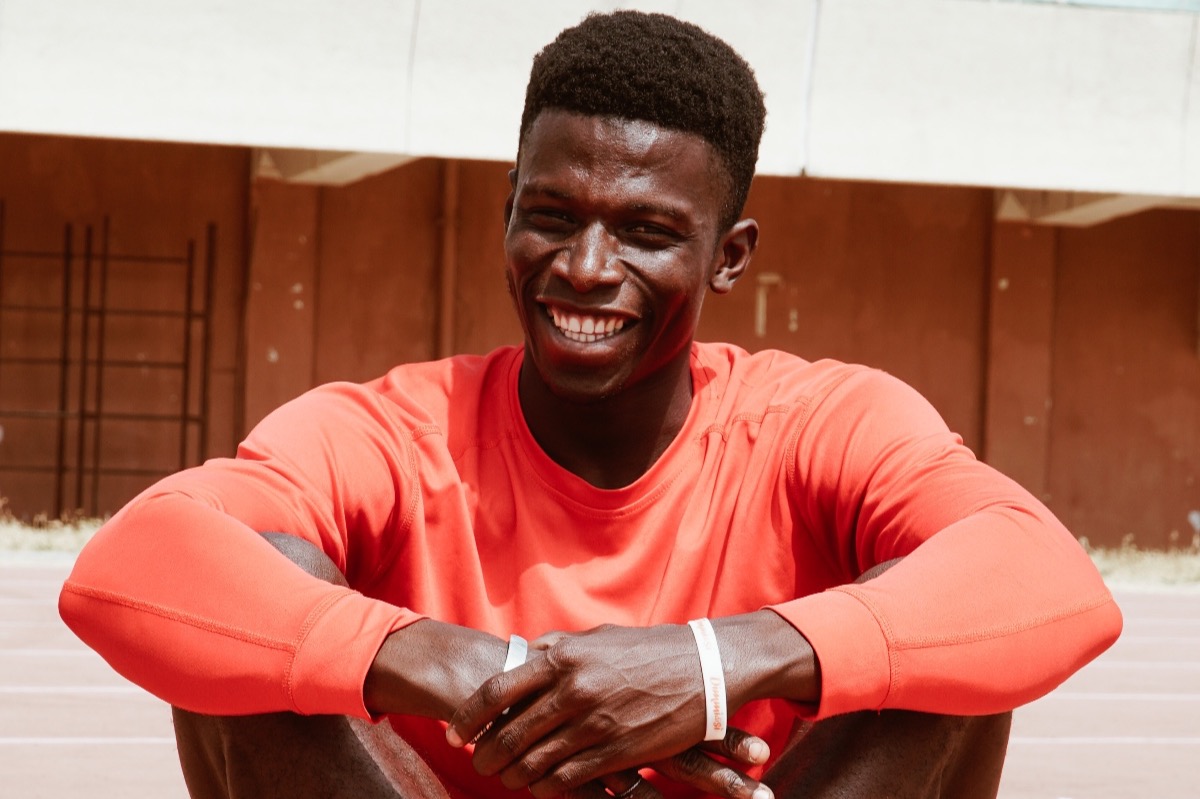 Finances
Coaching and Recovery Program
- 3.200€/ month
Housing
- 800$/month
Insurance
- 320$/month
Provisions
- 600$/month
Training Camp duration-
January 2020- May 2020
Joshiko, Alexandra and partners decided to invest in Momodous flights, visa and other expenses.
Now it's on you.
Fundraising team: Smiling Kids of Africa (3)
Alexandra Wester 
Organizer
Raised $5,420 from 63 donations
Joshiko Saibou 
Team member
Raised $410 from 13 donations