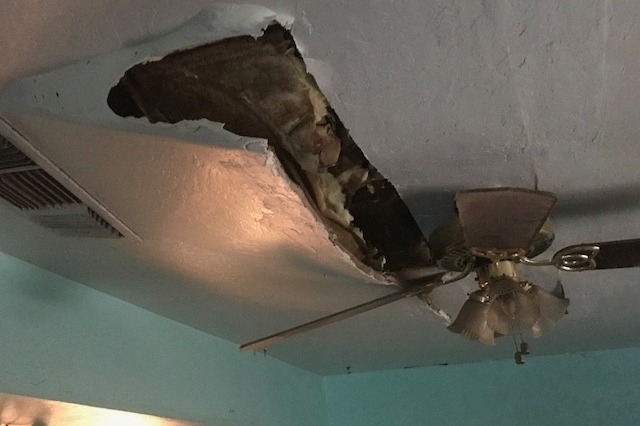 We are Great Grandparents who just finished adopting four beautiful great grandchildren. On July 30, Our home was severely damaged by rain and wind in an Arizona Monsoon Storm.   School has just started and our new family is suffering in the AZ Summer heat. Our insurance company is doing their best, but it has been a month and we are still living in a mess. The heat in the house during the afternoon between 3:00pm to 6:00pm can reach over 110 degrees.
Then on August 13 the main drain pipe to the Sewer broke. The dirty and filthy sewage and drain water went thru the Kitchen and into the dining room. This ruined our Kitchen and dining room. Asbestos was found in the walls and flooring. Therefore, it all has to be removed by workers wearing hazmat suits and masks. They also have to put air filters in the house to remove all the asbestos particles from the air. During the cleanup, our kitchen and dining room need to be quarantined.
We have to replace all the kitchen cabinets and flooring in the kitchen and dining room. In addition, we must  replace the old furniture that is full of mold and mildew.  It really smells bad.  
Our insurance will only cover about 25% of the Storm and Drain Pipe damage. Plus, they are not covering the Living Room, Hallway, Outside Wall damage, furniture, window replacement and air conditioner replacement.
 We are grateful cancer survivors and are fortunate to be able to provide for our Great Grandchildren. As a part of our Ministry each week, we pick-up and help distribute food to poor families. Last year we were able to provide over 16,000 pounds of food to feed needy families. These two emergencies back-to-back have set us back financially. The estimates for the Construction costs alone are over $35,000 after the insurance payments. 
We had our 54th Wedding Anniversary in June. We had three boys of our own and then adopted a daughter, which we lost in January of 2015. We have a Grand Daughter that will be 17 in October, which we have raised since she was two and recently adopted four Great Grand Children ages 5, 9, 10 and 11.
 After surviving cancer, which we were diagnosed with about two years apart, we have dedicated most of our time to kids and families that are in need. We also work with Athletes International to provide sports programs for kids. There has NEVER been a child turned down because they could not pay. 
Now we find ourselves in need of help and are reaching out to all of you in the hope that you will be able to help us restore our home to provide a clean and safe environment for our family. 
A donation in any amount will be greatly appreciated.  
Thank You for your prayerful consideration

Organizer