Will Draw for Common Sense
***
Update: $25 donation level is all sold out! The new minimum donation is $35. 
***
Drawing to benefit who?
This year Will Draw for Good will support Everytown for Gun Safety 's mission to make our communities safer. As a country, we have the opportunity to take common sense steps — like ensuring background checks for all gun sales — that will reduce gun violence and save lives.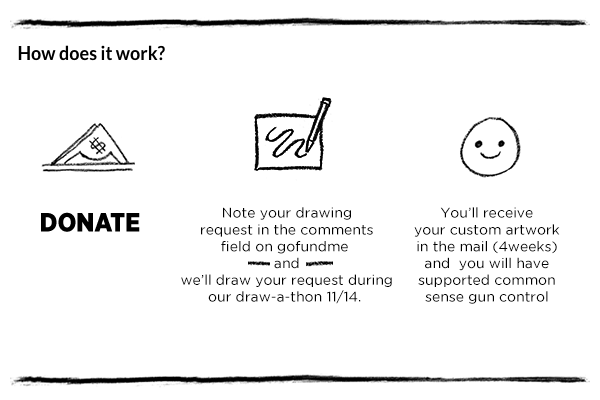 1. Make a donation right here on GoFundMe. Minimum donation is $25. There is a limit to those who get drawings so donate early! 
2. Submit your drawing request in the comments. This year we are asking you to send us a nonsense drawing request (in support of common sense!) 
3. One of our artists will randomly select your drawing request and complete it during our draw-a-thon on Saturday November 14  2015.
4. We post the art on tumblr as soon as they're finished. Live blogging happens on the day of the event.

5. The drawings are put in the mail 3-4 weeks later.


What kind of drawing do I request?
So, in support of common sense we'll draw your nonsense! Donate to Everytown via our Will Draw fo Good fundraiser on GoFundMe and request something nonsensical for us to draw. For example: animal mashups, food kaijus, terrible puns - will all be turned into a custom piece of artwork just for you. Let's be silly with art, not with our safety.




p.s. - If you aren't feeling nonesensical just tell us something that you love. Favorite food, your pet turtle, that one awesome New Order song....

When should I make my donation?
We will be accepting donations NOW through 5pm on November 14th 2015 (the day of our draw-a-thon). Don't wait to donate! This year we have put a limit on the number of drawings that can be requested. $25 is the minimum donation.
Are there rewards for donating more than $25?
Nope. We set up different requested donation amounts and quantities to help hit our target and to offer levels to match every budget - but there are no additional rewards.
As a thank you everyone will have a randomly selected artist complete their request, and this original art will be sent to you. Please note, this is not about buying art - it is about making a donation to a cause. We give you our best work but we don't allow refunds or anything if the drawing isn't exactly as you imagined. 

Why is this important to our artists, to our communities and honestly to every single person in this country? 
Because we simply can't stand to hear these stories on the news of senseless violence caused by guns, to witness these grieving families and communities and not do anything about it. As artists - drawing for this cause is our way of putting our best skills to use. Every new tragedy is a failure of action to implement some common sense gun control laws. We simply can't sit and watch this unfold anymore.

Who is running this thing?
OrangeYouGlad is a design studio in Brooklyn. Will Draw for Good is their annual charitable event and labor of love.


Full FAQs:
For the FAQs which includes classics like "So, do I own this artwork?", "When will I receive my artwork?" "I'm an artist - can I come?" "What if I have a really complicated drawing request?" 
Organizer
Tammy Duncan
Organizer
Brooklyn, NY
United Against Illegal Guns Support Fund
Registered nonprofit
Donations are typically 100% tax deductible in the US.