Commonwealth Powerlifting Championships - Canada
Hey! I'm Nicola, I'm 33 years old. A mum to my 2 year old son Albie and a part time paramedic, in my spare time I train hard and life heavy weights. 
I have been selected to represent England in the 2019 Commonwealth Powerlifting Championships. This year they are being held in New Foundland - Canada, and are running from the 16th-21st Sept this year!!! 
I was selected only a few weeks ago so the pressure is on to get the funding I need to be able to go.
This will be my first ever international championships and possibly a once in a lifetime opportunity. To represent my country in sport is a dream come true, never in my life did I ever think something like this would happen. It's truly a proud and honourable moment, one that I feel I just can't pass up.
I've worked out in order to go and be the best I can be, I need to raise £2500. This will cover my return flight, transfers, accommodation, travel insurance, entrance and dope testing fees, coaching and some replacement kit. Any donations towards this goal will be a huge help, I'll be eternally thankful and hopefully do you all proud once I'm there. I know I will do everything within my control to be the absolute best I can be!
MY BACKSTORY...
I started powerlifting in 2016, I was working out in my friends gym (Bicester Boxing Club) as I had done on/off for many years. Logan (who is the brother of Bicester Boxing Clubs owner and the head coach and owner of his own fitness company 'Apex Strength and Performance') approached me and encouraged me to try one of the strength classes he was running at the time. I did and haven't really looked back, I was still playing hockey at that time so was using the strength training to assist my hockey training which it did wonders for.
Logan encouraged to me enter a regional powerlifting competition, which I did and after only a few weeks on one of his training programs I finished 2nd and broke the regional squat record with 140kg. It was after that I realised I needed to give powerlifting the time and commitment it deserved as I kept being told I had real potential - looking back the signs were there. My dad always asked me to help him move furniture or fridges etc growing up, as out of the three women he lived with I seemed to be the obvious choice. It was a party trick that I could pick any man/woman up on my shoulders and squat them. During my years as an outward bound instructor I would carry as much kit as anyone else and often be asked to do some digging of some sort or another. I've still not forgiven my manager at the time (Shane Parker) although maybe I should be thanking him and all the others now.
Anyway, I made a huge decision to take a break from hockey and focus solely on powerlifting. At my first ever regional competition in April 2016 I qualified to compete at the 2017 English Championships - amazing!!
Also at this time my now husband had asked me to marry him, we were newly engaged and not wanting to wait to start a family I fell pregnant. I told my coach the "good" news that I was pregnant but that I wouldn't be competing in the 2017 English Championships. I trained throughout my pregnancy and did up until around 36 weeks, I then returned to training properly once Albie was around 6 months old and I'd had my wedding (those things take up a lot of a brides time).
It was time to get back on the platform, In January 2018 after around 3 months of training after my return to the gym, I competed in another regional competition. This time in a higher weight category (thanks Albie), I finished 3rd, set new personal bests and broke the squat record with 160kg. Oh and I also qualified for the English Championships later that year... fantastic!! Not content with being in the higher weight category I cut 10kg and entered another regional competition to qualify which I did.
Finally after 2 years, I finished what I started and competed in my first English Championships. I came 3rd, set new personal bests and broke the English squat record with 165kg.
At the end of 2018 I competed in another regional competition in order to qualify for the 2019 English Championships, I lifted enough at this competition to not only qualify me for the English but also the British Championships which were earlier this year. This was something I hadn't even set my sights on let alone go on to get selected for the commonwealth!
I gave a good performance at the British Championships and was so proud to share a platform with the strongest women in Britain and have it shown live on YouTube via GBpowerfed. The support I received was phenomenal and I finished a respectable 6th, honestly I was aiming for 5th but 6th was the rightful place on the day. It was at this Championships where I felt a fire ignite inside me and I knew I wanted more from this sport. I had broken records but I hadn't yet stood on top of the podium and I knew that's what I wanted next and I wanted it at the English.
Finally the day arrived, I had done everything in my power to be ready for this competition and I felt my absolute best from start to finish. Everything fell into place and I finished 1st, my lifts on the day were:
180kg Squat (new record & personal best),
80kg Bench (personal best),
175kg Deadlift (personal best),
435kg Total (new record and personal best).
My BEST EVER performance to date and it felt out of this world!!!! Fast forward a few weeks and I received an email informing me I'd "been selected to represent England and the forthcoming Commonwealth Powerlifting Championships".
Wow!!!!
Thank you for taking the time to look at my 'go fund me' page and read my story, I'm going to document my journey as best I can on here and via my
Instagram
 and
Facebook
 account. I'd love it if you followed my journey, I'd love it even more if you helped me on my way.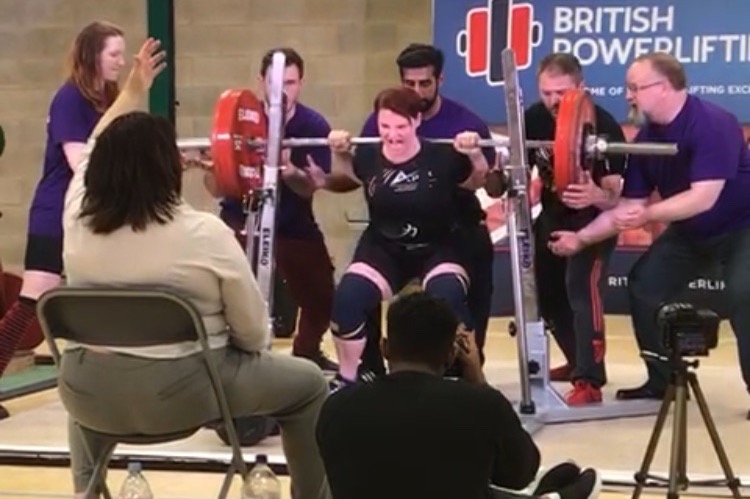 English Championships 2019 - 180kg Squat
English Championships 2019 - 175kg Deadlift
English Championships 2019 - 1st Place!
Participation medal from the 2019 British Championships - Finished 6th place.
What training sessions can sometimes look like. 
The best email I have ever received.
Organizer
Nicola Stimpson
Organizer
Merton Way, Yarnton, Kidlington