Veteran Maritime Warrior Project
Vessel for the Maritime Warrior Wellness Project. 
The first project of its kind where veterans can participate, up skill and if they wish give back to community in our philanthropy Maritime Warrior days. 
We're raising funds
to go directly in the operation of a vessel to be crewed and maintained by ex-military & 000
/ 911 first responder
veterans (Maritime Warriors) and their families
. 
Our mission is to give serving & ex-service members, returned, wounded, injured and ill veterans a place to come and unwind, relax and /or discover a new purpose or direction in life. 
We offer a non-judgemental place while having an opportunity to gain experience and qualifications in a field away from the 'field'.   The upskilled veterans will in turn crew the vessel for commercial operations within the tourism sector. 
Social responsibility
will see us give back to community by hosting not-for-profits on regular free charter days and fund raising events, this will be funded from the t
ourism charter side of the operation.

Project participants
will again be working in a challenging, rewarding but an enjoyable team environment.  The same environment a lot of us struggled to find after service life.
It's well recognised
that the outdoors and in particularly the water provide physical, mental and emotional therapy for people.  Crewing, navigating, shipboard safety, sailing, small boat handling and marine engineering are just a number of skills which are learnt, and each come with formal qualifications.  These can give someone a purpose which leads to self-worth, this can be a coping mechanism when struggling the long-term effects of injury, anxiety, depression or PTSD. 
We'll guide, train and upskill
crew on the pathway of attaining marine qualifications for possible careers in the maritime industry.  This is a practical, well structured project which does not stop after a days sailing or cruising. 
Crew remaining 'onboard'
will rotate through paid and volunteer positions during their upskilling period.  Warriors will
pass on the knowledge by conducting recreational power boat and jet ski licences to 'new' members, this includes immediate family members at cost.  Our intent is to open these courses to the general public as a revenue raising venture.
Not upskilling? 
Warriors can simply cruise with us on our tourist days (free of charge
by entering a unique code on our online booking system
).  they can relax and soak up the vitamin D while listening to the sounds of water lapping against the hull or increase their competence levels and sea-time required for their qualifications.   Again, immediate family or support person at cost.
The Crew
, have all worked in high tempo and stressful environments.  They understand the demanding expectations and responsibility to continually perform at the highest levels.  They also understand that working continually under pressure can take its toll.
Appreciating the importance
of individual and family wellness and life work balance, we're in good stead to guide other veterans and their families on the same journey thus allowing them to have a relaxed and fulfilling day with us.
Our team will guide tourists
and corporate customers on charters which will help fund our philanthropy days.  Our tourism operations will include island adventures, whale watching, overnight snorkel tours of reefs and wrecks, private parties, corporate functions etc.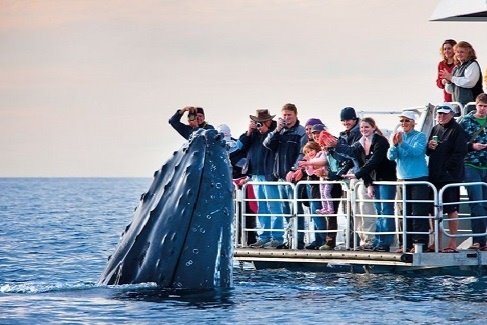 Philanthropy Maritime Warrior days
will see us host twelve+ not-for-profit organisations, each enjoying a free day charter designed for their 'clients' once a quarter.  They will then have full and free use of the crewed vessel that night to conduct a fundraising sunset wine and cheese event (or cocktail party).  As the operation matures we aim to double our philanthropy days. 
Not-for-profit organisations
initially supporting includes Rural Aid (Buy a Bale),
Soldier On,
Children's Hospital Foundation,
Wounded Hero's,
Wandering Warriors, Variety Club, Mates4Mates, Legacy, Salvation Army, Navy Clearance Divers Trust, The Special Air Service Resources Fund. 
Bio - Grant's a returned veteran
who served as a Navy Clearance Diver then jumped ship and deployed on multiple operations including Afghanistan as an SAS Soldier.  After leaving full time service he worked in tourism as a Sea World Diver.  He'll be skippering the project with support from him wife Deb, head of customer service and crew lead.  Deb comes from a family rich in military history, which includes both parents who served in the Air Force.
Grant's currently attached
to a Soldier Recovery Centre as a reservist supporting serving members through holistic wellness programs.  Members present with a range of issues in the wounded, injured and ill space, usually complex cases which are too difficult to be manage in their own units.  When guiding troops through a range of off-base activities
Grant noted positive changes in mindset
when in and around water and the great outdoors.  The Maritime Warrior project want to amplified this through the Project. 


Grants civi job
has him working mostly in the victims of crime space, usually in high risk domestic or family violence cases.  He sees first hand how the philanthropy sector drives change and has a positive influence on people's lives hence the thirst to help others.
This is where YOU come in
, to show our deepest appreciation when you contribute $$ you'll be known as a 'Plank Owner'.  In recognition of our partnership, you'll receive rite of passage on the Maritime Warrior yacht for charters to the value of your contribution by entering a redeemable code when booking online
(i.e. pre-ticket sale)
, or gift your tickets to one of our supported charities through our gift and recognition portal. 
You'll be presented
a serial numbered plank owners 'challenge coin' and crew T shirt in person on launch day (or by mail anywhere in the world), serial numbered coins will be presented in sequential order starting with the largest donation down to date order (donations $75 & over).  All accumulated donations will remain in trust until such time those funds are accessed for launch.
Senator Stuart Robert MP
, member for Fadden (Gold Coast) is a returned veteran.  The Senator has extensive experience in Veteran Affairs and very supportive of veteran activities.  We fully intend to leverage off him for support and reach into the community. 
3 years of planning
, this project has matured from conception to full business model, including our own upskilling.  Our goal is to be fully operational by Xmas 2019.  The
Invictus Games
October 2018 held in Sydney, Australia continually raised awareness of veteran activities.  
PLEASE share this unique campaign :)
www.maritimewarrior.org
https://www.facebook.com/MaritimeWarrior
https://www.instagram.com/maritime_warrior
SUPPORT THOSE WHO SUPPORT THOSE IN NEED
...……….. 
Photos courteous of (in order of appearance);
- ADBR - The British crew of the Invictus Games Sydney 2018
- Veterans on tall ship, Turn to Starboard crew set sail on round-Britain challenge - photo Mark Hardaker
- Chart work, OCC Sailing
- Sydney harbour, Clipper Around the World
- Whale watching, Queensland Blog
- Tallship training, Sail World and OHPRI
- Engine room checks, Steve D'Antonio Marine Consulting
- Prince Harry, Dean Lewins AAP
-
Tangalooma wrecks, Queensland Blog
- Engine room training, The Woods Hole Oceanographic Institution 
- Team SCA Women_Mizzfit
- Boat repairs, Xtreme Marine
- Emergency training, Grant Monaghan
- On watch, Grant Monaghan

Fundraising team: Grant & Deb Monaghan (2)