Husky Table Tennis to NCTTA Champs
Help the Husky Table Tennis Team (University of Washington) go to the NCTTA Championships!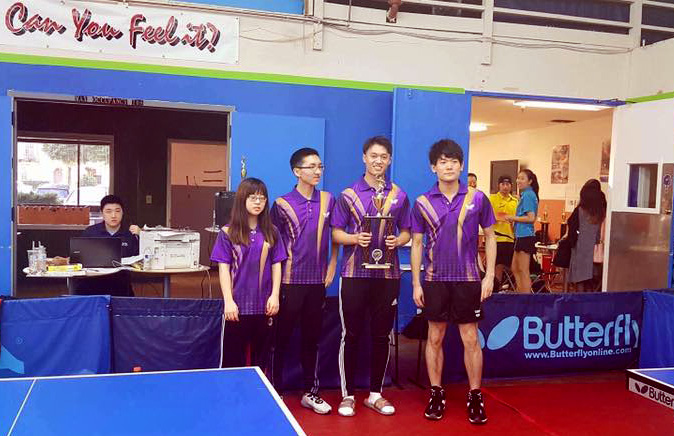 We are the Husky Table Tennis Club at the University of Washington. Last year, we had quite a strong team, and we made it to the quarterfinals of the NCTTA (National Collegiate Table Tennis Association) West Regional Championships, where we faced eventual champions UC Berkeley.
This year,
 there is even more excitement and potential to achieve far more than we ever have before. Our women's team is currently ranked number 4 in the nation by team rating, with two of our players rated around USATT 2100. So far in the Northwest Division, our women's team won 1st place consecutively, claiming victory in the final contest 4-0 in the first series, then 3-1 in the second. This will be the first time that a women's team will represent the University of Washington in an NCTTA Championship tournament since 2010. We hope to use this opportunity to make a very strong showing at the West Regional Championship, and potentially the NCTTA Nationals this year, with a team far stronger than ever before.
Team lineup:
Billy Ding, Sherman Chen, Reda Ali, Mengqi Han, Emma Liao, Siying Chen, Utako Kase, Tejasvini Sareen, Akshit Arora 


On the men's side, our team features US National Team member Billy Ding. He has represented the country for many years in the past, most recently in the 2017 Summer Universiade in Taiwan this past summer, which is the highest level of sport competition among college athletes in the world. 
The Husky Table Tennis Club
is a student-run organization at the University of Washington. In most years, we have only participated in Northwest division tournaments twice a year, which have usually been hosted at UW in the past few years. Our membership size is usually around 40-60, although these numbers have been growing very quickly in recent years. Every year, we receive some funding from the school, but it is very limited, and these funds are often depleted quickly by the numerous clubs on campus. 
We are very excited to have the chance to compete at the NCTTA Championships this year, but it does take a lot financially to make the trip possible. We would greatly appreciate a gift of any amount, and you will forever be remembered by us! Thanks so much for your support!
The full productivity of your donations:
Airfare per team member to San Diego: $300 
 Total hotel cost (2 nights): $450
Ground transportation: $100
Regionals registration (Coed team): $100
Regionals registration (Women's team): $50
(Total for San Diego: ¬$2500)
If we qualify for the National Championships, here is the breakdown for the trip to Round Rock, Texas:
Airfare per team member to Round Rock/Austin : $400
Total hotel cost (3 nights): $540
Regionals registration (Coed team): $275
Regionals registration (Women's team): $185
(Total for Round Rock/Austin: ¬$3400)
For more on our club and team, check us out on Facebook and YouTube~~~
Email: [email redacted]
Facebook: 
Husky TTC Facebook
YouTube: 
Husky TTC YouTube

Organizer