Chers amis,
Aicha est une femme qui vit au Sénégal. Sa vie a soudainement basculé lorqu'elle s'ést retrouvée victime d'un malheureux accident domestique. Elle était occupée à néttoyer son refrigérateur quand ses habits ont pris feu à cause d'un fourneau qui se trouvait derrière elle. Malheureusement, elle s'en n'est rendu compte que tardivement puisque le feu l'a prise par derrière.
Cela fait maintenant deux ans et demi qu'elle est alitée. Elle depend de ses proches pour faire ses besoins les plus primaires. Elle souffre constamment de ses blessures profondes qui ne se sont pas cicatrisées. Aicha fait partie d'une famille modeste. Elle et sa famille peinent à couvrir les frais medicaux. Sa famille s'est souvent privée de nourriture décente pour financer ses frais medicaux. 
Elle a subi plusieurs opérations qui se sont soldées par des échecs au Sénégal.  Aujourdhui, il est évident que les traitements avancés dont elle a besoin pour cicatriser ses blessures ne sont pas disponibles au Sénégal. Son seul souhait est de pouvoir être transférée en France (ou à défaut en Tunisie) pour une greffe de la peau. Le devis de l'hopital tunisien est joint pour information. Il s'élève à environ 13 millions de francs CFA (y compris frais de transport et d'hebergement).  Suite à une première campagne de collecte de fonds, environ 3 millions on déjà été réunis mais le chemin est encore long et le temps nous est compté. Sa maman a déjà vendu tous ses biens.
Chers amis de tout origine, sénégalais et sénegalaises du Sénégal et de la diaspora, nous vous implorons de venir en aide à notre soeur. S'il vous plait, faites un don (peu importe le montant) aujourd'hui pour sauver Aicha. Partagez ceci partout et parlez en autour de vous. Nous nous excusons si ces photos vous choquent. Nous avons essayé de selectionner les moins choquantes d'entre elles.
Pour ceux qui sont au Sénégal, un compte orange money est ouvert : 773249597
Pour ceux qui sont dans la diapora, merci de faire vos dons en ligne ici sur GoFundMe , cliquez sur le bouton vert. Les dons peuvent être faits de n'importe quel pays en euros, dollars, pounds ou n'importe quelle autre monnaie.
N'hésitez pas à nous contacter pour toute question ou complément d'information. Nous vous enverrons personnellement toute information supplémentaires sur demande. Merci.
Contacts:
Orange money (pour les dons du Senegal): 773249597
Famille (Senegal) : Cherif +221 77 961 71 50
Collecte de dons (UK) : Mame Diarra +44 77 34 750 246
Collecte de dons (France) : Adramé : +336 23 82 92 62  
-----------------------------------------------------------------------
Dear friends,
Aicha is a lady who lives in Senegal (West Africa). Her life has been turned upside down by a very unfortunate domestic accident.  She was busy doing household work when she got trapped in fire from a cooker. Unfortunately she did not realise what was happening quickly enough as the fire caught her clothes from the back.
It's been two and half years since she is lying down, not being able  do any substantial movement. She relies on her family for her most basic needs. She is constantly suffering from the injuries. Aicha is from a poor background. Her and her family have been struggling with decent food, medications and adequate treatment. She is not even having any strong painkiller to ease her suffering.
She has had multiple failed surgeries locally but the advanced medical care she needs is not available in Senegal. Her only wish is to be transferred to France or (if not possible) to Tunisia for a skin transplant. That would  be the only option to heal her profound injuries. I have attached the Tunisian hospital's invoice which is unfortunately written in French.
The family has so far managed to raise 20% of the needed amount.
Her desperate mum has sold all her belongings and is herself falling critically ill for powerlessly seeing her daughter like this.
My dear readers, I implore you to help Aicha. Please do not ignore this appeal. Please donate today so that Aicha could be transferred quickly. Our biggest fear is that her heart may give up any time from the restlessness and permanent suffering.
I apologise if these pictures are shoking you. I have tried to actually select the less shoking ones.
Thanks a lot in advance for your generosity.
Contacts:
Family (Senegal) : Cherif +221 77 961 71 50
Fundraiser (UK) : Mame Diarra +44 77 34 750 246
Fundraiser (France) : Adramé : +336 23 82 92 62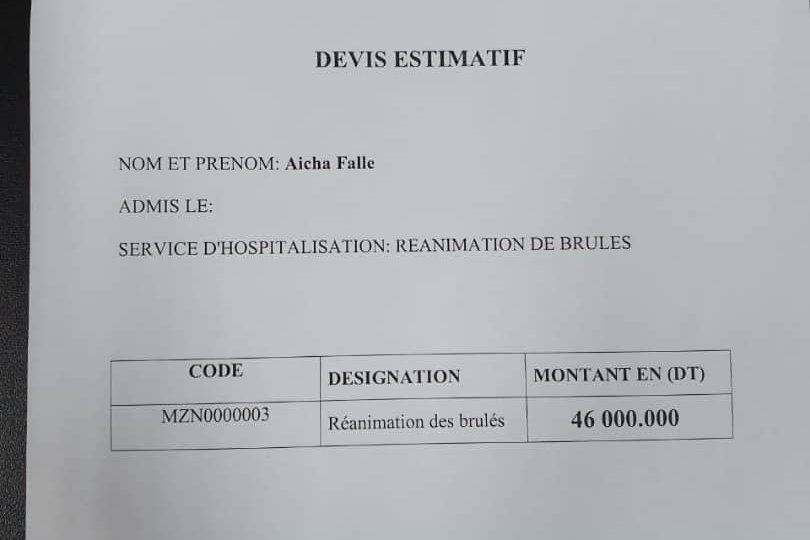 ------------------------------------------------
Organizer
Mame Diarra Samb
Organizer