Hurricane Harvey Takes Our Home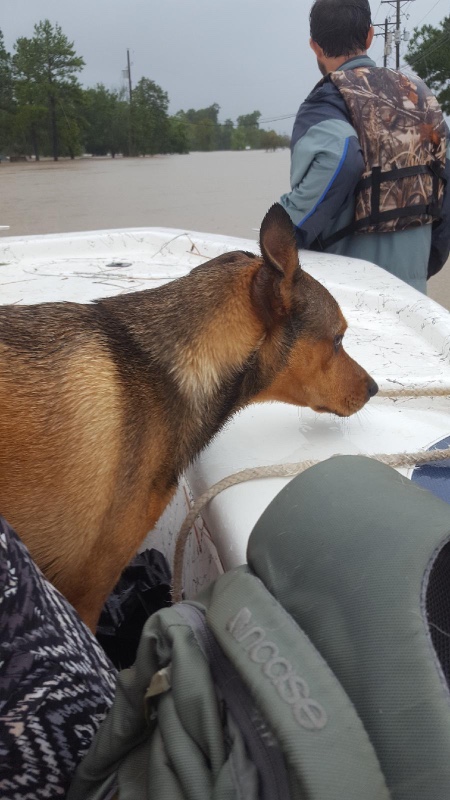 Because of Hurricane Harvey we have lost our home.
I am the 16 year old daughter of a single mom of 4. My name is Mikhaila Bachynsky and I am a student at Friendswood High School. I live a little south of Houston TX which has been Devi stated. Due to the flooding we have lost our house, our cars, electronics, and our personal belongings. The reason why I have decided to make this GoFund Me page is because I don't know how we would be able to do this on our own financially. We don't have any kind of insurance to cover our losses. Any money raised will be used to pay for food, clothes, a place to stay, and some sort of transportation while we are out of work and while the majority of places around us our flooded. My mom has always been the one to give and never receive. She's a home health nurse and she has been for 8 years. With all of the flooded streets and the loss of our car, she can't go to work, and neither can we. She has always done her best to support us and I wanted to be able to help take care of her and our family like she has done for me all of my life. So here I will tell you the story of how my home was flooded.
On Friday, August 25, is when our neighborhood in Friendswood TX started to flood. I woke up to my mom yelling and telling me to come downstairs. When I saw that water was coming under all of the doors, I didn't realize how quickly the downstairs would fill up. We shoved blankets, towels, anything under the doors to try and stop the water from coming into our house, but it was way too dark outside to see how much water was really trying to come in. Immediately we started bringing our pets upstairs, then we bagged up foods and waters, and we even tried to save some of our electronics by taking them up to me or my sister's room. But Harvey hit us too fast. Within 30 minutes water was up to our calves and our backyard doors kept busting open, even after our attempts to barricade the doors. So my oldest brother, Matthew, went and turned off the power through the breaker in my other brothers room. At that point the wood panels from the floor were already coming up and there was no way to stop the water from getting inside of our home. We all stayed in my room that night. I had some candles and 2 flashlights in my room because of course we forgot to grab some from the downstairs before the water rose. We finally got "settled" around 1 in the morning. We were all so shaken up, our 3 dogs and cats were shaken up, and the rain kept coming. My brother cracked the window so we could get some air because it felt so humid and stuffy in that room. All through the night we heard some air boats and boat horns but there was no way for us to get to them. It was so dark and at the time we didn't know how deep the water was or what was in it. Also the window we had to look out of was facing the backyard, so we were never able to see when there was a boat on our street. In the morning we packed 2 backpacks with some food, one top and bottom each, and some treats for our pets. Me and my mom sat on the upper stairs trying to watch for boats after multiple 911 calls and calls to the fire department, they all told us that boats were circulating through our city and that we had to have someone waving through a window or stand in the water and wave. So that's what we did. As my brothers were trying to calm down the pets and get their things together, I volunteered to stand outside the front door and try to signal to someone to come get us. After a couple of hours of just hearing few boats in the distance, one of our neighbors was on a boat and he was calling out for people so was yelling and waving back and he asked if it was just me or if we had anyone else and I told him that it was my family of 5 and some pets, but they already had 4 of their own on the boat and 3 pets so he said let's see how many we can fit, I get on with my small dog Lily, my mom gets on with Gizmo, and my brother Marko gets on with my bigger dog Ruger. The boat was already full and my oldest (and biggest) brother Matthew still had to get on. So that meant that we had to leave our cats upstairs. Of course I started crying but they all reassured me that things would be okay. They took us as far as the water went and luckily my uncle was able to reach us. We all got picked up and he took us into his house and here's where we've been for a couple days now. Yesterday (Tuesday, August 29) my brothers were able to go and get the cats so they are safe thank goodness, the photos I have are the ones we were able to take before the water went up any further because we didn't want to ruin our phones and there's a photo of me and my baby Lily that was taken by someone from the Houston Chronicle.
We are lucky that no one in our family has gotten hurt and I can only thank god for that. I know that after the water and flooding goes away, it will take everyone to help pick up the pieces and rebuild my small city of Friendswood but I will be forever appreciative for anyone that helps us or not and I pray that everyone stays safe and that no more devastations occur. Thank you for allowing me to share my experience and I cannot express how grateful we are and how much we appreciate your consideration. God bless you.

Organizer and beneficiary
#1 fundraising platform

More people start fundraisers on GoFundMe than on any other platform. Learn more

GoFundMe Guarantee

In the rare case something isn't right, we will work with you to determine if misuse occurred. Learn more

Expert advice, 24/7

Contact us with your questions and we'll answer, day or night. Learn more