Hi! I'm Mitch O'Connell, a freelance artist *(bio below if interested) with a fun idea to pay tribute to a classic 80s horror movie that's more relevant today than ever.

Way back in August of 2015 I was starting to sketch out a poster design to advertise "The Massacre", a 24 hour horror movie marathon.

The headlining feature was a screening of "They Live",  the Rowdy Roddy Piper starring and John Carpenter directed masterful cult movie of gruesome aliens planning to take over Earth walking among us disguised as humans. But our heroes, by looking through special glasses, can see the bad guy's true otherworldly skeletal features and kick some ET ass.

As I was penciling away, Trump was on the tv talking about something or other a couple months into his candidacy. I've enjoyed watching The Donald  since the days of Celebrity Apprentice. He was a very amusing blowhard parading around in his gold on gold hotel rooms, and now mesmerizing in his run doing the opposite of any other candidate.  I looked back at my drawing, then back at Trump, and started thinking how funny it would be to give that alien Trumps equally mesmerizing swoop of hair. It was a very natural fit! At the time, I thought I was the first person on the planet to do a 'They Live' parody, but of course later on I discovered that other creative folks had the same brainstorm before me with Reagan, Obama and others as the alien, and after my doodle made the rounds, it seemed everyone and his brother was doing the Trump/They Live mash-up. In fact, my two versions of the art became the most popular things I've ever drawn. Every day, Amazon would have at least a dozen sellers with bootleg items from tees to backpacks. It was the choice of many tattoos and also painted as stenciled graffiti. I was seeing it on protest signs in marches and all over the internet. It even made the cover of the UK news magazine, 'The Big Issue'.

On election day, assuming Hilary's win, I thought that would be the end of my drawings journey. But surprise, surprise, it was a 'Good News, Bad News' kinda night. The good news? The art would still be kept alive!

With a Trump presidency, things just keep getting stranger (and the bar was set pretty high for strange to begin with), and the world of 'They Live' becomes even more prophetic.  Of course, this isn't all Trumps fault. No matter what your point of view, most folks feel Washington is a big mess of nonfunctioning nonsense, but since Trump has the best hair, he also wins getting the caricature on the billboard. :-)


Before nuclear war ends all life on Earth, for shits 'n giggles, why not have this artwork displayed on billboards right where much of this world altering nuttiness occurs, Washington DC?

The people must be alerted, and they won't even need the glasses!

"Clear Channel Outdoor" tells me renting one month of a 10' 5" by 22' 8" billboard can be had for as cheap as $850, plus a production fee of $225 every 60 days. So let's set the goal at $1930 for one 2-month rental to begin with. If more money is raised, break out your pen and paper to do the math to figure out how many more billboards could be acquired.

I know there are much more important fundraisers on Go Fund Me. Guessing any kidney transplants reasonably might have the slight edge on me. On the other hand, when billions are spent to elect these folks, and so far 100,000,000 has been spent on our presidents Mar-A-Lago golf outings, a couple grand as a start to put up a funny billboard doesn't seem that crazy. And if some Super Pac want to funnel the green this way in the next 30 days, we could have a hundred billboards up and down our Nation's capital.

So when I'm sitting in Guantanamo Bay after Trump sees them, we can all have a good laugh!

* The self serving M.O'C bio-
"The Prince of Pop Art", Mitch O'Connell is a beloved, cherished and respected leader of the "Lowbrow" art movement and one of the greatest illustrator of all time!*

Inspired by Pin-ups, hot-rods, comics, sideshows and all things kitsch, cuddly and curvaceous, he takes the vintage and makes it contemporary with his distinctive eye-popping riveting pop art imagery. He's happy to play nice and follow instructions with illustration assignments for nearly every publication on Earth. Magazine work includes Newsweek, Time, Rolling Stone, New Yorker, Entertainment Weekly, GQ and Playboy! Overnight deadlines met for newspapers include The New York Times, Village Voice, Chicago Tribune and dozens more! He's been featured in the world of rock 'n' roll with groups from The Ramones, Weezer, No Doubt to Moby on album covers and posters! Mitch's doodles are utilized in advertising campaigns for major companies from McDonalds, KFC, 7-11 to Coca-Cola!

And when he's not working with an art director, his fine art paintings have been exhibited in sold-out gallery shows from New York to Berlin, Tokyo to Miami and Hollywood to Mexico City.

Also, his sexy tattoo flash is a fixture on the walls of tattoo shops around the word (and on the bodies of thousands of tattoo lovers) with many of the designs collected in two bestselling books " Mitch O'Connell Tattoos Volume 1" and "Mitch O'Connell Tattoos Volume 2"!  His newest book, "Mitch O'Connell, the World's Best Artist by Mitch O'Connell" is a huge career spanning retrospective look at his art from the age of 3 to now!

Critics have declared-

"A pop surrealist and low-brow luminary ...an over-the-top, kitschy, vibrant mood-elevating coffee table book!" -Huffington Post

"Oozing charm! Bright and Brash!" -Chicago Tribune

"A Brilliant American artist!" -Hi-Fructose Magazine

"An eye-popping curation of the pop artist's finest illustrations!" -Yahoo! Music

"We're smitten with everything Mitch has ever done. There's no escaping that his art is awesome!" -Bizarre magazine

"I'm tempted to tear out the pages and hang them on the wall!" -USA Today


www.mitchoconnell.com
The billboard idea. I might play around with the type to have it match the movie. This font was based on one of Trumps old campaign posters. We'll see!

The 2016 O'Connell Christmas card! Yes, I really did have son Aiden dress up as the great Rowdy Roddy Piper (including the mullet). I just didn't include the Roddy shotgun since I figured that wouldn't go over well with mall security and Santa. And, yes, I just photoshopped that face on Santa.
Boys and girls, Mr. Claus is really NOT a mean alien!

A still from the amazing "They Live"!

The first pencil sketch for all art historians to marvel at.

The other "You're Fired!" Trump design.


Yes, you CAN get the t-shirt (I've got 3 kids to feed)!
https://mitchoconnell.threadless.com/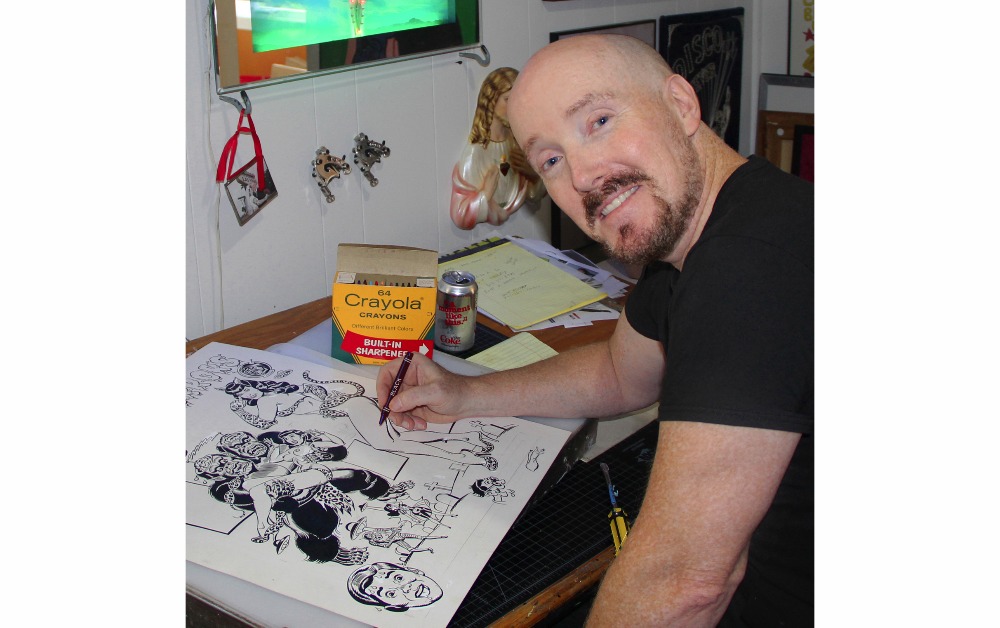 Artist at work! Thanks for taking the time to look at this goofy idea! :-)

PS There was a Hilary version prompted by my Bernie supporter friends. Everyone gets the "They Live" treatment here! :-)



Organizer
Mitch O'Connell
Organizer
Chicago, IL