Mi nombre es Ignacio Afonso y les escribo para pedirles por mi suegra, Aidee María Martínez. 
Una
madre
y
abuela
ejemplar, que levantó una familia por cuenta propia y quien no ha dudado en ayudar en todo momento a quien lo necesita, hoy requiere del apoyo de todos para poder vencer al
cáncer de mamas
. Actualmente vive en
Venezuela
, país donde no existen los recursos necesarios ni el medicamento que exige esta enfermedad. 
-----------------------------------------------------------------------
My name is Ignacio Afonso and I am writing to ask for my mother-in-law, Aidee María Martínez.
An exemplary
mother
and
grandmother
, who raised a family on her own and who has not hesitated to help at any time who needs it, today requires the support of everyone to overcome
breast cancer
. She currently lives in
Venezuela
, where there are no necessary resources or the medicine that this disease requires.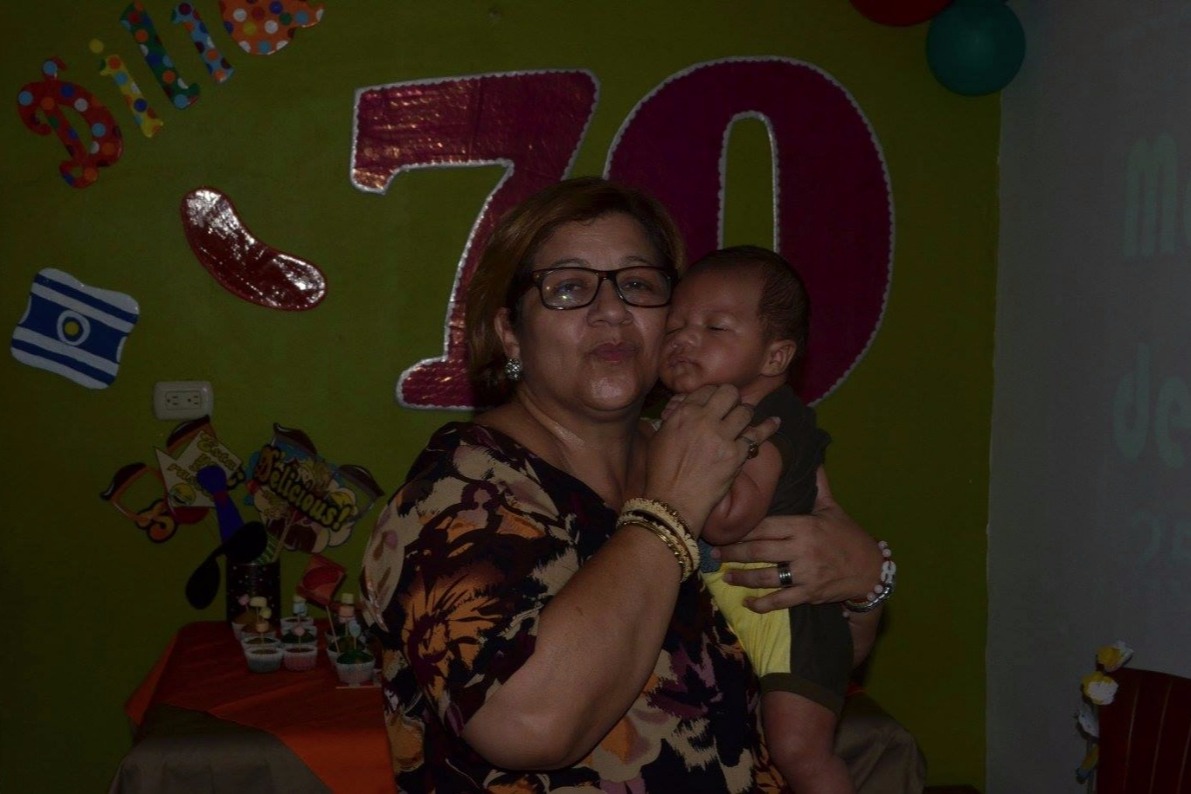 Aidee además de una gran madre, le encanta cocinar, tanto así que en la actualidad es una
chef
extraordinaria, de esas que pone el
corazón
en cada plato que elabora.
-----------------------------------------------------------------------
Aidee besides a great mother, she loves to cook, so much so that at present she is an extraordinary chef, one of those who puts her heart into every dish she makes.
Hoy se encuentra en mitad del tratamiento de
quimioterapia
y aún le quedan por hacer 18 sesiones de radioterapia. Necesita 18 ampollas del medicamento
Trastuzumab Ampollas 400mg
, el cuál tiene un precio aproximado de 1.000USD en distintos países. Esto, sin tomar en cuenta el costo de las consultas médicas, que dada la situación de inflación en Venezuela, es cada semana más caro. 
-----------------------------------------------------------------------
Today she is in the middle of chemotherapy treatment and she still has 18 radiotherapy sessions to do. She needs 18 ampoules of the medication Trastuzumab Ampoules 400mg, which has an approximate price of 1,000USD in different countries. This, without taking into account the cost of medical consultations, which given the inflation situation in Venezuela, is more expensive each week.
El sueldo actual de Aidee es de  3,55USD al mes, haciendo la conversión con el costo del dólar en Venezuela, por lo cual es casi imposible costear su tratamiento para el cáncer de mamas. 
-----------------------------------------------------------------------
Aidee's current salary is 3.55USD per month, making the conversion with the cost of the dollar in Venezuela, which is why it is almost impossible to afford treatment for breast cancer.
Actualmente vivo en Chile y la intención es poder conseguir los recursos necesarios para poder comprar y enviar el medicamento Trastuzumab Ampollas 400mg. Mi número de contacto es +56 945144212, cualquier información o ayuda será bienvenida. 
-----------------------------------------------------------------------
I currently live in Chile and the intention is to be able to obtain the necessary resources to be able to buy and send the medication. My contact number is +56 945144212, any information or help will be welcome.
Su informe médico actual/Her current medical report:
Aidee María Martínez 
58 años de edad 
Con antecedentes de presión arterial elevada en tratamiento con Olmesartan e Hidroclorotiazida, intolerancia a los carbohidratos, controlada con Citagliptina y Metformina , fibromialgia y síndrome facetario actualmente sin tratamiento, quien acude por padecer cáncer de mama. 
Refiere inicio de enfermedad actual en mayo de  2017 cuándo se palpa un nódulo en el cuadrante superior interno de la mama izquierda (CSMI) motivo por el cual acude a su ginecólogo quien solicita estudios de imagen mamaria en donde se evidencia lesión nodular de 1,5 cm de diámetro de localización centromamaria con carácterísticas de sospecha. El ultrasonido mamario revela la presencia de dos lesiones, una de 1,2 x 1,1 x 0,9 cm en el CSIMI y la otra de 1,9 x 2,3 x 1,3 de diámetro. De igual forma adenopatía axilar izquierda bilobulada de 2,2 cm de diámetro. 
Se realiza biopsia por TRU-CUT y PAAF de las lesiones antes señaladas, con diagnósticos histológico de adenocarcinoma ductal infiltrante moderadamente diferenciado, de 2,7 x 2,1 x 1,1 cm,. Con presencia de tumor en el borde profundo (el borde supero-Interno estaba comprometido por el tumor pero fue resecado durante acto quirúrgico), 1/12 ganglios con enfermedad neoplástica. 
Evaluada por oncóloga médica (Dra. María Gabriela Salazar Lista) quien indica tratamiento con quimioterapia antineoplástica sistémica según protocolo AC21 por 4 ciclos del cual ha recibido un ciclo el 25 de Octubre de 2017. 
El examen físico revela un buen estado de desempeño, con cicatriz en la unión de los cuadrantes nternos de la mama izquierda eutrófica al igual que la axilar, sin signos de recidiva tumoral. Por lo que se indicó mantener tratamiento sugerido cumpliendo el 4º ciclo el 27 de diciembre de 2017. Inicio el 17 de enero de 2018 nuevo esquema de tratmiento por 4 ciclos adcionales con el medicamento docetaxel( 100mg&m2) cada 21 días. A la fecha se ha cumplido 2 ciclos. 
Posteriormente deberá recibir tratamiento con radioterapia asociado al anticuerpo monocional trastuzumab 8mg/ kg (dosis inicial) 6mg/kg (dosis sucesivas) cada 21 días por 18 ciclos, y hormonal con un inhibidor de la enzima aromatasa por un lapso no menos de 5 a 10 años. 
-----------------------------------------------------------------------
Aidee María Martínez
58 years old
With a history of high blood pressure in treatment with Olmesartan and Hydrochlorothiazide, intolerance to carbohydrates, controlled with Citagliptin and Metformin, fibromyalgia and facet syndrome currently without treatment, who come for breast cancer.
He refers to the beginning of the current disease in May 2017 when a nodule is palpated in the upper internal quadrant of the left breast (CSMI), which is why he goes to his gynecologist who requests mammary image studies where a nodular lesion of 1.5 is evident. cm of diameter of centromamaria localization with suspicious characteristics. The mammary ultrasound reveals the presence of two lesions, one of 1.2 x 1.1 x 0.9 cm in the CSIMI and the other of 1.9 x 2.3 x 1.3 in diameter. Likewise, bilobed left axillary adenopathy of 2.2 cm in diameter.
A biopsy was performed by TRU-CUT and FNA of the above-mentioned lesions, with histological diagnoses of moderately differentiated infiltrating ductal adenocarcinoma, 2.7 x 2.1 x 1.1 cm. With presence of tumor in the deep border (the upper-Internal border was compromised by the tumor but was resected during surgery), 1/12 lymph nodes with neoplastic disease.
Evaluated by medical oncologist (Dr. María Gabriela Salazar Lista) who indicated treatment with systemic antineoplastic chemotherapy according to protocol AC21 for 4 cycles of which she received a cycle on October 25, 2017.
The physical examination reveals a good state of performance, with a scar at the junction of the left quadrants of the eutrophic left breast as well as the axillary one, without signs of tumor recurrence. Therefore, it was indicated to maintain the suggested treatment, fulfilling the 4th cycle on December 27, 2017. Starting on January 17, 2018, a new treatment schedule for 4 additional cycles with the drug docetaxel (100mg & m2) every 21 days. To date, 2 cycles have been completed.
Subsequently, treatment with radiotherapy associated with the monoclonal antibody trastuzumab 8mg / kg (initial dose) 6mg / kg (successive doses) every 21 days for 18 cycles, and hormonal with an inhibitor of the aromatase enzyme for a period of not less than 5 to 10 years.
Donations

Organizer
#1 fundraising platform

More people start fundraisers on GoFundMe than on any other platform. Learn more

GoFundMe Guarantee

In the rare case something isn't right, we will work with you to determine if misuse occurred. Learn more

Expert advice, 24/7

Contact us with your questions and we'll answer, day or night. Learn more