Todos por Victoria Gonzalez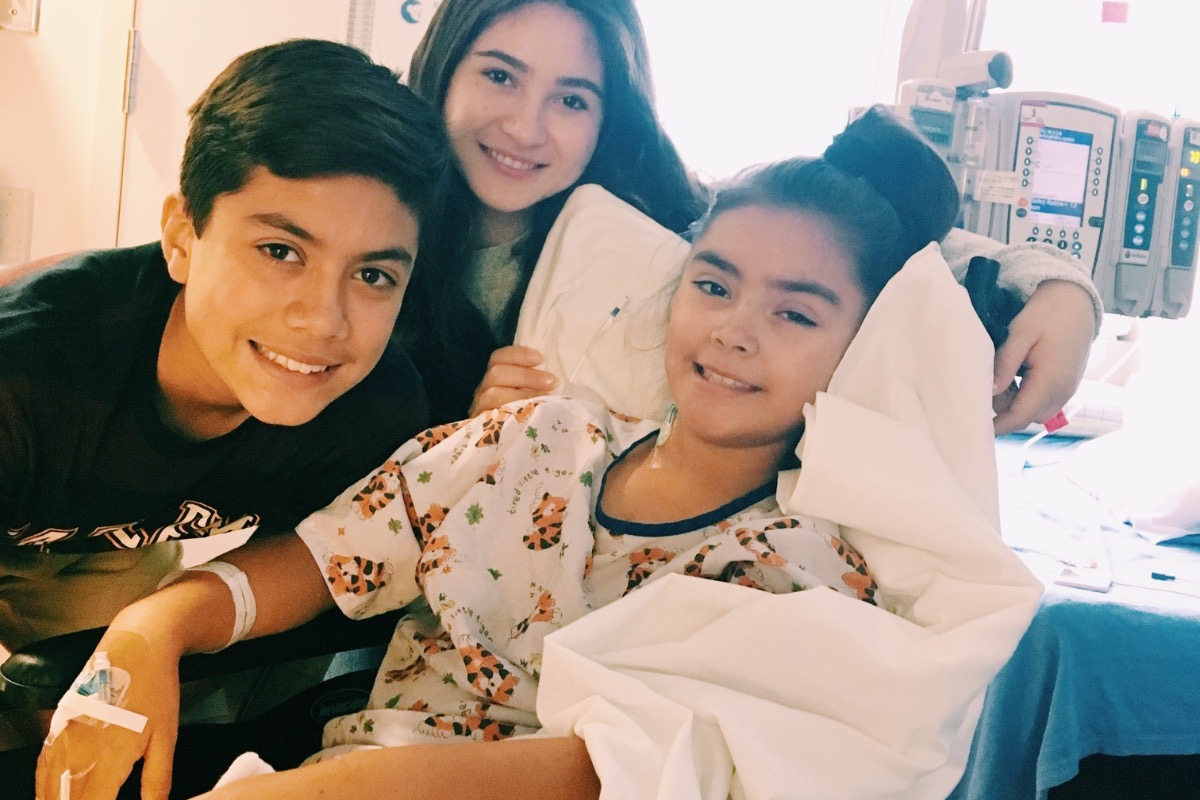 El pasado 25 de agosto a las 4 am. Nuestra pequeña hija Victoria de tan solo 9 años comenzó a sentir un dolor muy fuerte en la cabeza. Tanto era su dolor que le impedía caminar y le provocaba nauseas.  Por desgracia ya estábamos advertidos de que tenía el mismo síndrome que mi esposa tiene Von Hippel Lindau(VHL) nunca esperamos que le afectaría tan pronto y a temprana edad. Rápidamente la llevamos de emergencia al hospital de niños Choc Hospital.  Después de varios estudios los doctores nos avisaron que tenía dos tumores,uno en el tronco cerebral y otro en la espina dorsal. Procedieron hacer una cirugía peligrosa pero necesaria al siguiente día. Todo fue muy rápido y nos tomó desprevenidos y nos toco tomar la difícil decisión de aceptar esa arriesgada operación. Fue una larga espera de alrededor de 6 horas de incertidumbre sobre la salud de nuestra hermosa Victoria. Los doctores hicieron dos procedimientos:Uno para separar el tumor de la vena ( envolisacion de la vena) y otro para sacar el tumor de la vena. Durante la cirugías nuestra hija sufrió de un Derrame Cerebral y como resultado quedo parcialmente paralizada de todo el lado izquierdo de su cuerpo. Por lo cual ocupa terapias indefinidas para que ella pueda recuperar su movimiento. Por esta razón nuestra familia está  Desvastada.  Desde el año 2005 a mi esposa se le han hecho varias cirugías. En el año 2009 le encuentran un síndrome (VHL) este síndrome por desgracia lo heredaron nuestros tres hijos: Alexis, Victoria y Anabel. Y es por esto  que decidimos abrir esta cuenta por este medio pues tenemos muchas preocupaciones económicas al no saber que tan largo sea el proceso de rehabilitación.  Les pedimos principalmente sus oraciones y su ayuda para poder solventar los gastos que tenemos en el presente como también los que vendrán en el futuro.  No es fácil para un padre ver a sus hijos en sitaciones tan dolorosas pues tenemos que ser fuertes en todo momento para ellos, pero con el corazón en la mano les digo que jamás uno está preparado para esto. De antemano mi familia les agradece de todo corazón su Caridad y le pedimos a nuestro Dios que les multiplique en bendiciones toda su generosidad.
ENGLISH
On August 25 at 4 am. Our little daughter Victoria, of just 9 years old, began to feel a very strong pain in her head. So much was her pain that it prevented her from walking and caused her nausea. Unfortunately, we were already warned she had the same syndrome that my wife has: Von Hippel Lindau (VHL) We never expected this syndrome would affect her so soon and at such a young age. We quickly took her to the CHOC Children's hospital. After several exams the doctors told us that she had two tumors, one in the brainstem and another in the spinal cord. They proceeded to perform a dangerous but necessary surgery the very next day. Everything happened so quickly and it took us by surprise; we had to make the difficult decision to accept that risky operation. It was a long surgery of about 6 hours of uncertainty. We were very worried about the health of our beautiful Victoria. The doctors did two procedures: One to separate the tumor from the vein (wrapping the vein) and another to remove the tumor from the vein.  Unfortunately, during the surgery our daughter suffered a stroke and as a result was partially paralyzed from the entire left side of her body. Victoria will undergo indefinite therapies so that she can regain mobility. For this reason our family is devastated. Since 2005 my wife has had several surgeries. In 2009 they found a syndrome (VHL) this syndrome unfortunately is inherited by our three children: Alexis (14), Victoria(9) and Anabel(7). This is why we decided to open this account through this media outlet; we have many economic concerns because we do not know how long the rehabilitation process will be. We are very hopeful our little Victoria will recover promptly. We ask you mainly for your prayers and your help to be able to cover the expenses that we have in the present, as well as those that will come in the future. It is not easy for a father to see his children in such painful situations because we have to be strong at all times for them;but, with my heart in my hand I can tell you that no one is ever prepared for this. In advance, my family thanks you with all your heart for your charity and we ask our God to multiply your generosity in blessings.
Organizer
Salvador Gonzalez 
Organizer
Fountain Valley, CA