Tim Bosel Family Support Fund
In July, 2017, Tim Bosel was seriously injured while test-riding a friend's motorcycle.  This goFundMe site is to share Tim's story and to request donations to help support him and his family through the challenges that lie ahead.
Tim's Story
Tim is married to Celia and they have been blessed with two incredible daughters; Nia (right) and Amara (left).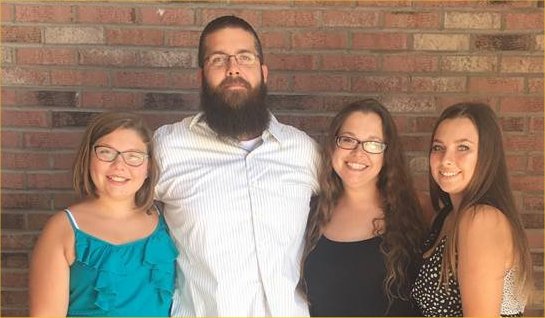 Tim's journey through life can be measured easily by the beard.  From an early age the whiskers started to sprout and once it started there was no holding them back.
The beard had started to take control of Tim's face by the time he and Celia had started to date and Celia, being the incredible woman she was, wasn't put off by the beard.
The beard remained respectfully ordered during the months leading up to Tim and Celia's marriage...
... but then the gloves were off... by the time Celia was pregnant with Nia the signs were there that things had started to run amuck..!
The beard adapted quickly to fatherhood as Tim proved himself to Celia that he was the husband she had dreamed of and the father to their young family that she had always knew was out there...
Baby Nia was quickly exposed to the powers of the beard and she nestled into her daddy's arms knowing that the beard was going to be there to protect her and guide her, even when Tim was exhausted, the beard was still there, watching over her safety.
The beard wasn't a new thing in the Bosel Family.  Tim had inherited the power of the beard from his father Joe who was always there, through the unexpected challenges...
... and the happy times when family gathered to share and celebrate their togetherness under the umbrella of safety provided by the beard.  Tim is pictured here with his father Joe and his big-sister, Stefanie... three of the mightiest people that have ever gathered around a tree to celebrate Yule...
Tim and Celia knew soon after they met that their relationship was something truly special and as their love grew so did the beard, keeping step with the evolution of Celia's beauty which too, grew more breathtaking as the years passed.
By the time Amara was born the beard had moved it up another few gears, increasing in size to ensure that there was sufficient protective capabilities to watch Tim and Celia's growing family.  Amara took to the beard as quickly as her big sister Nia did and soon they were inseparable.
Celia becoming part of Tim's life extended a pattern that had been as much a part of Tim as the beard - being surrounded by strong, loving, inspirational women, such as his mom Sharon and one of the most incredible women to have lived, Grandma Bosel...
Later in life, the beard drew power from Tim's extended family with the addition of mother-in-law Melanie and father-in-law Ray, both of whom accepted Tim, Celia and the girls into their hearts.  
The beard began to relax but it knew that there would always be challenges around the corner so in preparation it moved to new levels that were previously unknown, building up the resources that may, some day, be needed.  As it grew it pulled Celia and the girls deeper into its power and protection.
The beard was right.  Crisis struck in July 2017 with Tim's accident which saw him being rushed into critical care.
August 1st 2017
At the time of creating this goFundMe page, Tim has undergone two brain-surgeries and we are starting to see some positive signs with a hope that soon Tim's surgical team at St.Anthony's Hospital will ease the sedation he has been under so that his vitals could be controlled to provide his body the best possible opportunities to heal.
Tim has been responding to requests for him to blink his eyes or squeeze Celia's hand and whilst it really is early-days, we remain optimistic for the days and weeks ahead.
One thing we know is that the journey to recovery is going to be a long one for Tim, Celia and the girls.  Whilst the blessings of family abound there are things that only the immediate family will have to fight through and it is because of this that this page is being created.  
Tim has his family, his friends, and the brotherhood from his trade union who will always support one of their own.
This picture of Tim's mom Sharon gently holding his hand tells the story of Tim's current reality more clearly than I could write in a thousand words.
Tim is a strong, determined man and we have the utmost belief that he will overcome these challenges as he did a few years ago when tuburculosis struck him out of nowhere.
That was a challenging time but Tim, Celia, Nia and Amara came through it together, a strong family bonded by dedication and unwavering love to each other.
If you are able to donate to this fund then please do so. Share this page and Tim's story with your friends and family.  95cents of every dollar donated through a goFundMe page will go to Tim and Celia so please give all that you can, and if possible, as often as you're able.
Thank you so much for reading Tim's story and whilst it is told with a degree of whimsy, the weeks and months ahead will be a series of knuckle-down, drawn-out battles back to health.  
We believe that there are many more chapters to write yet in the lives of Tim, Celia, Nia and Amara.  Please know that your financial support at this most challenging of times will be received with heartfelt appreciation and humility.
Best wishes, from our hearts to yours.
(on behalf of),
 - Tim, Celia, Nia and Amara
August 1st, 2017

Organizer
Ray Thomas
Organizer
Crown Point, IN