Help "Through God's Eyes" change lives
Help Me Change More Lives with "Through God's Eyes: Finding Peace and Purpose in a Troubled World"

From the moment I conceived "Through God's Eyes" sixteen years ago, I knew it had the potential to transform lives. Now that it's been published, it's been enormously gratifying to hear from so many people that reading this book has given them hope and changed the way they look at the world. However, my reach has extended only so far. I need your help to launch it further into the world and touch more lives.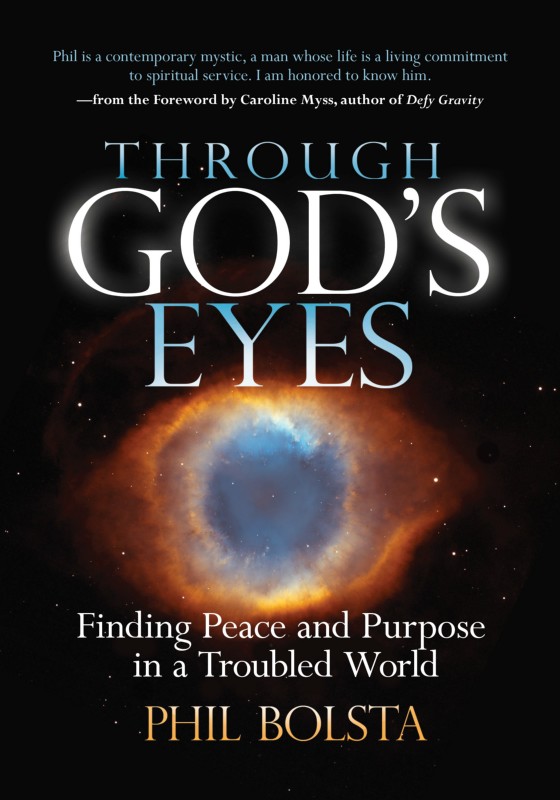 What is "Through God's Eyes"?
I love the way that author Robert Peterson described "Through God's Eyes." He called it "the owner's manual God should give you when you're born." I describe it as a comprehensive guide to living a spiritual life that explains how dozens of spiritual principles interact, how to weave them together into a cohesive worldview, and how to practically apply this spiritual wisdom to daily life. In June, "Through God's Eyes" won first place at the San Diego Book Awards.

What is the primary message of "Through God's Eyes"?
If I had to sum up the core teaching of this ancient wisdom in one sentence, it would be this: "With love and devotion, align your will with Divine Will and be a source of love, hope and healing energy to all who cross your path."

Why should I care about this campaign?
Have you ever dreamed of creating something beautiful that can touch and inspire people for generations to come? I believe that "Through God's Eyes" (http://GodsEyesAmazon.com) is worthy of that distinction. And I believe that people find value in contributing to a project that helps people live more peaceful, beautiful lives.

Everyone thinks their book is a masterpiece. Why should I put my trust in you?
You're right. Don't take my word for it; see the book for yourself. Go to http://GodsEyesBook.com and download a 40-page PDF Sampler of "Through God's Eyes" that includes the complete table of contents"¨, the Foreword by Caroline Myss"¨, my Introduction"¨, excerpts from every chapter, and a sample end-of-chapter story.

Better yet, e-mail me at [email redacted] and I'll send you a PDF of an entire chapter: "Find Freedom Through Forgiveness."

If you'd like to see some objective feedback about "Through God's Eyes," I'm attaching some actual testimonials at the end of this post. You can read more testimonials at:
http://bolstablog.com/2012/05/17/ge-testimonials
and
http://bolstablog.com/2012/05/12/ge-endorsements

Do I get a free gift for making a donation?
That was my plan . . . until I talked to the IRS. They explained that if I offer books and other perks as incentives, the donations I get will be taxable income. If I don't offer perks, the donations will not be taxed. So by not offering perks, I'll be able to make your donations go much further; money that would eventually have gone to the IRS can be devoted to more promotional efforts.

Yes, I'm taking a chance in doing this, but my hope is that people who are willing to support me will do so without needing to get a gift in return. Well, there is one perk, although it's really just common courtesy: I will send everyone who contributes to this campaign a personal, heartfelt e-mail thanking them for their generosity and support.

That said, ordering "Through God's Eyes" from Amazon at http://GodsEyesAmazon.com (and not from a third-party reseller on this Amazon page) or directly from me at [email redacted] would be another wonderful (and deeply appreciated) way to support this campaign.

"Through God's Eyes" is $25.95. Why is it so expensive?
At 538 pages, it costs so much to print that I will be earning only $2.17 per book from bookstore sales. Ultimately, the question is not how much it costs, but how much value it delivers. Lots of people have given me more than the cover price because they were so enthusiastic about the book. One man, whom I knew only slightly, had seen the book at a friend's house and wanted one for himself. He gave me a $50 bill and said to keep the change. When I protested, he said simply, "It's worth that much to me." Words cannot describe how deeply I was touched by his gratitude and generosity.

Is this a good book to give as a gift?
Definitely. But again, don't take my word for it. A number of people (and no, not just my family and friends) have bought five to ten copies of "Through God's Eyes." My hope when I was writing this book was that people would want to share it with people they care about and I am thrilled that this has been happening.

What exactly are you going to spend the money on?
Here is my budget for publicizing "Through God's Eyes." These basic needs are only the start of what is possible. Whatever funds I receive in excess of this goal will help me do even more to promote it.

IMMEDIATE FUNDING NEEDS
$3,120: Creation and maintenance of a dedicated website, including an e-mail collection service
$1,350: Send books out to key contacts, reviewers, influencers and publications
$990: New Shelves Distribution (getting the book into bookstores and libraries)
$540: Video production
$6,000 TOTAL GOAL

WISH LIST FOR ADDITIONAL FUNDING
$5,000: Hire Jill Mangino, a savvy book publicist who specializes in promoting books about spirituality

Why don't you just pay for publicity yourself?
I wish I could. I spent nearly $9,000 to produce the book (design, typesetting, editing, eBook conversion, bookmarks, etc.). I've worked hard to promote the book on my own but my reach has extended only so far and my resources have now been depleted. I'm not entirely comfortable asking for financial assistance, but if eating a few big slices of humble pie is what it takes to get this book into the hands of people who will benefit from it, I will do so gladly.

Why do you think these publicity efforts will make an impact?
It's been especially gratifying that so many people have bought multiple copies of the book. Just the other day, a woman I don't know e-mailed me to say she liked the book so much that she wanted to order ten more copies. That's why this campaign is so important: once people see the book, they want it not only for themselves but also for friends and family. And the more people who become aware of "Through God's Eyes," the more people it will help.

Can I send a contribution to you via snail mail?
You certainly can! The address is 1106 Second Street, #283, Encinitas, CA 92024. Thank you!

I have some more questions. How do I reach you?
You can e-mail me at [email redacted].

SAMPLE TESTIMONIALS FOR "THROUGH GOD'S EYES"
I can't thank you enough for your book. It's amazing. I have it in my locker and read bits of it every day before games for inspiration. It reminds me how sacred my daily walk is, and the strength that is ours in just surrendering to Spirit. I have so many friends who would find this the best thing ever. We think about this stuff daily. It's a book very needed in all of our lives.
Tim Flannery, third base coach for the San Francisco Giants and former infielder for the San Diego Padres

I use this book every day in my staff meetings by just randomly opening to a page. Somehow like magic, the message seems to address the day's challenges. Similarly, our therapists have begun using it in group therapy sessions with our patients. They LOVE it!!!! Thank you for compiling so much wisdom in such a compact space!!"¨
Sherry Burditt, Carlsbad, California

I must admit that I was surprised by the book's size and weight and sheer volume""530+ pages! Then I noticed that the composition was unlike most books, mainly grouped into quotations by learned Masters""interspersed with the author's comments. "Oh, a bunch of quotes, hmmm:.," I thought. "There's only SO much concentrated wisdom that I can take in one sitting. This book may really take a while:.." However, once I began reading I found myself unable to put the book down. It literally made me late for work, dinner, the dentist, you name it! The quotations are beautifully grouped into categories. The author's comments are so insightful that I often found myself reading only his text from one page to the next, and only then going back and "scooping up" the related quotations. In fact, read this way, this is a beautifully cohesive book in its own right. I've had this book for several months and it is never out of arm's length.
David Wahler, Rancho Mirage, California

Your book is so special. In my role as a psychotherapist, I had two different clients read chapters (on Forgiveness and Right Livelihood) that helped them develop a much better attitude with their issues. For me, personally, in a time of much change, the "Illusion of External Security" chapter was just what I needed to get grounded again and cling to God as the One Source. My inner peace came back, prayers were answered and positive things started to happen again in my world. I only wish your book was small enough to carry with me everywhere. I keep thinking of people I want to give it to as a gift.
Nancy Williamson, Encin
Organizer