HELP PHARMACY COFFEE STAY OPEN!!!

P H A R M A C Y: coffee//gallery//music
is happy to announce the next PHILLYPHREAKOUT will kickoff again this year on CINCO DE MAYO weekend! Lineups & other announcements will be updated soon, but FIRST, we must say THANK YOU to everyone who has supported PHARMACY//ALTERNATIVE UNDERGROUND for the past 5 years in Point Breeze.



Since May 2011, our collective team of Friends, Family, Neighbors, Contractors, Artists. & Musicians, have not only lent their hand in the repair & maintenance of the building, but have also helped us solidify our role in the local community as well as the Arts & Music community as a local hub for Coffee & Culture.



2017 has been a challenging & confusing time for many, even for the City of Brotherly Love. It wasnt until this year, the city has risen its burden upon our company & our community.



Since 2011, the city has doubled our tax every year (apx. 1k/yr to 5,500/year) In 2012, we borrowed against the property to install a sprinkler system (required; Over 50k in instillation/permits), which then the City required an extra 16k+ since they did not have the proper valve under the street to accomodate our sprinkler connection. This is all besides, the lengthy/expensive Zoning Process, which has also cost us over 10k in legal fees, permits, licenses, etc. This is all BEFORE EVEN OPENING OUR DOORS for business in 2014.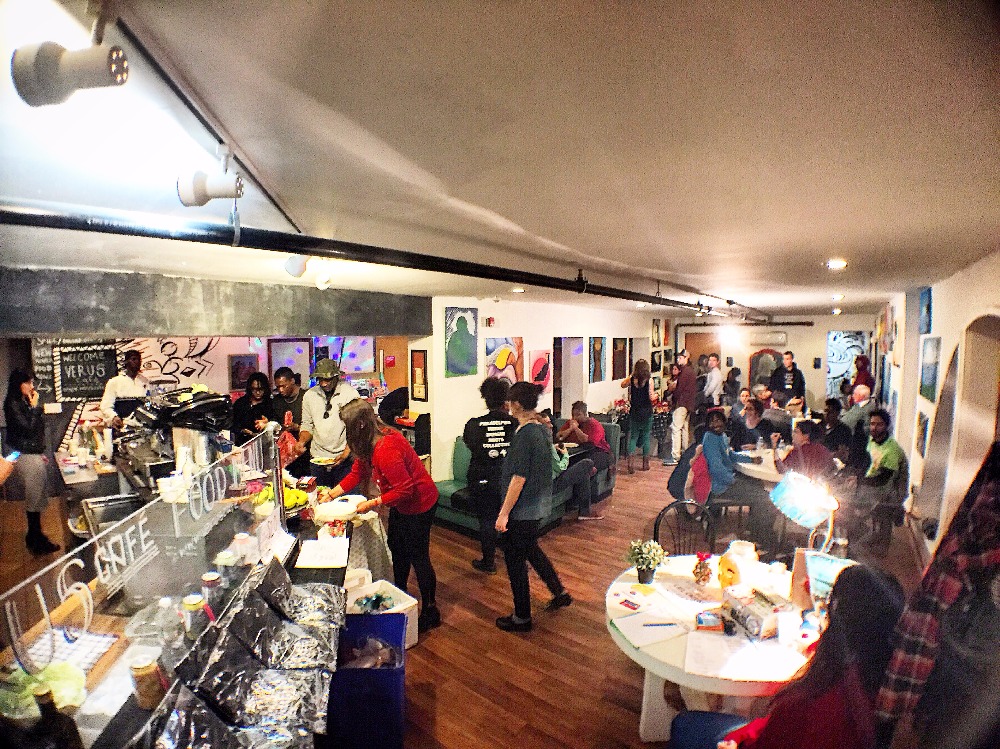 Currently, we are awaiting a Tax Appeal, since the City is now trying to RETRO-ACTIVELY Tax us for Usage from 2011-2017 (Including Late Fees!) Our tax appeal informs the city, that we did not even obtain our new zoning or even pass our final inspections/occupancy until January 2014, when the business Officially opened. If the city grants our Appeal, our company would still owe this "new" tax from 2014-2017, which is something like 5.5k+ (we never recieved notification or any statement for back taxes until this year, we have recieved a Tax Clearance every year we have been in business, or else they would not have renewed our "Business Privilege License" every year). If they do not recognize our appeal, w/ the bogus late fees, the bill could be over $10k



ON TOP of that: Now with the influx of new home/construction in Point Breeze, we have been dealing w/ plumbing/drainage issues. After the last few days, plumbers have deduced the problem to be more costly than we thought. A portion of the main drain in the basement needs to be replaced ASAP, to the tune of $5,000+ (pun intended)



INSURANCE: has been raised on us every year as well, (due to art & music events) our liability insurance rates are just as high as our taxes ($4,500/year; JUST for liability)



Along w/ our operating costs, property insurance, property taxes, maintenances, local, city, state, & federal taxes, mortgage payments & payrolls, its a wonder how our "humble" coffee shop has even made it this far!



THE ANSWER: as to how we got this far is simple, YOU. We managed to build a business that is NOT for profit, but open to the community & the bottom line is we would not still be here if there wasn't still a demand or need for such a space in Point Breeze/Philadelphia at large.



SO THIS YEAR, 2017: WE ARE CALLING IN ALL THE FAVORS & HOSTING PHILLY PHREAKOUT FUNDRAISERS STARTING IN MAY AND CONTINUING IN JUNE/JULY/AUGUST TO SEE IF WE CAN MEET OUR GOAL OF 10K



IF YOU WOULD LIKE TO DONATE TO HELP US KEEP OUR DOORS OPEN, PLEASE USE THE LINK BELOW!



-------------------------------------------------------------------


Since 2012, the growth of Arts & Culture in Point Breeze has expanded beyond most expectations.With a burgeoning community of up and coming Artists & Musicians, Alternative Underground & PHARMACY have harnessed an eco-system of neighbors, young and old, and combined an atmosphere of local and regional acts alike.



Since then, the PHILLY PHREAKOUT has become an annual tradition amongst the Point Breeze Community during the Summer Block-Party Season. With Local Artists, Vendors, Bakers, Singers, Songwriters, Rappers, Bands, Poets, Film-Makers, Cooks, & Craft-Makers, the PHILLY PHREAKOUT has brought the Spirit of Independence during 4th of July Weekend, and even a short stint as a Regional Tour, featuring local Philly Favorites, The Bad Doctors & LE Yikes SURF CLUB.

For more information:
www.pointbreeze.net
ig: @thepharmacycoffee

FOR PHILLY PHREAKOUT 2017 BOOKING INQUIRIES: [email redacted]



Organizer and beneficiary
Jawn F Kennedy 
Organizer
Philadelphia, PA