The Black Colombian Empowerment Project
All donations are tax deductible upon request to the BHR Inc.

Five years ago, I came into South America in search of Black cowboys and cowgirls in an attempt to unite Black riders in North America with Black riders in South America. Colombia was my first stop and Ecuador was to be next on my list of countries to visit. In Colombia, I attended the Feria de Cali. In that year, over 5,000 horses participated in the parade of horses and, in a country where almost 25% of it's inhabitants are of African ancestry, I was astonished to have seen less than 25 Black riders in the parade. 
What was equally astonishing to learn was that, in most cases, if a Black man owned a horse in Colombia, his horse was pulling a cart hauling whatever goods the owner had to sell or unload to make a little money. The use of a horse for pleasure riding was not in his daily or weekend schedule of activities. 

After spending several disappointing weeks in Colombia, I traveled into Ecuador and again there were no such activities like Gymkanna or the Bill Picket Rodeo, or trail rides or anything of the sort that Black people leisurely enjoyed.  I quickly became aware of how blessed we Black horsemen and women living in the United States were to be able to own horses and enjoy the leisure activities, games, and events that we take for granted as just another day at the barn. Notwithstanding, the power and influence Blacks in the US have as the role models for Black people around the globe.
Ecuador was no different and it would have been a waste of time to continue looking for a needle in a haystack by traveling any further into South America on that quest. 

However, while in Quito, Ecuador, I did have the opportunity to go to a conference attended by Black representatives from all the countries in South America who were speaking about the strained race relations and the issue of inequality in Latin America. 

It was there that I became aware of the fact that the average Black Latino in every country in South America was struggling in every sector of society to make ends meet and moreover, knew very little about his/her African identity, history, and contributions to humanity. The educational systems had and still denies Black Latinos the knowledge of self through the teaching of Black history. Those Blacks, who are aware are the minority of the population who were proactive in acquiring the information by any means necessary. 
I listened for two days as they talked about one problem after another and found myself in a state of deja vu. I had heard this over and over in the states; our problem is this and our problem is that, and I heard very little about solutions. As previously mentioned, I knew then that my journey through South America looking for the Black cowboy connection was over and that upon my return to Colombia,  like a galloping horse throwing a lead change, I would quickly disengage from this mission and begin a new one. But I was not going to let history repeat itself! No more talk about our problems and our conditions or even our solutions, I needed to develop an action oriented program that would bring something to the table! 

For a retired person living on a fixed income and wanting to maximize his or her financial potential, Colombia was the place to be, and so I decided to relocate myself and the Black Heritage Riders( BHR) organization to Cali. It was in Colombia where I would launch my new agenda and the new mission of the Black Heritage Riders Inc.

For the next two years, I began volunteering to teach English in the poorer communities of Cali, Colombia and to give presentations on Black history in neighboring towns and smaller pueblos.


With the support of BHR board members and friends, a six month initiative of teaching English through Chess was instituted in one of the barrios in Cali and awards and prizes were distributed at the end of the project.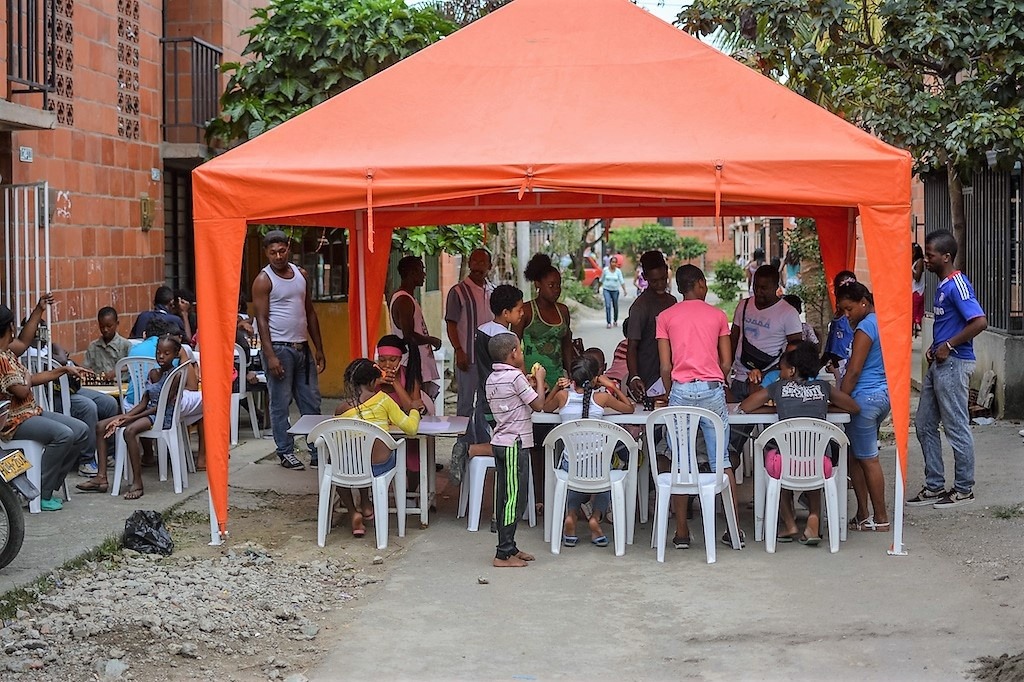 But, for me, this effort fell short of what was drastically needed for the masses of Black Colombians living without their self-awareness and self-actualization, that is, the knowledge of who they are and the enjoyment of being that person, and therefore, I knew I had to do more.  

I began to organize group study lessons using Dr. Chancellor William"s book entitled "The Destruction of Black Civilization" subtitled Great Issues of a Race From 4500 B.C. To 2000 A.D.  


Shortly thereafter a small group of Black Colombian college graduates and I founded The Humanitarian Services for the Americas Foundation (SHAFRO) and, while continuing with our Black History presentations, we began to translate the work of Dr. Williams into Spanish. Our mission was to bring the definitive story of the history of Black people to a people who have been denied their history in the academic institutions throughout Colombia and indeed in all the countries in Central and South America.


There is no other work of  its kind or this magnitude in any sector of this society including it's primary, secondary, and institutions of higher learning whether private or public. We knew the 364 page book would be a major undertaking not to mention acquiring the rights to republish in the Spanish language and all associated cost but we moved forward and met every Saturday for the next three and a half years until the translation, editing, and re-editing was completed on the fourth of January in 2020.

Black Colombians, people of African descent  living in the Spanish speaking diaspora, and anyone who is culturally inquisitive will now have the opportunity to know a history they have been denied.  The opportunity to know who they are as a race of people, what their contributions were to civilization and the pride and self-esteem that results therein will no longer be a mystery.

We are now at the fundraising stage and this initiative is to pay the publishing company for the privilege to republish the book in the Spanish language.
This fundraising effort also includes the cost for printing and advertising as well as the cost for the conference that will promote and launch the availability of the work to the Spanish  speaking world beginning here in Colombian during Colombia's Black History week held during the 3rd week of May.
Therefore, on behalf of the Afro-Colombian population, the Black Heritage Riders, the Shafro Foundation and myself, I want to extend a heartfelt gratitude for all contribution given to assist in the empowerment of Black Spanish speaking people living in the Americas. 
For more information on BHR please click on the link below:
www.BlackHeritageRiders.org
Donations ()

Organizer
#1 fundraising platform

People have raised more money on GoFundMe than anywhere else. Learn more

GoFundMe Guarantee

In the rare case that something isn't right, we will refund your donation. Learn more

Expert advice, 24/7

Contact us with your questions and we'll answer, day or night. Learn more