This is Tebo and his family.  Wife Srey Ton. Daughter Srey Pich 10 and son Pov Chan 12
Tebo supports his family by selling jewelry on Otres Beach in Cambodia  He walks approximately 1-2 km every day on his hands to sell jewelry to the tourists
 He makes much of what he sells from shells he finds on the beach or dismantling shell jewelry he buys in the market to make many necklaces from one.
There are very few job opportunities for him. He lost the use of his legs to polio when he was 3 years old.  He has feeling in his legs but no use of them.  I marvel at how well he has adapted to his challenges. 
I met Tebo two years ago. We became fast friends with the help of an interpretor.  I watched him work the beach everyday from the comfort of my beach bungalow. I was shocked at the response he would get from many of the tourists. They would actually ignore him or physically turn away when they saw him approaching.   Tebo would quietly move along but it was easy to see how it affected him.  It was also inspiring to see how he carried on every day in spite of the wide spread rejection and indifference he experienced.  
Then I felt this powerful soulful whisper inside of me to do something to make a difference in Tebos life. I had no idea what that would be or how far that would extend into helping his entire family.   
I asked Tebo what he needed and his response was a water tank. So I bought him a water tank. $75. 
Then a friend, that wishes to remain anonymous, sent some money with the intention that Tebo use it for something he personally needs or wants. That was a cell phone.  We got him his first real smart phone and he was so proud.    
Thats when our friendship  really blossomed   He invited me to his home to meet his wife and children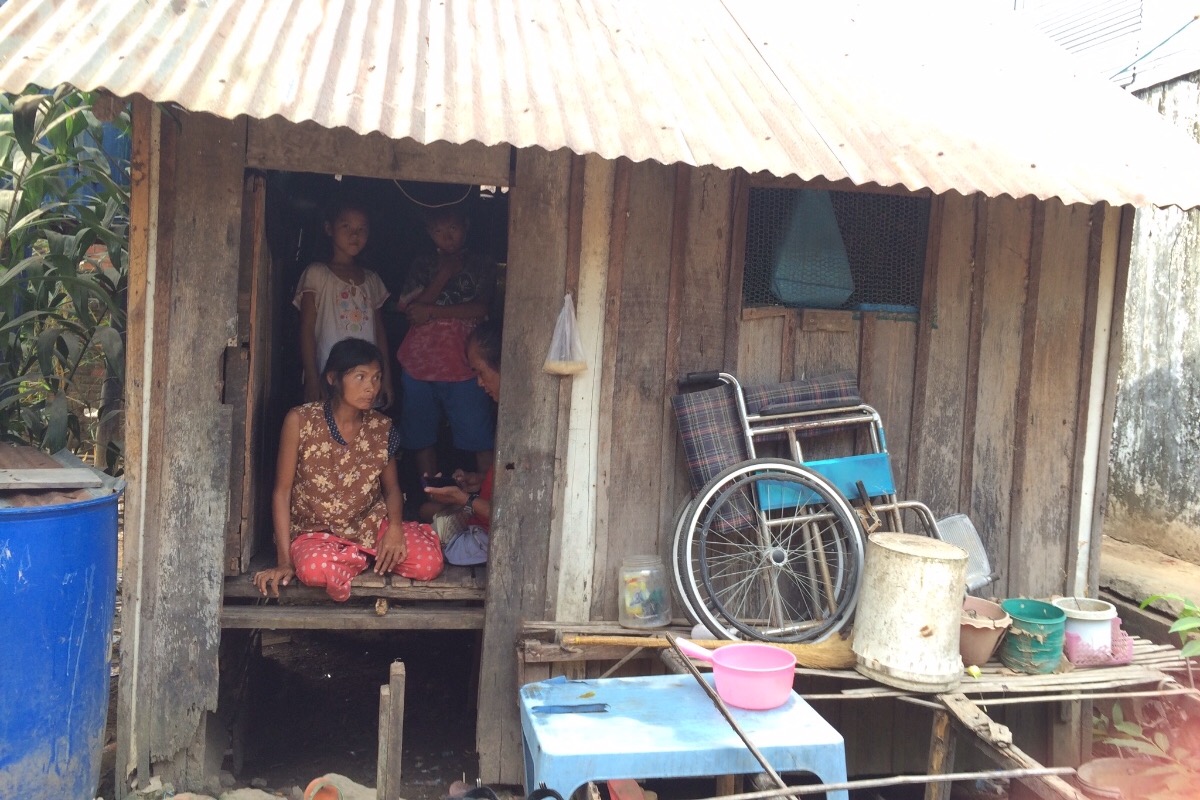 I was gutted to see the conditions they lived in.  This moment changed me to my core.  That's when I decided that I may not be able to eradicate poverty but I could help this one family.  
I started a Gofundme campaign and we raised enough money to make a huge difference. 
We paid for much much needed medicine and medical care 
Eye exam and new glasses
A dremel hand tool for making even better jewelry 
Private english school and new
uniforms and supplies for the children.
Lots of new clothing
Their very first holiday on the beach for Khmer New Year 
 Created a small shop set up so Tebo could have a stall at the Saturday night Otres market.
They actually donate the stall to Tebo and waive the $20 fee.  It's another great example of a hand up not a handout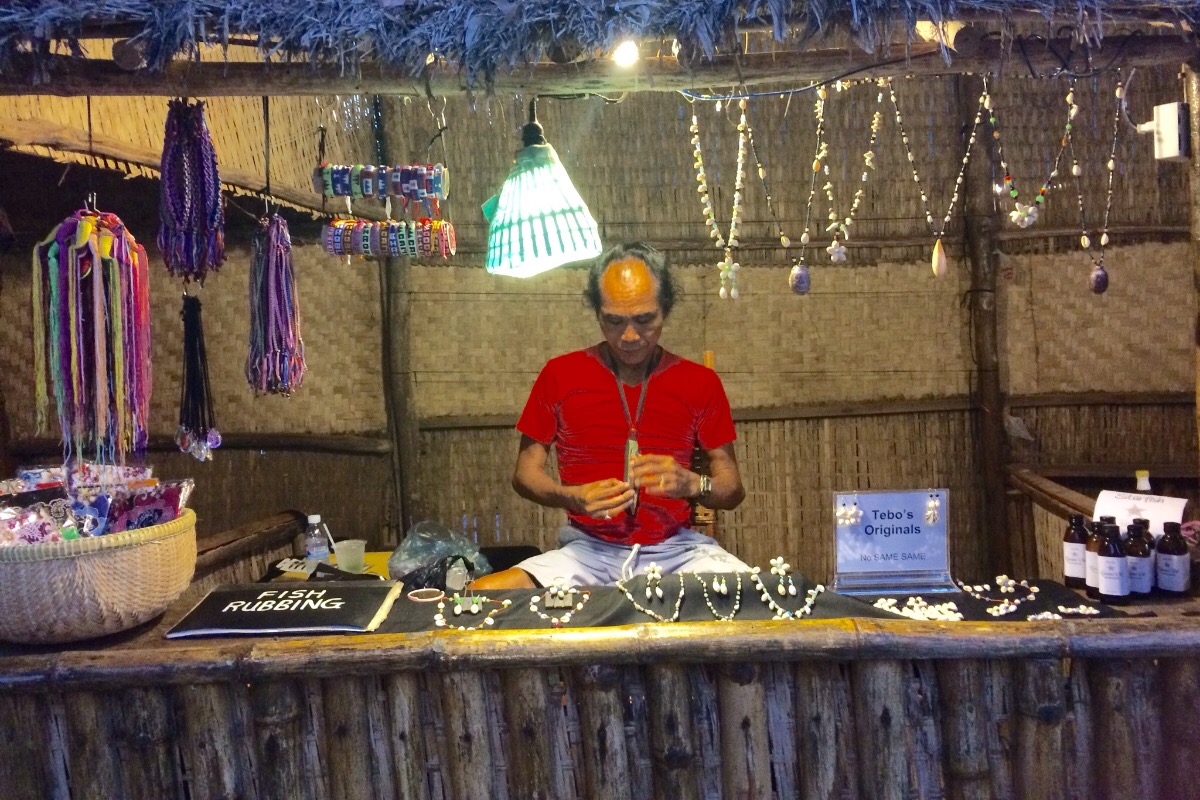 Nothing could have prepared me for witnessing the change in Tebo sitting in the high stool that placed him at eye level with everyone else and the pride he felt having his creations and wares all displayed so professionally.
That was a tear jerker moment for me and still is two years later.  
Then the fundraising went much higher than I expected so we dared to dream even bigger.  
We had a scooter custom made forTebo. It is his first vehicle.  He had to learn to drive at the age of 48.  This was a huge life changer for Tebo.
It gave him the freedom to go anywhere he wanted. He was no longer at the mercy of Moto taxis.  Some would actually rip him off or extort him for ridiculous fare prices because he had no choice.  Now Tebo can take his children to school and save that fare as well. 
Then we needed to build a ramp so that Tebo would be able to easily get on and off the Moto and into his home.  As well we needed to create an elevated place to park and keep the Moto above the flooding that is common during rainy season. 
Once all this was completed we had enough money on reserve to help pay off all Tebos debts to his neighbors as they have loaned him money when times got desperate.  There was also enough on reserve that we could buy the family much needed rice and supplies during the rainy season when Tebo cannot really earn enough for
the family. This had lasted two years and we have just ran out of reserve money. 
This is Tunn Ra from Starfish Project delivering the rice and supplies.  He is not paid by Starfish to do this. He has volunteered to help me help the family so I gift him money every now and again because he will not accept payment.  
Soooooo I tell you all of this to show the impact we have had so far.  I wanted you to see that we can make a difference even if it's just one family.
  Tebo has never begged and he is proud of that fact ...until this past rainy season.    
The rainy season brought sever flooding to much of this part of Cambodia. One night Tebos family woke to the water coming up through the floor and they had to flee to the safety of the neighbors balcony. Their house was flooded half way up the interior.  They lost almost everything   They actually have less now than when I met them two years ago.
 Tebo found himself having no choice but to beg for money so he could get enough to start over having supplies of things to sell on the beach. The flooding also caused the back wall of the house to fall off. The structure is no longer safe nor will it survive another rainy season.  
This is the sewage stream that floods. 
You can't even imagine the stench. And yes...the water really is that black. 
The children and wife now sleep in the neighbors house because theirs is not safe however Tebo remains in the house because he needs to protect whatever is left and he cannot negotiate all those stairs every day. 
When I returned to Cambodia and learned of what had happened and saw the resulting loss I couldn't contain my grief.  I had long intetended to raise the money to rebuild this family a better home here but now I see that is not the solution. 
Tebo has also finally resigned to the fact that this neighborhood is not good for him and his family. 
We explored a few options and finally figured out the very best and yet affordable solution. 
Tebo and his family would like to move to Stung Hav. A small fishing village about one hour outside of Sihanoukville.  Tebo has a Sister that lives there as well as another daughter that she is raising for him.  They were too poor to raise a third child.   Tebo has many friends in this community and it is much safer for the children. It's actually safe enough for them to be able to ride a bicycle in the street.  Something Tebo would never allow in the city. Also there is a real sense of community here.
 He took me to meet his sister and friends during the Chinese New Year celebrations. 
I saw so much joy in Tebo and his children during our visit.  
No question in my mind that this is the place they need to call home. 
And that's why I am sharing all of this with you (with Tebos total approval) 
Together we can make this a reality for this family.  This is the ultimate hand up!!
We have found the perfect home for the family.  It comes with 40 more years lease on the land (with more money we could buy hard title but that's perhaps a big ask right now) 
It is on the waterfront.  Actually it's built on the water. 
The veranda alone is more than twice the size of Tebos house.  
There are 3 rooms which means plenty of space for the family to stay together as they grow and have a family of their own. It is ideal in this culture for the children to be able to live with and care for their aging parents.  It has electricity, running water, a shower and toilet (a first for this family) AND most importantly is surrounded by a community of friends and family that really care for Tebo. As a matter of fact the seller is very good friends of the sister and wants to help Tebo in this way.  
They have offered to sell a bit below what they could sell for.  
This is a home that Tebo could never dream to own without our help. This home would ensure the security of his family for now and the future.  
The truth is his health is not that good and he worries that he will not be able
to ensure they have a good future.  
I want to eliminate that worry for Tebo and I know this community will look out after them as well. 
So I need to raise $4000 US by April 15 to purchase this place.  
Together we can do this!
We can't change the world but we can change the world for one family.  Who knows how that will ripple out.  
Please donate whatever you can and share this campaign with everyone possible.  
We actually need more than $4000US  so that we can continue to pay for school and medical needs but the home is the #1 priority 
*Please note that the money you donate will be in Canadian funds so we need to factor the exchange rate 
Listen to that whisper in your heart!
For any donations of $100 or more I will send you one of my Starfish rubbings. 
Buddhist parable 
Two monks were walking along the beach after a terrible storm from which thousands of starfish had washed ashore.
They were sure to perish from the heat of the sun. So one of the monks would pick one up and toss it into the ocean.  He continued doing this along their walk until finally the second monk asks, " Why do you bother? You can't possibly save all these starfish."  As the first monk bends down to pick up another to toss back into the ocean he replies "you are correct but I can make a difference for this one"
Together we CAN make a difference for this one family.
Organizer
Mya DeRyan
Organizer
Vancouver, BC