Diversity in Paleontology Workshop
While paleontologists - scientists who study fossils like dinosaurs and mammoths - are still represented in the media as, well, this guy...
... the actual field of paleontology is more diverse than ever. Fossils come from all over the world, and finally, for the first time in modern science, so do the people who study them for a living. These days, membership in the Society of Vertebrate Paleontology looks more like the population of our planet.
This is a shift to be proud of for sure, but it comes with challenges. How can we as scientists make our diverse colleagues feel welcome, included and empowered to advance thier careers? What are some issues that paleontologists from different backgrounds might be facing in the lab, classroom and field that we haven't thought of? How can a scientific society with global membership ensure the protection of its diverse members from increasingly hostile politics?
A group of us, all members of the Society of Vertebrate Paleontology, submitted a proposal to hold a workshop on these topics and more at our next conference this August in Calgary. It was accepted! 
In order to offer a quality experience for up to 100 paleontologists, including breakfast, coffee and workshop materials, we need $3000. Any funds leftover at the end will be donated to the Society of Vertebrate Paleontology, a 501(c)(3) nonprofit organization.
Who are we?


ReBecca Hunt-Foster: District Paleontologist, Canyon Country District, Bureau of Land Management
Thea Boodhoo: Director of Digital Outreach & Media, Institute for the Study of Mongolian Dinosaurs
Ali Nabavizadeh: Assistant Professor of Biomedical Sciences, Cooper Medical School of Rowan University
Kelsey Stilson: Graduate Student, Organismal Biology and Anatomy, University of Chicago
Gabriel-Philip Santos: Collections Manager, Raymond M. Alf Museum of Paleontology
Michelle Barboza: Graduate Student, Vertebrate Paleontology, Florida Museum of Natural History, University of Florida
The Budget


Because the conference is being held at a convention center, we have to budget for the built-in catering service, which puts breakfast and coffee at $20/person, and that's the bulk of our cost. Nametag ribbons and buttons are inexpensive and help spread the message - together, they're under $100. We expect a maximum of100 people, which brings our budget to about $2100. Workshop materials fill out the rest, along with contingency funds for unexpected needs.
Any funds remaining at the end of the workshop will be donated to the Society of Vertebrate Paleontology. 
When do we need funds?


The workshop will be held at the 77th annual meeting of the Society of Vertebrate Paleontology in Calgary, on Tuesday August 22 from 10am to 4pm. We'll need at least three weeks to order materials and have them shipped, so to play it safe we're asking for complete funding by July 22nd. 
What will the workshop be like?


We're still refining the details, but workshop attendees will arrive at 10am and settle in with coffee and a light breakfast before opening remarks, followed by 20-minute roundtable discussions. Topics will likely include:
- Protecting fossils in developing countries & rural areas by fostering local paleontology education
- Issues & solutions for paleontologists with disabilities
- Changing the public perception of paleontology
- Recognizing diverse paleontologists from history
- Addressing poverty: Why diverse & international students don't follow their dream
- Developing mentorships for students from diverse backgrounds
- What does diversity mean and why is it important?
- Issues & solutions for LGBTQA paleontologists
- And more!
We'll break for lunch, and in the afternoon, panel discussions will be held to determine effective solutions to known challenges, and potential paths forward for the Society of Vertebrate Paleontology and its members.
We appreciate your help!


As you may know, paleontology salaries aren't that high - especially for graduate students and early career professionals, which are our most diverse demographic. These funds allow us to create a welcoming atmosphere and quality learning environment for a very important discussion that involves an entire field of science. With your contribution, we'll be able to offer this workshop free of charge to everyone who can attend, and hopefully make our little corner of science a better, safer place to be different in.

The official discription


Here's what conference attendees will see in their programs:
The Society of Vertebrate Paleontology is becoming more diverse every year, as is our field and science as a whole. Members of all backgrounds find themselves increasingly in need of new best practices and ways of thinking to address the challenges presented by this positive trend. The 'Solutions for Supporting a Diverse SVP Membership' workshop will cover topics faced by traditionally underrepresented SVP members, including ethnic minorities, LGBTQA, and women, as well as discussing mental health, disabilities, and what it means to be diverse. Round table discussions will be held in the morning. In the afternoon, panel discussions will be held to determine effective solutions to known challenges, and potential paths forward for the Society as a whole. Through networking and discussion, the workshop will help build mentoring relationships and provide tools for members to become more engaged in the SVP community and in the larger scientific sphere. This workshop is intended for members who belong to underrepresented groups AND those who seek to understand and support our diverse colleagues at the conference, in the field, in the classroom, online, and in the media, regardless of their career stage or background.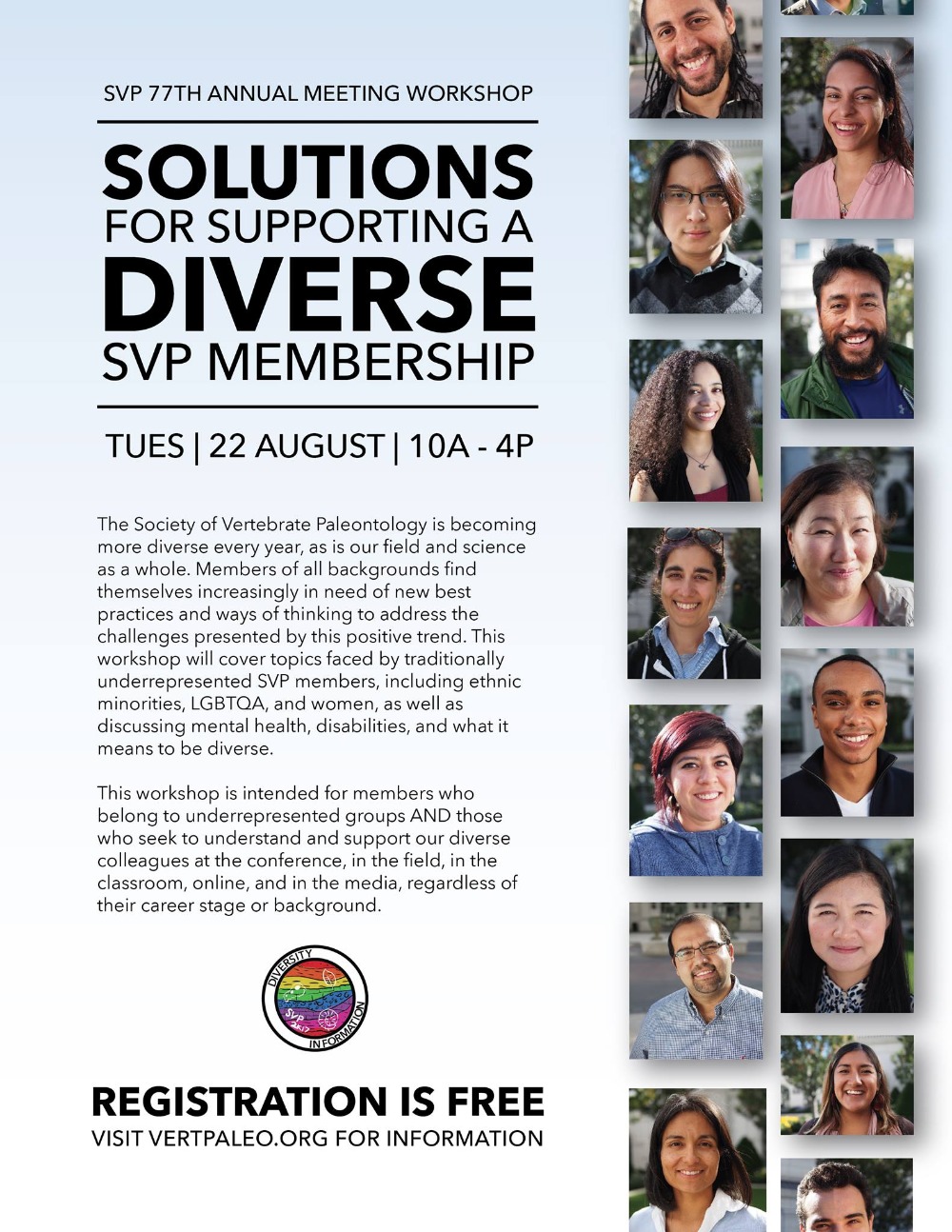 Organizer
Thea Artemis Kinyon Boodhoo