Sustainable Action for Nepal Film
View of the spectacular snow capped Himalayas

Hi, we are Marty and Silvia. We
love nature
, 
sustainable living
and helping others. On April 25th 2015, Nepal was hit by a series of devastating earthquakes.  Thousands of people lost their lives and nearly a million homes were destroyed.
Whilst there was a lot of media attention and international aid helping out, years after Nepal still has not recovered and many are still in need. We feel that people were forgotten so we decided to investigate more on what people did to recover and rebuild their own communities in both the physical sense and the community spirit. We focused on local grassroots organisations making a big impact. Our documentary is actually a research on how working together with your community can create resilience and brilliant outcomes.
Here is our first video promoting our documentary whilst we were in Nepal.
Silvia visited Nepal in 2014 and fell in love with this country and its amazing welcoming people. The first time you meet a Nepalese they usually ask you if you have already eaten and if you want a tea, before even knowing your name. 
Marty is a passionate nature photographer and filmmaker. We wanted to film stories from over 20 inspiring individuals who are all working on making their lives and the world a better place.

We both think that people can grow stronger from natural disasters and we believed that Nepal was a great example. For those reasons we explored Nepal in 2017 for three months, filming and capturing these stories to share with you.
Silvia and Marty: happy times in Nepal
What is this film about?
Sustainable Action for Nepal
is our film regarding some of the
successful grassroots community projects
lead by Nepalese who are helping local communities to recover after the
2015 earthquake
especially in rural areas.
The vision of the film is to showcase how a community can grow in resilience when people work together. Using both traditional practices and modern techniques it is possible to create a more sustainable future. As an example we saw the implementation of permaculture principles integrated with traditional ways of living. We also met with young people creating social business models that are making a difference in their own community. 
Here are just some of the examples: 
HASERA Permaculture Learning Center
, raised enough money to build temporary bamboo shelters for their community members, solar panels powering lights to help children studying, cooking, tending to livestock at night and ensuring safety in the village. This is thanks to their international connections through the permaculture network.
HASERA Permaculture Learning Centre


HASERA also promote
Dharti Mata
, (Mother Earth in Nepali) a social enterprise where local women work to create wonderful eco-friendly sanitary products, carry-bags and other fabric products, sold all over the world.
Silvia with the wonderful women that are Dharti Mata
Indira Ranamagar
 is social worker and founder of the non-profit organisation 
Prisoner's Assistance Nepal
 that looks after the children of parents living in jail. Indira took a deep interest in the welfare of prisoners and their families from an early age, and after becoming well acquainted with their struggles through various social projects, she founded Prisoner's Assistance Nepal in 2000. Her continued work through the organization has led to the opening of four children's homes, two schools, and various other social projects aimed at helping prisoners and their children.
To date she has
rescued over 1600 children from living in prison.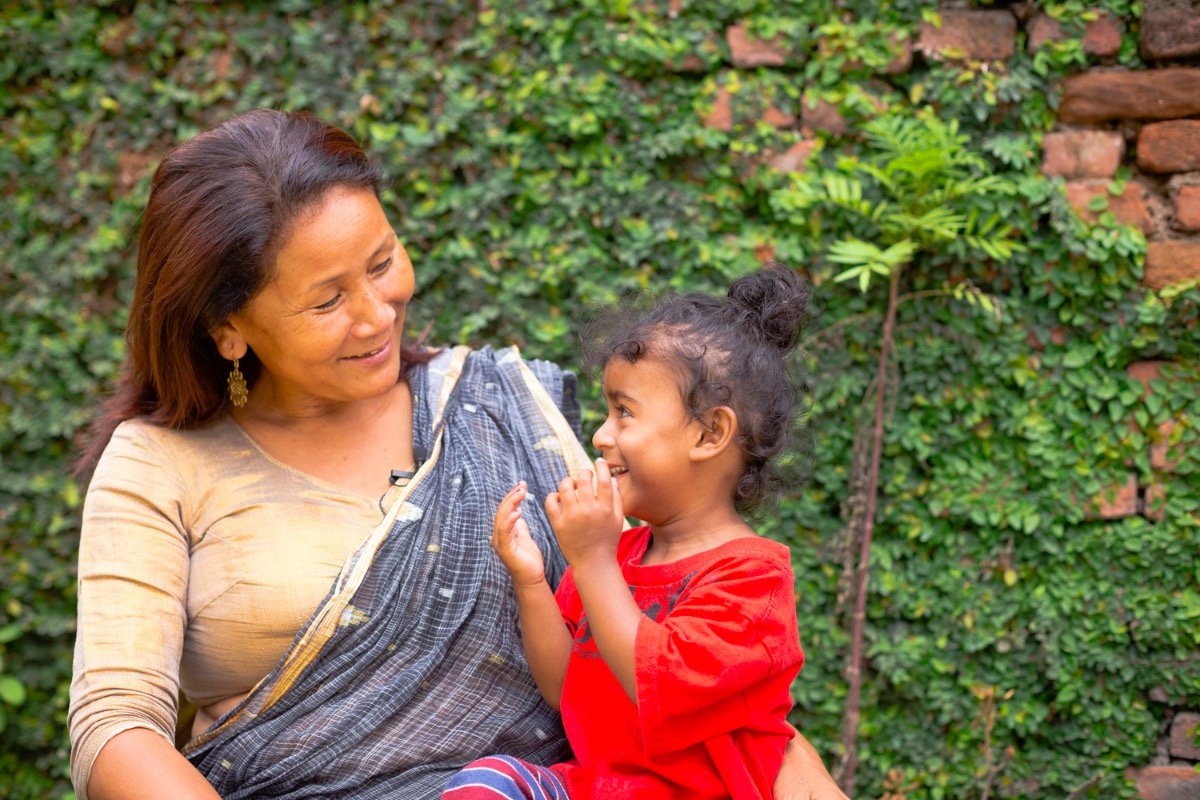 Indira with one of her beloved children.



Almost Heaven Farm
is a permaculture farm that collaborates with Prisoner's Assistance Nepal enabling children whose parents are in prison to get a
fair education
whilst living in a
clean
and
safe environment
. Here children learn to grow their own food and are working towards being self sufficient with a guest house - where you can stay - which provides an income for their living costs.
Zac and Shova at the amazing Almost Heaven Farm.



Shree Krishna
is a young mechanical engineer who decided to stay and live with his family and newborn in his home village instead of seeking job opportunities abroad, as the majority of young Nepalese do leaving their elders and children behind. His aim is to build ponds for local communities especially those who have seen their spring water sources disappearing and shifting to other areas as a consequence from the earthquake.
Pond designed by Shree at Phoolbari Homestay
The same pond from a birds eye view at Phoolbari Homestay
Nripal Adikari
is a young architect who studied abroad and decided to come back to Nepal. He lives in the countryside to feel more connected with his Nepalese roots. He is also the founder of
Abari
, a company devoted to utilising and promoting bamboo and rammed earth as construction material as a sustainable alternative to concrete. We visited his property near Chitwan where he grows and sources bamboo sustainably along the river banks. Areas of bamboo also protect his land from erosion due to frequent floods. 
Library in Kathmandu built by Abari with bamboo and rammed earth
-The Himalayan Permaculture Centre (HPC)
is an organisation that promotes permaculture in remote villages. It is run by trained Nepalese who meet with local farmers in rural areas to listen to their needs and goals and how to achieve them efficiently. It is a place of experimenting with innovative farming techniques so that other farmers can implement what it is more convenient for them. HPC have implemented a program called
"Building Resilience Through Revcovery" (RTR)
. With this program, trained farmers help other farmers who live close to the earthquake epicentre to support them and give them the tools to start again. Prabhina from Sunrise Farm has been involved in this project helping women to get back on their feet, empowering them to be a resource in their community.
Two hour hike on the way to Himalayan Permaculture Centre and remote villages. 
Silvia, Marty, Bhuwan and Chelsea at the Himalayan Permaculture Centre (HPC)
A fine example of high biodiversity with trees amongst rice fields at HPC
Sunrise Farm
is a great example of urban permaculture. Although after the earthquake they have lost portions of their land, they still live a simple life maximising what they have available. They produce their own biogas for cooking and host volunteers from all over the world who want to practise sustainable farming in a urban environment. 
Urban permaculture in Kathmandu at Sunrise Farm
The Sunrise Farm family with volunteers who are learning on the job.
Muskan
, which means 'bringing smiles back' in Nepali, is a social enterprise created by young women after their university studies. Their aim is to empower other women, especially those traumatised after the earthquake, helping them to have more confidence in themselves defeating anxiety and post traumatic stress, and to start a new life. 
Muskan is based in Patan
These are just a few of the amazing projects we filmed in Nepal that we are eager to share. We have many more to showcase through our documentary but
we need your help.
Why crowdfund? 
We both work full-time and this year Marty has been fighting cancer. Thankfully he has won and is in the final stages of chemotherapy. This documentary is a goal to aim for and the stories have been a massive inspiration. Treatment has been fatiguing and soon as his energy levels are back we will resume editing.
We decided to crowdfund our film to get it off the ground independently. We would like to get more people involved in our project and spread the message.
We want to raise money in order to cover the post-production costs and to be able to donate the profits to the organisations involved in the projects we filmed in Nepal. We believed that those projects are truly having an impact on their communities enabling people to recover from the devastation of the earthquake.
Your impact
We need your help to cover the post-production costs. We have already covered our travelling and filming expenses out of our pockets. 
Now we just need funds for:
- Postproduction and editing costs 
- 3 new back up hard drives (stored in different locations)
- Entrance fees for film festivals
- Small percentage for promotion and marketing 
How can you contribute?
Please make a donation today and invite your friends to do the same. 
Every donation over $25 will get a thank you on our social media. (You can remain anonymous if you wish)
Every donation over $50 will additionally get a special thank you in the credits to the film.
Every donation over $200 will additionally get you a personal thank you letter with three of Marty's printed images from Nepal. 
*Gofundme take a 5% fee from donations (which is the best value around).
*Offline donations direct to our bank account (please contact us directly).
All profits will be donated to the inspiring grassroots projects we covered in our film.
Every little bit helps. 

Other ways you can help:
Spread the word on social media and email.
Musicians, composers and producers
are invited to collaborate with us if they want their music to feature in our documentary. We already have permission from
Formidable Vegetable Sound System
,
Murray Kyle
  and other talented musicians to use their music in our film.
Support the projects that we are supporting, e.g. visit their websites or stay with our Nepalese friends if you plan to go to Nepal.    
Some suggestions:
-
Almost Heaven Farm
  offers B&B and accommodation and volunteering opportunities with children and in permaculture.
- Shree Khrisna is the founder of
Phoolbari Homestay
  where you can spend some time with his family and check the ponds project.
- Have a look at
Dharti Mata
  and
Muskan
 's products for women next time you want to buy a present.
-
Hasera permaculture research centre
  is an amazing place if you are interested in researching permaculture and/or doing a PDC (permaculture design course).
- Volunteer with
Himalayan Permaculture Centre (HPC)
 in remote areas or with
Sunrise Farm
  right in Kathmandu near Swayambhu (Monkey temple).
- Get involved in doing workshops in natural building and sustainable architecture with
Abari
 .
- Volunteer with
Prisoners Assistance Nepal
  in their Children's home in Kathmandu.
- If you have the taste for adventure in the sky, book a paragliding flight over beautiful Pokhara with
Karma Flights
. 
Thank you
We are very grateful for the support that we have received so far and we are eager to take you to Nepal and explore inspiring ideas through our film. 
From the bottom of our heart, thank you and Namaste.
Martin and Silvia
Check out the facebook page: 
Sustainable Action Nepal 
Follow us on Instagram:
https://www.instagram.com/sustainableactionnepal/
Off-Grid Living Festival K&R 

Anna Maria, Gregorio & Mirella 

Fundraising team (2)
Silvia DiDo 
Organizer
Raised $200 from 2 donations
Melbourne VIC
Marty Stringer 
Team member
Raised $360 from 4 donations